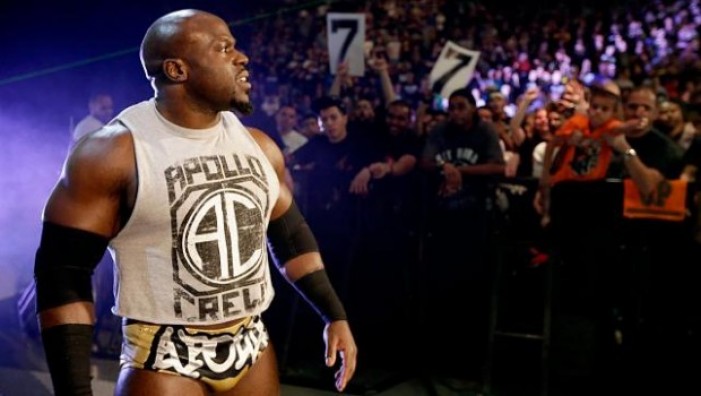 And that's that. An entertaining show tonight with the standout being a classy main event between NXT Champion, Finn Balor and Apollo Crews. Balor, Enzo and Cass, Carmella and The Vaudevillians all being victorious. I've been Oli Coultas, goodnight.
Balor sees how Crews is after the match and helps him get to his feet. Classy touch from Finn and now both men shake hands.
Enziguri, Dropkick, Coup de Grace... Goodnight Crews.
"This is awesome" chants ringing out, and it certainly is... well worth the wait.
Double stomp off the top rope by Balor but it isn't enough to keep Crews down.
Crews getting into this match, knocking Finn down.
Both men now up on their feet, hitting each other with chops with Balor looking more dominant.
Lots of rest holds before Crews hits Balor with a dropkick. The match finally gets a little more pace to it.
And we're off! Both men grappling hard. Reversals everywhere.
Finn Balor says the correct decision was made regarding the Joe/Zayn situation. He also says he's going to beat Apollo Crews in the main event which is just about to get underway.
Asuka makes Garrett tap out with the Asuka Lock. One word... dangerous!
Asuka faces Santana Garrett.. The crowd chant "Asuka's gonna kill you" within the first minute.
William Regal says there will be a rematch between Samoa Joe and Sami Zayn! Baron Corbin won't feature though. Correct decision? We think so!
Apollo Crews says tonight he will prove what he is capable of doing in the ring tonight when he goes up against the champion Finn Balor in a non-championship match.
An easy win for the duo and the crowd love it.
Enzo and Cass beating up two un-named talents. I'd wish to be left un-named if I were beat up like this.
I don't think you get any more over than these two.
Enzo and Big Cass come out to a fantastic ovation from the NXT crowd.
But we will find out William Regals decision tonight, and we know it will upset one superstar.
Sami Zayn knows it's out of his hands but he belives he has the stronger claim for winning the triple threat match last week because of the length of time he had the sharpshooter locked on. Samoa Joe refused to comment.
And just like that, Carmella pins Emma and picks up the win.
Carmella starting to gain the momentum, with the NXT crowd getting behind her.
Carmella drops Emma on her face before being put down herself. Not too sure which way this one will go with both women being equal so far.
Number 1 Contender for the NXT Womens Championship, Carmella is about to go up against Emma with Dana Brooke being by her side.
Dash and Dawson say that they are the greatest NXT Tag Team Champions of all time... do you agree?
She says nothing will affect her and Bayleys freindship, but will that be true when she faces her for the NXT Womens Championship next week?
A recap from the Womens Battle Royal a few weeks back. Tom Phillips talks to Carmella about it now.
A Whirling Dervish wins the match for The Vaudevillians. A great way to return to NXT!
An even start to this first match, The Hype Bros doing their best to get the crowd HYPED. Quick tags from The Vaudevillians keeping the momentum up.
We are treated to the The Vaudevillians opening the show, going up against The Hype Bros!
Here we go... WWE NXT is now underway!
We go LIVE in just under two minutes. We hope you're as excited as we are!
We will be back on this LIVE just before show time, and will lead you through the whole of WWE NXT tonight.
Main Event – Mens Division: With the hype behind Apollo Crews building momentum, he will go into this match on a slightly more even playing field against current NXT Champion, Finn Bálor. Crews has unfinished business with Bálor after he was attacked last November by Baron Corbin mid match. The title holder is still left in the dark about who the number one contender is for his championship after referees couldn't decide if it was Samoa Joe or Sami Zayn who made Corbin tap out in their triple threat match last week. Bálor will need to focus on this match, however, as Crews has built a good run of results for himself and called out Finn a few weeks back to settle the score. We see Bálor coming out of this on a high heading into the championship match with either Joe or Zayn.
Returning Talent: Asuka faces former NWA World Women's Champion Santana Garrett, who we haven't seen in NXT since 2013 when she was facing now-WWE Divas Champion Charlotte. Asuka is one of the best women in NXT and will want to get more wins under her belt after being eliminated from the battle royale by Eva Marie. This appears to be a one off match back at NXT for Garrett, so we don't expect to see much from her. Asuka on the other hand… we expect a great match.
New Talent on Show: Not too much needs to be said about this one. Possibly the hottest tag team in NXT at the minute, Enzo Amore and Big Cass, are going up against two enhancement talents. This result should be an easy one to call, as Amore and Cass will surely come out of this match with the win and entertain the crowd as ever. Looking forward, we expect them to be in contendership for an NXT Tag Team Title match in the near future.
Womens Division: Number 1 contender for the NXT Womens Championship, Carmella faces Emma in this one. Two weeks ago Carmella teamed up with the woman she will face for the title and best friend Bayley to defeat Emma and Alexa Bliss. Tonight she will be looking to defeat Emma in this singles match to show her dominance and prove she deserves the number one contendership after she won it in the battle royale, a match where Emma attacked her outside of the ring. Revenge may also be on the cards.
Tag-Team Division: They may have faced them in a Tag Team Fatal 4-Way match back at NXT London but The Hype Bros go up against The Vaudevillians two-on-two tonight. The Vaudevillians, who have been teasing with vignettes for the past couple of weeks in their absence, will be looking for a strong return to NXT after not appearing in the last month. The pair will look to pick up a win over the Hype Bros on their return and we could see this turn into a rivalry.
Hello, and welcome to VAVEL USA's live coverage of WWE NXT! I'm Oli Coultas and I'll be your guide for this evening. We will first preview the matches, all above.