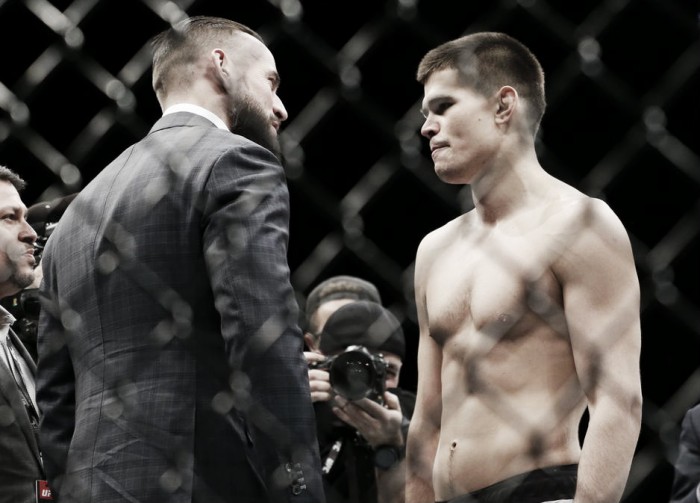 Since signing for UFC in December 2014 the former WWE superstar has been waiting to make his first fight within the company and his opponent has been revealed. After successfully beating Mike Jackson last night, it is Mickey Gall who is set to be the first man to step foot inside the octogan with CM Punk.
The fight date has not been set but is rumored to be taking place in mid 2016, but an exchange of words has been taking place between the pair for months now, and as the bout begins to intensify, they will only continue as the build up continues.
Mickey Gall is no Punk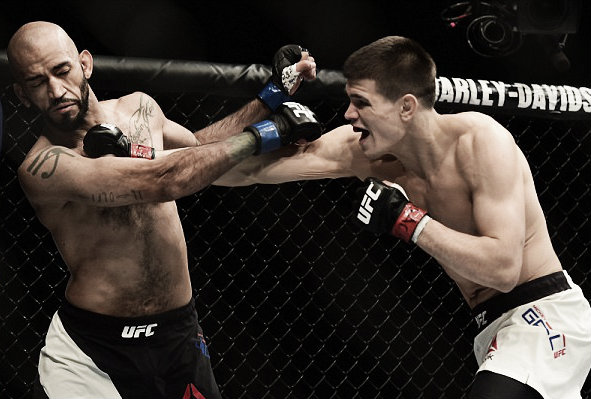 The 24-year-old fighter is no pushover and will certainly not be an easy first fight for 37-year-old Punk, especially as he is coming straight off the back of a victory which saw him take just 45 seconds to defeat his last foe. Gall forced Jackson to submit last night at UFC Fight Night 83 in Las Vegas but has already turned his attention to his next opponent as the rivalry is beginning to heat up.
The fighter is undefeated in the company with a record of two wins and zero losses, both victories came as a result of submission in what gives a clear insight to his fighting style.
Punk's Training
Punk has some martial arts background in Brazilian Ju Jitsu and Judo but has never been involved a physical professional fight,the former Ring of Honor star has been training alongside UFC Lightweight Champion Anthony Petis and ONE FC Welterwight Champion Ben Askren at a specialist MMA gym based in Milwaukee, Wisconsin.
The wrestling veteran is being trained by former professional American kick boxer Duke Roufus who is widely known for his intense training camps and is putting the former World Heavyweight Champion through his paces in preparation for his recently announced fight.
His debut in the company has been a hot topic since he signed in December 2014 and any information surrounded the controversial star has been kept under wraps to make the event as high profile as possible.
Superstar Fight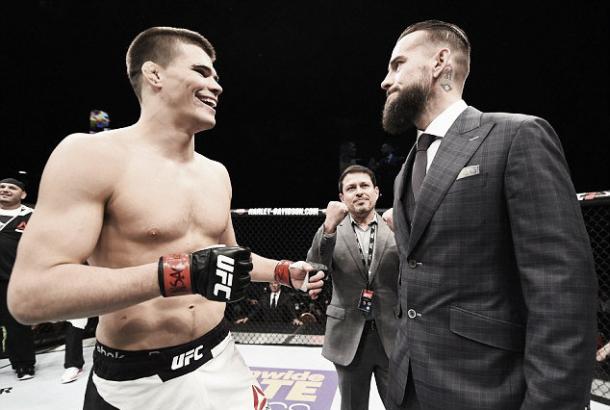 Gall was asked post fight about how he feels about his scheduled fight with CM Punk to which the confident youngster replied "I will beat CM Punk in the first round."
The young man was clearly brimming with confidence as questions became more in depth when asked about his opponent saying he "Respects that dude" looking at the successful career the former WWE man has made for himself he says "He has made himself a superstar."
Not becoming too fixated on his opponent the man from New Jersey brought the answers back down to earth as he said enthusiastically "I get to beat up a superstar" the two fighters were seen in the ring together after Gall's victory chatting "Soccer-mom talk."
Looking ahead to the fight itself, the undefeated 24-year-old said Punk is a "total mystery (in the octogan)" before bringing back the fearless attitude saying "he had a beard, i'm not sure exactly where that chin is - but I will find it."
Possible Fighting Date
With many fans already desperate to know when the two will be squaring off, the most likely date will be at UFC 199 in June. Punk has spoken in the past of his preference to fight at the landmark UFC 200 which would take place one month later at the T- Mobile Arena in Las Vegas.
The Chicago native is eyeing a marquee spot in 2016 with his time with the company limited due to his age, but he will obviously be a big draw for fans and create mass buzz, but does he deserve the spot given his lack of experience?
UFC owner Dana White said "I know (Punk wants to fight at UFC 200). Everybody wants to fight at 200, but I cannot put everybody on 200."
The former wrestler is looking to put on a major show for the fans who still have no idea what to expect when they see him set foot in the octogan for the first time, a huge build up is expected for the man that has gave Vince McMahon countless headaches and his fight should be one of the biggest UFC events of 2016.