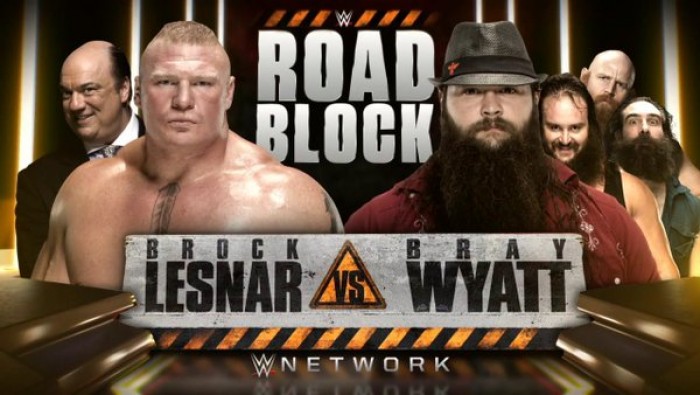 The WWE always has an opportunity to pleasantly surprise the fans and give them what they want and been asking for in Dean Ambrose and they're not giving us him. That's going to get them booed out of WrestleMania and they can't have that. Anywho, I'm Jameus Mooney from VAVEL USA, thanks for joining us on WWE Roadblock!
Pedigree....and still WWE Champion, Triple H. What a let down. The WWE is going to get booed out of WrestleMania if Roman Reigns leaves the champion, and they had a chance to do that. Outstanding bout though.
Ambrose hops off of the barricade through the table! H back in the ring now.
DIRTY DEEDS! AMBROSE GETS THE 3...DEAN'S FEET WERE OUTSIDE THE ROPES.
Sharpshooter on H...reaching for the ropes, Ambrose pulls him back!
Pedigree countered into the figure four. Will H tap out? The drama is amazing in this match.
HHH is tearing apart the Announce Table. Business is picking up.
Ambrose' rope clothesline could be so much cooler if used less. Side Note: Toronto had a shot to prove he can be the guy and blew it with the CM Punk chants.
You can literally feel the electricity while sitting on your couch. This is going to be outstanding.
It's Main Event time! Triple H defends against Dean Ambrose.
In a rather awkward, yet enjoyable match, Sami Zayn hits the Helluva Kick, and pins Stardust. Phenomenal wrestling match.
Here comes Sami Zayn for his first official Main Roster match, against Stardust. If this was given legit time it could be a show stealer.
Lesnar plows through Luke Harper. I'm confused as to what happened to Bray v Lesnar.
Luke Harper takes the first suplex, and sells it so well. Wyatt with the distraction and Harper with a suicide dive!
Together? Harper's in this too? This makes Wyatt look weak.
Next up, we have the most underrated wrestler in the world today, Bray Wyatt as he takes on Brock Lesnar. Bray Wyatt is ten times better than his father ever was, and that's saying something.
Flair interferes, school boy, Charlotte retains with her foot on the ropes. Unbelievable match.
Sitout powerbomb by Natalya for a near fall. Natalya goes for the sharpshooter, locks it in.
Charlotte hits the Natural Selection...three consecutive near falls.
Charlotte can't lock in the figure eight, as it's reversed, and reversed again.
Natalya hits the discuss punch, goes for the Sharpshooter, Charlotte, slaps her, school boy and a near fall.
Thus far a phenomenal match. Nattie walked up her spine, and it looked good and crisp.
Not many women matches are straight up technical masterpieces. Charlotte v Natalya has the potential to be one.
Next up is the Divas Championship match. Side note: Greg Hamilton (announcer) sounds like someone who'd announce for an MLB team.
Shatter machine, 1. 2. 3. The Revival retain. Hopefully this means Enzo and Cass go up to the Main Roster. What a tag contest.
Carmella slaps Dash Wilder. SHATTER MACHINE ON THE FLOOR.
The Revival have regained control, and straight old school tag wrestle. The Revival would fit right in with the tag teams of the 80's, such as The Fabulous Rougeaus, Demoltion, The Hart Foundation and The British Bulldogs.
Every double team the Revival have, Cass and Enzo have the answer. This is going to be a classic.
Amore and Dawson start off the match, as Dawson and Wilder double team Enzo, before Enzo tags in Cass.
Enzo's hair makes it look like he was playing with electrical wires before the match. Here comes the champions, Scott Dawson and Dash Wilder.
Enzo and Cass are OVER. The best talking tag team since the New Age Outlaws, this is hopefully their last NXT match before getting called up, and YOU CAN'T TEACH THAT.
Next up we see one of the best in ring tag teams against one of the most over tag teams. The Revival are the most underrated tag team today not named ReDragon. They remind me of a young Brainbusters. It's like Triple H gave them a tape of them and told them to study it.
Swagger locks in the ankle lock, Jericho grabs the ref's legs, makes it to the ropes. Jericho locks in the Walls of Jericho and wins via submission.
Nice little match.
Swagger locks in the Ankle lock, Jericho kicks his way out, enzeguri. Y2J goes for the codebreaker and gets caught.
Though boring at times, Swagger has some nice, crisp clotheslines. Jericho stops his attack with a bulldog and misses a Lionsault, Swaggerbomb, 1..2...near fall.
Jack Swagger defeated Y2J for the WHC cashing in Money in the Bank in 2010. Swagger begins to chase Jericho around the ring before re-entering the ring and taking him down with an elbow.
Jericho claims that he's "ashamed to be Canadian", and it's part of the reason he moved to the USA. Jericho continues to claim he is "the best in the world at everything that he does." His opponent? Jack Swagger.
Jericho somehow got the Canada crowd to boo him. That's exactly why he rank #9 on VAVEL's Top 10: Greatest Heels in Wrestling History.
Out comes Chris Jericho, and what was announced as the Highlight Reel has turned into a match. However, who's his opponent?
Next up we have an interview with Paul Heyman, who's the advocate of Brock Lesnar. Heyman is proving once again why he's the greatest talker in WWE History.
Sheamus makes the tag, as Barratt pins E, but the Woods distracts the ref, and Sheamus chases Woods and gets a Trouble in Paradise. BIG ENDING ON BARRATT! NEW DAY RETAINS THE TITLES!
Kofi's Trouble in Paradise gets countered into the Texas Cloverleaf, as he counters into a small package. SOS...
Big E has some of the most beautiful Belly-To-Belly's in the business, and hits Barratt with a huge splash!
Sheamus hits a shoulder tackle off of the top for the first near fall of the match up, while tagging in Barratt, who could be the most underrated competitor on the roster.
Sheamus has uppercuts that look like they hurt, as he tags in Barratt and Kofi tags in Big E. Xavier is carrying around Booty O's which are available on WWEShop.com.
If you can take something like Booty-O's and get it this over (as it should be), you've done an excellent job. Here comes the League of Nations, as Sheamus and Wade Barratt face Big E and Kofi.
Xavier Woods may be the best talker in the business. He's entertaining, he's over, and along with Big E and Kofi Kingston make the gimmick work. It looks as though that Big E and Kofi will work this match. The New Day unveils Booty-O Cereal.
WWE Roadblock is underway, welcome to VAVEL USA's Live Coverage, as we are kicking things off with The New Day and The League of Nations!
We are within ten minutes to go until WWE Roadblock in Toronto!
Prediction: The New Day
In what will likely be the show opener, we kick things off with The New Day as they take on, in their words, the "League of Booty's." We don't know who'll start the match for the League of Nations (Wade Barratt, Sheamus, Alberto Del Rio and Rusev), though it'll likely be Rusev and Del Rio taking on Big E and Kofi Kingston. Frankly, the fans couldn't care less about the League of Nations since they did the job to Roman Reigns, killing any momentum they could have, which makes The New Day an easy prediction, especially considering the fact that they're the most popular act in the company.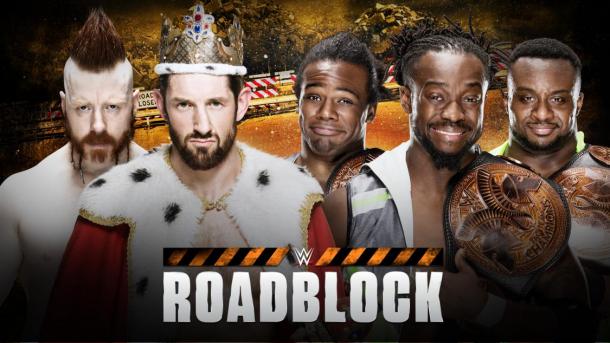 The New Day (c) v The League of Nations for the WWE Tag Team Championships
Prediction: Charlotte
In a match made official (along with other matches today) as this was in the process of being written, Charlotte takes on Natalya in a title defense prior to the triple threat match at WrestleMania 33, alongside Sasha Banks and Becky Lynch. With that being said, because Natalya deserves the title shot and the belt itself, this match has minimal build up, if any, and feels thrown together. It is highly unlikely that Nattie leaves with the title.
Charlotte (c) v Natalya for the WWE Divas Championship
Guest Prediction: AJ Styles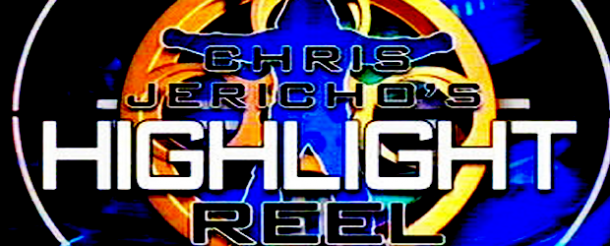 Though at this time we are unaware of the guest, this can't be neglected. This'll more than likely be after the Divas match, and it will obviously either be with "The Phenomenal" AJ Styles as a guest, or interrupting Jericho and whoever his guest may be. This also feels like it was just thrown onto the show; however, at least it isn't Miz TV. This should be rather interesting considering Jericho's recent heel turn following what many consider the best match on Raw in years, between Y2AJ and The New Day for the WWE Tag Team Championships. This will progress Jericho's part time character all of the way to WrestleMania 33 in Dallas, where it's likely he'll face Styles to finish off their feud in what could possibly steal the show.
The Highlight Reel: Unknown Guest
Prediction: The Revival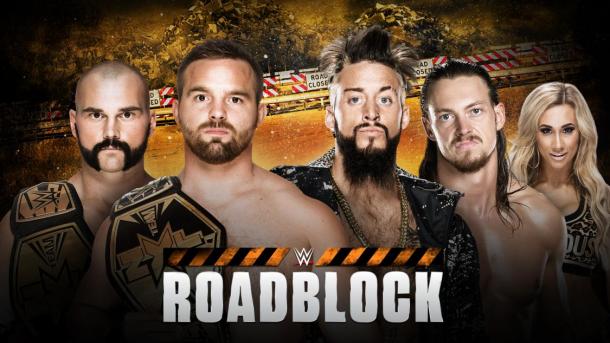 With that being said, it is highly likely that Scott Dawson and Dash Wilder retain yet again and Enzo and Cass move up to the main roster; that makes even more sense given that it's already been made official that The Revival will defend against The American Alpha, Chad Gable and Jason Jordan at NXT Takeover: Dallas, the weekend of WrestleMania 33. But how exactly will the Revival retain this time? They've already used the Shatter Machine off of the top rope....interference by none other than the New Day will cost Collin Cassady and Enzo Amore the championships, officially moving them up to the main roster in time for WrestleMania.
In a feud that started in October of last year on WWE's developmental territy, NXT, when Dash and Dawson took out the leg of Collin Cassady. The Revival will now defend the titles against possibly the most popular tag team in wrestling today, Enzo Amore and Big Cass, in what will likely be Enzo and Cass' final NXT contest before being called up to the Main Roster and going to Raw to feud with the WWE Tag Team Champions, The New Day.
The Revival (Scott Dawson and Dash Wilder) (c) v Enzo Amore and Collin Cassady (w/ Carmella) for the NXT Tag Team Championships
Prediction: Brock Lesnar
Though it is unknown at this time who Bray Wyatt's WrestleMania opponent will be, what we do know is that he's facing the Beast Incarnate tonight, and will probably lose, giving Lesnar momentum heading into his match with Dean Ambrose, which may end up being for the WWE World Heavyweight Championship.
In a match that started gaining traction just prior to the Royal Rumble event, Bray Wyatt attacked not only Brock Lesnar, but then WWE World Heavyweight Champion Roman Reigns. Lesnar was then thrown out of the Royal Rumble match by Wyatt's Family, in a booking that didn't make any sense whatsoever. Be that as it may, Lesnar started placing his focus on Dean Ambrose, his WrestleMania opponent, leaving the fans to think that this match had been scrapped. That, however, isn't exactly the case as tonight Lesnar takes on Wyatt, who's pretty much been floundering since The Royal Rumble pay per view.
Brock Lesnar (w/ Paul Heyman) v Bray Wyatt (w/ Braun Strowman, Erick Rowan and Luke Harper)
Prediction: Dean Ambrose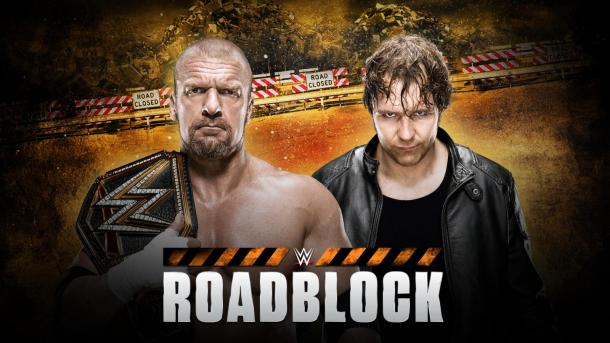 Dean Ambrose once again does the con job to find his way into the World Title picture, but this time he has to face "The Game" Triple H. It's already been made offical that H will defend against Roman Reigns at WrestleMania and Ambrose will face Brock Lesnar in a No Disqualification Match. However, with Reigns getting boo'd out of every arena they're in, the WWE will likely have to resort to a Plan B to save from a riot breaking loose at 'Mania, and what better way than to have the most popular superstar in the company defeat the Game tonight in Toronto? This makes sense because Reigns wants Triple H after the past few months, so lets his friend have the title after inadvertenly costing H the match, and Ambrose retains against Lesnar setting up Reigns v Ambrose at Extreme Rules.
Main Event: Triple H (c) v Dean Ambrose for the WWE World Heavyweight Championship
Tonight, the long road to WrestleMania 33 in Dallas, Texas hits another roadblock (no pun intended) that could flip the entire show upside down, with four championship matches only on the WWE Network!