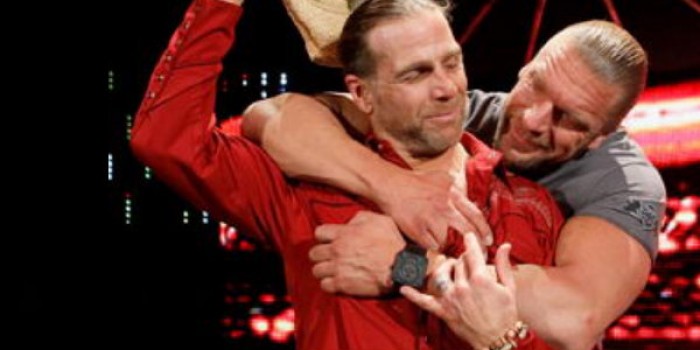 What can you say about Shawn Michaels that has not already been said? Arguably one of the greatest in-ring performers that WWE will ever see. Michaels is a four-time World Champion: a three-time WWE Champion and a one-time World Heavyweight Champion. He is also a two-time Royal Rumble winner and WWE's fourth Triple Crown Champion as well as being the first ever WWE Grand Slam Champion. He was also inducted into the WWE Hall of Fame in 2011 so to say that he has done it all in the wrestling industry is a huge understatement.
Rocky Start for Shawn Michaels
Michaels' WWE career began as part of a tag-team known as The Rockers. The Rockers did well as a mid-card team and were well received mainly by women and children. However on December 2nd 1991 The Rockers would ultimately split when Shawn Michaels turned on Marty Jannetty on Brutus "The Barber" Beefcake's talk show segment, The Barber Shop.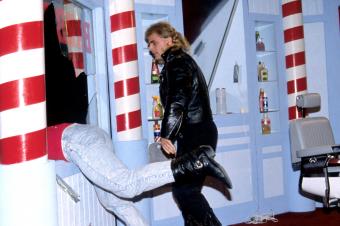 Michaels nailed Jannetty with a superkick and threw him through a glass window on the set of Beefcake's talk show and from that point on Shawn would go onto become one of the hottest heels through the 1990's.
Intercontinental Championship Run
At this point in his career Michaels had become "The Heartbreak Kid" and along with this new name came a more vain and cocky villain. He also took Sensational Sherri on as his manager. Throughout the 90's Shawn Michaels challenged for the Intercontinental Championship and he would eventually win the coveted title after defeating The British Bulldog on the October 27, 1992 episode of Saturday Night's Main Event which was aired on the 14th November. Michaels would then go onto feud with his former tag team partner and best friend Marty Jannetty. He would drop the title to Jannetty on Monday Night Raw on May 17, 1993 but he would regain the title on June 6th with the help of his debuting bodyguard Diesel.
Then in 1994 he entered into the biggest feud of his career when he took on Razor Ramon, who had won the Intercontinental Championship which had been vacated (because WWE President Jack Tunney felt Shawn Michaels did not defend the title enough) during Michaels' absence. This feud would ultimately culminate at "The Grandest Stage of them all" WrestleMania when the two men who claimed to be champion did battle in a ladder match which saw both Michaels and Ramon go tit for tat but it was The Bad Guy that ultimately prevailed
Michaels and Hart's Intense Rivalry
In 1996 Michaels had considered retirement but he did a U-turn and returned with a bang when he won the 1996 Royal Rumble for the second time and went onto face Bret Hart at WrestleMania XII in a 60-Minute Iron Man match in what was a classic match that ended 0-0 after 60 Minutes. Shawn Michaels won the match by one single solitary fall in overtime. Then in late 1997 Shawn Michaels joined forces with real-life friend Triple H, Hunter's then-girlfriend Chyna, and Rick Rude to form the stable D-Generation-X and they began feuding with The Hart Foundation, and this feud would culminate in one of the most heated and most controversial matches in WWE History when Shawn Michaels took on Bret Hart at Survivor Series.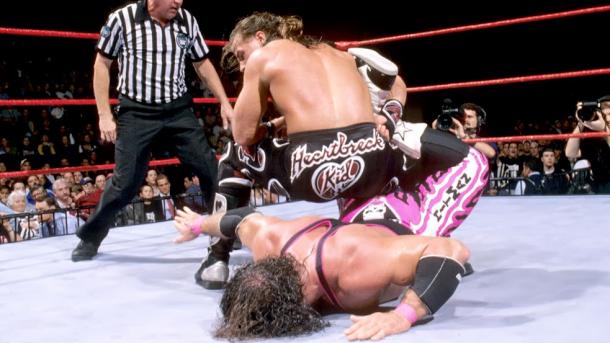 It had become well known that Bret Hart was leaving WWE and at the time he was planning to leave the company with the WWE Championship but WWE Chairman Vince McMahon did not want this to happen, McMahon decided without Hart's knowledge that Michaels would win the title at Survivor Series. The plan occurred when Shawn Michaels locked in the Sharpshooter and then on Vince's orders referee Earl Hebner ended then match even though Hart had never tapped out. Michaels was declared the victor by submission and crowned as the new WWE Champion.
The fallout from "The Montreal Screwjob" was huge as Bret hart was completely removed from the annals of WWE. Michaels and McMahon would receive negative responses from the WWE Universe especially in Canada (Hart's Home Country) although everyone would reconcile over time. Mr. McMahon and Bret Hart would reconcile in 2006 and Hart was put into the WWE Hall of Fame and Shawn Michaels and Hart would bury the hatchet in 2010 when both men had a lengthy discussion about the Montreal Screwjob and other events in their past. They agreed to call a truce, bringing closure to the incident more than 12 years later.
HBK gets personal with Triple H
In 2002 came one of the most personal feuds in WWE history came about after Triple H turned on Michaels by performing a Pedigree on him after it seemed as though D-Generation-X were going to return. Only a week later Triple H attacked Michaels from behind in a parking lot and put his head through a car window, Michaels would then go onto challenge his former best friend to a non-sanctioned match at SummerSlam which Michaels won. and this match would lay the foundation for a rivalry that would last for several years. Then at Survivor Series 2002 the WWE Universe was treated to an Elimination Chamber match for the World Heavyweight Championship which "The Heartbreak Kid" won, but his reign would only last a month as Triple H would regain the title in a 3 Stages of Hell match at Armageddon.
Shawn Michaels would also feud with Chris Jericho in 2003. This feud would begin at the Royal Rumble when Jericho along with Christian would violently attack HBK during the Royal Rumble match which would lead to Michaels' elimination from the match. This feud would culminate at WrestleMania XIX which Michaels won but then after the match Jericho delivered a low blow to Michaels. Then Michaels would feud with both Chris Benoit and HHH in 2004 with both HHH and HBK ultimately failing to capture the World Heavyweight Championship from Benoit who won the title at Madison Square Garden at WrestleMania XX. Between 2005 & 2007 Shawn Michaels would reform DX with his best friend Triple H to take on The McMahon's & Rated-RKO in what were some very bloody matches. They also feuded with the Spirit Squad in what made for some rather humorous WWE programming.
Michaels shows a new side of himself
In 2008 Michaels had a brilliant feud with Chris Jericho which all stemmed from the June 9th episode of RAW when Michaels was attacked by Chris Jericho during his talk show segment, The Highlight Reel, being thrown directly through a television screen which caused a detached retina. But this did not stop "The Main Event" from challenging Y2J to a match at The Great American Bash which Jericho ultimately lost after he attacked Michaels' injured eye causing the referee to stop the match awarding the win. Following this Michaels began to question the notion of retirement and at SummerSlam announced the he was indeed going to retire, until Jericho punched Shawn's wife and on the Raw immediately following SummerSlam, Michaels renounced his retirement and challenged Jericho to an unsanctioned match at Unforgiven. Jericho accepted and what transpired at Unforgiven was Michaels delivering such a brutal beating that he won the match via stoppage.
Mr WrestleMania leaves it all on the line at The Show of Shows
Then came two of the greatest WrestleMania matches of all time which both involve Shawn Michaels and The Undertaker. It all began at WrestleMania 25 when it was "Mr WrestleMania" v "The Streak". The match that transpired in was a classic that had it all from the get-go. But it was The Undertaker that won the match to extend his 17-0 in a match that won Match of the Year Award at the 2009 WWE Slammy Awards which took place live on WWE Raw, and Match of the Year award from Pro Wrestling Illustrated and Wrestling Observer Newsletter.
Shawn Michaels was not going to take the loss lightly and he would set out to get another match with The Deadman from entering the 2010 Royal Rumble which he did not win as he was eliminated by Batista to even costing The Undertaker a chance to become the World Heavyweight Champion at Elimination Chamber inside the unforgiving structure. The Undertaker then granted Michaels a rematch at WrestleMania 26 on one condition, that if he loses then he retires which he accepted and the two were set on a collision course at "The Show of Shows" once more.
They say lightning never strikes twice but HBK & The Deadman put on another good match in what was another epic match and at WrestleMania XXVI, Michaels lost to The Undertaker once again and as a result he was forced to retire due to the match stipulation. The same way HBK ended Ric Flair's career two year previously in Orlando. The Following night on RAW Michaels would enter a WWE ring for the final time as he delivered his farewell speech which ended with the familiar line "Shawn Michaels has left the building." He has appeared in numerous capacities since he retired from in- ring competition and he is a WWE ambassador.
Throughout his career Shawn Michaels was the consummate professional who battled his demons to become one of the greatest in-ring performers that WWE has ever seen and will ever have.