Well Ladies and Gentleman, it's safe to say the NXT Takeover Dallas was an incredible event. Every match was fantastic and all those involved should be proud of what they have achieved tonight. I've been Ryan Caffrey and I hope you've enjoyed keeping up with tonight;s action. Thank you all, and goodnight.
Balor himself hit the Coup de Grace but Joe recovered straight away to lock in the Coquina Clutch. Somehow Balor used the turnbuckle to flip over Joe and pin his shoulders to the ground! What a finish to a great match!
IT'S ALL OVER AND STILL NXT CHAMPION: FINN BALOR
Joe hits the Muscle Buster but the champion kicks out! The image of Joe staring is disbelief as blood pours down his face shows the battle they two men have been through.
Some great moves from Joe, a powerbomb into a Boston crab straight into a cross face.
Now the champion mounts some offence with some knife edge chops and drop kicks sending his opponent out of the ring. but again Joe brings it back in his favour with a belly to belly suplex. The impact was brutal.
It's been all Samoa Joe. The challenger lands an atomic drop followed by a huge big boot sending Balor to the floor.
The Samoan lands his famous corner enziguri. But again the staff have come in to deal with Joe's eye.
Joe is really throwing Balor around with ease. Real David - Goliath feel.
Much to the crowd's disdain Joe is having his eye dealt with by the WWE staff.
Only in the world of wrestling would you see a 300 pound man throw himself through some ropes to crush a man who is only two thirds of his weight.
Joe sends Balor over the barricade, very fast start to this match. In fact. This is not a match, this is a fight.
Straight away? Joe is already bleeding quite heavily from his face. Real main even feel with the blood flowing from his face as Balor flys over the ropes to take out his opponent.
We're off here. Both men in a stare off instead of a lock up.
AND HE'S HOLDING A CHAINSAW.
Back to the match, here comes the champion. In all his demonic glory.
Bobby Roode is in the crowd at this event. Are you all excited? What does this mean?
Here we go people. The challenger is on his way out. To what is one of my favourite entrance themes in WWE today might I add. This is going to be a fantastic ending to a fantastic show.
It appears the Apollo Crews and Elias Samson match has been cut as we are preparing for the main event between Finn Balor and Samoa Joe for the NXT Championship. It's a shame for Crews and Samson but I'm sure we'll see that match up soon enough.
Very strange finish. Asuka had Bayley in the Asuka lock for a very long time with Bayley on a number of occasions trying to make it to the ropes but never could. Eventually Bayley loses her title by being choked out. An odd way to end the match but at least it keeps Asuka looking like a very dominant force. Very good match and NXT again has a fantastic Women's champion.
NEW NXT WOMEN'S CHAMPION: ASUKA
Great move by Bayley! Countering Asuka going for a strong strike and stealing her opponents submission. The Japanese star broke out.
Bayley lands a tough suplex on Asuka, both women are down and worn out. It's been a rough match for both competitors.
Asuka responded with a diving dropkick from the middle turnbuckle. Then delivered a strong knee to the face, that was a close two count.
Bayley hit a sublime hurricanrana, coming from in the ring to plant Asuka outside of the ring.
Speaking of submissions the champion has locked in the same choke hold she finished Nia Jax with in London but then Asuka broke out and locjed in her own ankle lock.
Bayley nearly had herself in some trouble there. Asuka grabbed her opponent and nearly locked in an arm bar. Bayley looking good at the moment but that moment showed how quickly the match can change.
Asuka nearly land a kick that looks like it would have decapitated Bayley. It's clear to see who would come out on top if this became a pure striking match.
"Asuka's gonna kill you." "Bayley's gonna hug you." Fantastic duelling chants Dallas. Well done. Vavel approves.
The crowd is very much behind the champion here.
Next up its the Women's Championship! Asuka is making her way to the ring with an even more disturbing mask.
Zayn is stood alone in the middle of the ring as a chorus of Ole chants ring through the air. Is this the last time we'll see him on NXT? Perhaps. But he has a successful career on the main roster to look forward to. Thank you Sami.
He finishes his first match in NXT with the knee he made famous around the world. First hitting Zayn with a knee into the back of the head from the top rope, then seeing the opportunity to land the running knee strike. Welcome to NXT Shinsuke Nakamura. Fantastic match. Well done.
WINNER OF THE MATCH: SHINSUKE NAKAMURA
SO CLOSE FOR SAMI! He tries to land his Helluva kick but Nakamura counters and nearly lands the famous running knee he's used so often in the past but Zayn counters again into a Blue Thunder Bomb for a very close two count.
The Canadian locks in the koji clutch but Nakamura breaks out and lands an impactful step up enziguri.
Zayn has made a point of using the exact same moves that Nakamura uses against him. He is still the man.
Nakamura uses an impressively quick reversal to try and lock in an arm bar but eventually locks Zayn into a triangle hold. Zayn powers out of the move.
Duelling punches have lead to Nakamura's nose being busted open!
Wow! Zayn scoops up a running Nakamura and slams him right down onto the back of his neck. How's that for strong style?
But here comes Sami! He went for his favoured diving swanton followed by a crossbody for a near fall. Pace really quickening.
Nakamura is starting to get his rhythm, hitting Zayn with a doulbe knee to his core.
Every one of Nakamura's strikes look like they are making devastating impact. He's not called "The King of Strong Style" for nothing.
Zayn picks up the speed with his classic flurry of arm drags.
Both men alow the crowd to show their support, duelling chants followed by "Yes" chants fill the arena.
Nakamura's entrance is as flambouyant and enthralling as you would expect. It really is a sight to behold.
Next up it's the match that many people have come to see. Sami Zayn faces the debuting Shinsuke Nakamura. This is going to be a good one.
A little out of the blue. Corbin went for The End of Days but Aries counter swiftly into a roll up to grab a pinfall win on his debut. Solid match, good performance by both man.
WINNER OF THE MATCH: AUSTIN ARIES
Corbin shifts the momentum straight back into his favour by landing a huge Deep Six outside of the ring. Aries just beats the count to keep the match going.
Aries takes to the top rope again and finally takes the big man down with a missle drop kick.
Corbin is doing well to keep his opponent grounded. Using his size to make sure Aries doesn't mount any more offence.
The former TNA star hits his first big move in NXT with a double axe handle from the top turnbuckle.
Aries goes straight at the Lone Wolf. But the latter uses his superior size and strength to counter that. Aries won't be able to out power his opponent.
Next up is the grudge match between Baron Corbin and Austin Aries, they'll have a hard time following that last match.
What a finish, as Dawson and Gable try to get a number of countered pin falls on each other, Jordan got a sly tag in and delivered a powerful spear into the corner. This allowed the duo to deliver their tag team finisher and pick up the top prize for an NXT Tag team. Congratulations guys. You earned it.
NEW NXT TAG TEAM CHAMPIONS: AMERICAN ALPHA
The Revival again try to use a heel tactic to gain the win, trying to use the ropes to keep Jordan down for the three count but the big man kicks out! This match is incredible!
Justin Jordan comes in on fire, delivering T-Bones Suplex's and high impact tackles.
Innovation from The Revival as Dash goes under the ring to pull Jordan off the apron before Gable could get a hot tag in.
The champions are now starting to gain some momentum. Quick tags and brutal strikes seems to be the theme of their offence. Classin Revival.
With the referee distracted, The Revival looked to get a cheat shot in on Gable. But Jordan was there to stop it, leading to a perfect double dropkick followed by a double German suplex. That was nice.
The match has started slow as both teams look to warm up the crowd, Gable got a tag into Jordan and he delivered a huge drop kick to Scott Dawson.
"Which one's Dawson? Which one's Dash?" Dash has hair on his head people. Good way to remember.
American Alpha are the first to arrive in front of this hot Texan crowd! Gable and Jordan hope to finally defeat The Revival here, and here come the champions!
Here we go Ladies and Gentleman! NXT Takeover Dallas begins with a video clip highlighting the many stars that Texas has produced in the past, and comparing it to the many incredible talents that NXT is developing right now.
Sami Zayn mentioned the word "Legacy" many times in a backstage segment. Both he and his opponent tonight, Shinsuke Nakamura, already have a legacy within the world of wrestling. If the match tonight lives up to expectations, both could begin their still budding WWE career with a match of the year candidate.
We are beginning with the views and opinions from Hall of Famer, Lita, and Smackdown commentator Mauro Ranallo
Welcome to the live text commentary for NXT Takeover Dallas! The event is set to kick off in 30 mins. I'm Ryan Caffrey and i'll be your host for the evening. Are you excited for the show? Tweet us @VAVEL_Wrestling!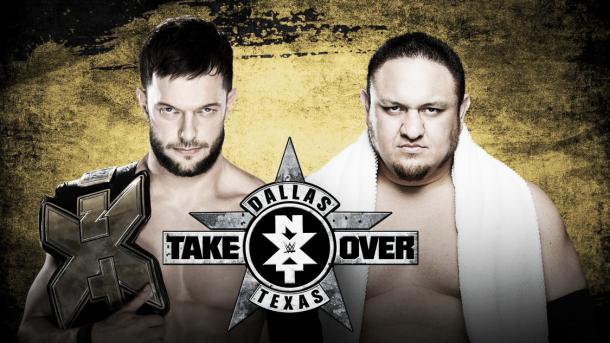 NXT Championship Match: Finn Balor (c) - Samoa Joe
Now it's time for the main event, and it includes two of the best in ring performers that have ever graced NXT. Both men have international credit and a heated rivalry that will finally showcase the finish to their feud.
Balor has been the NXT Champion for a long time now, being the face of the brand with his superior wrestling talent and unusual and demonically charged character. Now he will face the Samoan submission specialist, a man who beat a former NXT Champion in Sami Zayn already to get to this match. An old fashioned fight between a quick, nimble technician and a powerful grappler. It promises to be a main event worthy of the title.
I see no finer stage than Takeover Dallas to debut the highly anticipated Balor Club, with Doc Gallows and Karl Anderson interfering with the match to maintain Balor's place at the top of the brand, and leading to the champion having a heel run and giving the chance to up and coming faces to have a shot at the belt.
Predicted winner: Finn Balor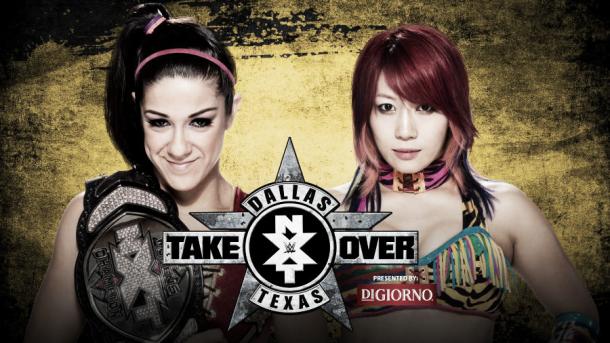 NXT Women's Championship Match: Bayley (c) - Asuka
Every bout on the card has the potential to bring a match of the year candidate, especially this one, which is testament to how far the women's division has come, not just in NXT but on the main roster too.
Asuka has terrorised the women's division since her arrival, possessing the rough style that is so strongly associated with the Japanese way of wrestling. Having her sights firmly set on quickly taking the top spot in NXT, the volatile superstar has shown that she possesses the talent and intent required to take the title.
The only thing standing in her way is Bayley, the fantastic wrestler who has dominated her division for a number of months. She is the fourth member of the four horsewomen and her arrival on the main roster is one of the most anticipated debuts since Sasha Banks, Charlotte and Becky Lynch revolutionized the Divas division.
Yet I expect Bayley to retain her title against Asuka and hopefully set up a lengthy rivalry in NXT, culminating in a match that can rival the 30 minute iron woman match that Bayley and Sasha Banks competed in.
Predicted winner: Bayley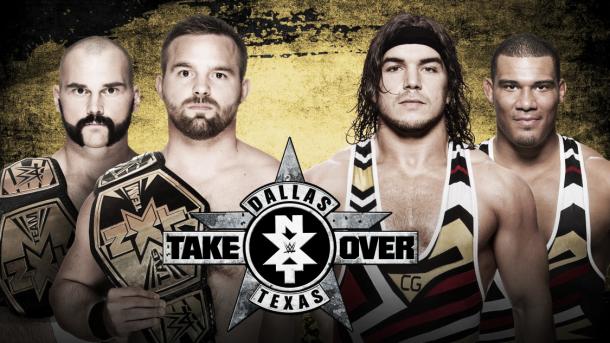 NXT Tag Team Championship Match: The Revival (c) - American Alpha
Dash Wilder and Scott Dawson have been fantastic heel champions during their run, and are often cited as an old school style wrestling duo. The two have used a combination of aggression and no-nonsense fighting to ensure they keep held of the belts.
The two could finally have met their match in the up and coming duo of Chad Gable and Jason Jordan. We have two incredibly talented wrestlers gifted with natural athletic ability and huge levels of popularity in the build up to this match.
American Alpha should finally be the team to take the belts from The Revival, giving the two young stars the opportunity to be the headline tag team in NXT. It also allows Dash and Dawson to move up to the main roster soon and bring a revival to a stale tag team division that is struggling to provide The New Day with viable opponents.
Predicted winners: American Alpha
Now we move onto the title matches, with NXT showcasing the best that they have to offer and to perhaps crown new and deserving champions.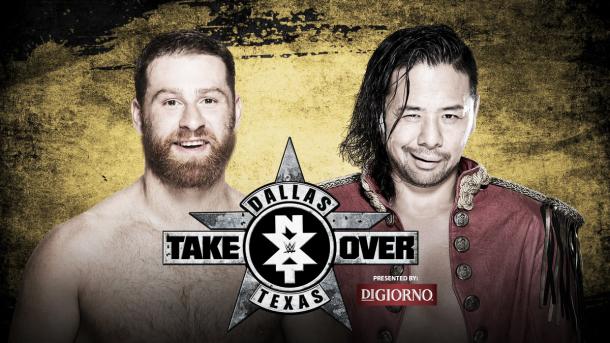 Sami Zayn - Shinsuke Nakamura
A match that seems almost too good to be true, two of the most talented performers in the world at the moment facing off during the most exciting weekend in the world of professional wrestling. It pits the man who has arguably been the face of NXT for a while now against "The King of Strong Style."
Zayn comes into this match after just missing out on main eventing at Takeover after Samoa Joe overcame him in their number one contenders. But, Zayn still has the opportunity to steal the show in this match, with Nakamura being the perfect partner to create magic with.
When the Japanese star was announced via a video as Zayn's opponent, it left fans with watering mouths. With Zayn now firmly part of the main roster and competing in the Intercontinental Championship Ladder Match at Wrestlemania I expect Nakamura to be the man to hand Zayn a loss in his last NXT match. That eventually lead to two successful WWE careers and perhaps a rematch on the main roster somewhere down the line.
Predicted winner: Shinsuke Nakamura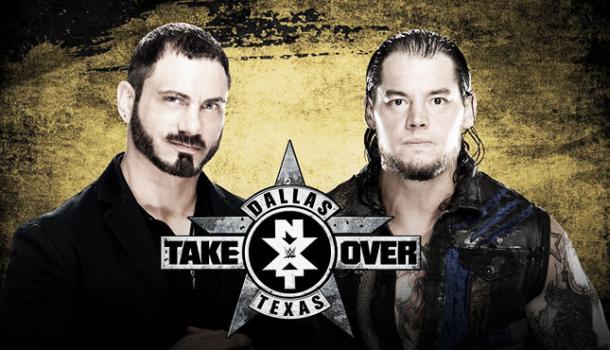 Austin Aries - Baron Corbin
The former TNA star arrived after General Manager William Regal proudly announced the capture of an internationally recognised superstar, and Aries was immediately thrust into a rivalry with Corbin.
The latter was upset with his Regal for not including him in the NXT Title scene and took his frustrations out on his prized signing, and the feud has mainly been a war of words between the two men.
Come Friday evening the two will finally have their chance to show who the best man is, with Aries hopefully winning this match and going onto showing his talent against top tier talents within the NXT roster.
Predicted winner: Austin Aries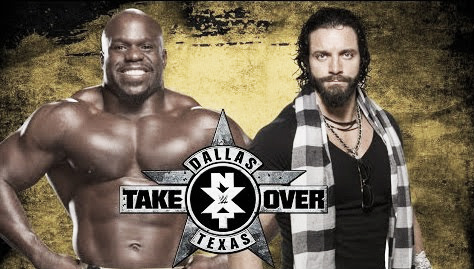 Apollo Crews - Elias Samson
It's clear to see that Samson's odd drifter gimmick is not meriting any sort of reaction from the fans other than a sigh of disdain. Yet, putting him against a superstar like Crews, who was recently fighting Finn Balor for the NXT Championship no less, shows that the company are putting some real trust in Samson.
Even if the gimmick is not really faring well with the fans, Samson has proven that he is very competent in the ring and has the ability to take it to Crews. But, I fully expect the former number one contender to overcome his opponent and hopefully get himself back into the main event scene.
Predicted winner: Apollo Crews
Welcome to the live text coverage for NXT Takeover Dallas! I'm Ryan Caffrey and I'll be bringing you the updates from the event which is scheduled to kick off at 10 pm ET. But until then, here is a preview and some predictions for the potentially incredible matches that await us.