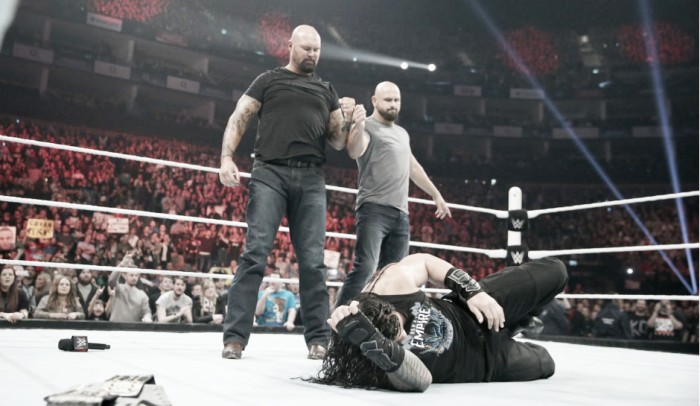 Finally after a few nights this author saw Monday Night RAW which this week came from London, England and once again Shane McMahon was in charge of the WWE's flagship show. We had a jam packed card with the Tag Team Tournament continuing, The Underdog v The Best in the World at what he does, and a rather crazy main event in jolly old England.
London becomes the Ambrose Asylum!
RAW kicked off with the newest talk show The Ambrose Asylum and Dean Ambrose's guest was none other than the Prodigal Son, Shane McMahon. Shane was in a good mood as he summed up his stewardship of WWE by saying "We have arrived." Then came the chaos, when not one man but three men all interrupted the show. Kevin Owens, Sami Zayn & Chris Jericho all made their way to the ring to address the issues that had arisen on SmackDown.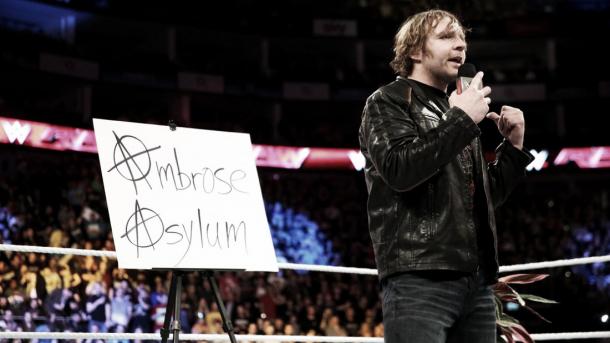 Shane McMahon was quick to offer a solution to the problem as he arranged two matches for Payback. Kevin Owens v Sami Zayn & Chris Jericho v Dean Ambrose which look like two solid matches for the event. He also set up two matches for later in the evening Jericho v Zayn & Ambrose v Owens.
Chris Jericho v Sami Zayn
This match between these two well traveled men was a genuine sloberknocker and for Sami Zayn was heart-breaking as he lost the match, but this bout was anything but easy for Chris Jericho as it was a truly hard hitting match with both men hitting the other with everything in their arsenals. Zayn seemed as though he was in control for most of the match.
However with that being said Jericho used all he in ring skill when it look as though Sami Zayn was going to hit the Helluva Kick, Jericho was able to use the ropes to get the referee to break up the match. Then Jericho poked Zayn in the eyes to hit the Codebreaker for the victory.
Enzo & Cass cause an upset
Enzo & Cass maybe their way to the ring for their first match on Monday Night RAW when they went toe to toe and blow for blow with The Dudley Boyz. This match got ugly really quickly after all the smack talking from Enzo & Cass. The Dudley Boyz dominated Enzo Amore in the early exchanges of the bout but one missed step allowed Enzo to regain control of the match.
He then began the process of softening up the Dudleys. Bubba-Ray miscalculated and took D-Von out of the picture allowing Enzo to bring in the cavalry in the form of Big Cass. Cassady then cleared house and nailed a big boot on Bubba-Ray to set up the Rocket Launcher for the win.
Anderson and Gallows strike again
Since WrestleMania 32, Roman Reigns has been in great form and he has a huge title defense to look forward to at WWE Payback against the most unlikely of opponents as he faces The Phenomenal One, AJ Styles. Reigns came out to address his opponent and this prompted a response from AJ but then his former acquaintances from Japan, Karl Anderson and Luke Gallows attacked Reigns and for all it's worth AJ did not look too happy with the events that had just unfolded despite reuniting with them earlier in the night.
Fandango meets his End of Days
Baron Corbin continued on his path of destruction since WrestleMania as he took on Fandango with Dolph Ziggler at ringside and he made light work of the fleet footed dancer as he used his brute strength to dominate the match even going as far as tossing Fandango over the announce table at Dolph Ziggler, and he would then show Fandango his End of Days to get another impressive victory.
Booty-O's get an International flavor
Following an earlier altercation on Miz TV between Miz, The League of Nations, Cesaro & The New Day a 6-man tag team match was ordered to take place and this was a truly back and forth match as Cesaro and The New Day took early control of the match only for The League of Nations to swing the momentum their way when the singled out Xavier Woods. But Xavier tagged in The Swiss Superman and this led to an all-out brawl. Ultimately it would be Cesaro that would pick up the win for his team when he hit the Neutralizer on Sheamus for the 1-2-3.
Natalya shows us she has Flair
Natalya gets another shot at the WWE Women's Champion, Charlotte at WWE Payback but first she teamed with Sasha Banks, Becky Lynch & Paige to take on Charlotte, Naomi and Tamina & Summer Rae in what was a hard fought even match. Natalya would get the win after putting Charlotte in the Sharpshooter after she tagged herself in but it proved to be a huge mistake. Natalya can now look toward her championship match at WWE Payback.
The Vaudevillians Advance in Tournament
The Vaudevillians may have cause a huge shock on RAW when they beat the 2-time Slammy Award Winning tag team of the year The Usos. However it was the way they attacked the injured shoulder of Jey Uso that would lead them to victory. It was the work on the shoulder that set up the Whirling Dervish to get English and Gotch the victory and now they head toward a match with Enzo & Cass
The Apollo Nation enters London
Apollo Crews looked to be in a fighting mood as he came to the ring and he looked to take on another member of the Social Outcasts and it was Heath Slater that would step up. Slater even offered Apollo a chance to join his band of merry men, Apollo said he would on one condition if Heath managed to beat him but once again Apollo made rather light work of a member of the Social Outcasts as he hit the Spinning Sit-Out Powerbomb. He then looked to a bigger target in the form of Kevin Owens.
Ambrose v Owens Once Again
The main event of RAW saw the renewal of an old rivalry from early this year as Dean Ambrose took on Kevin Owens. Once again these men delivered sheer and utter chaos. It hit ringside within minutes and Kevin Owens took a trip over the announce table after a Suicide Dive from Ambrose. Owens would then repay Ambrose with a huge frog splash and would go for another but Ambrose would get his knees up.
Then bam……….Dirty Deeds 1-2-3 and just like that the match was over but then Ambrose's opponent Chris Jericho came down and blasted Ambrose with a Codebreaker well Payback is a B***h as Jericho left Ambrose in a heap.