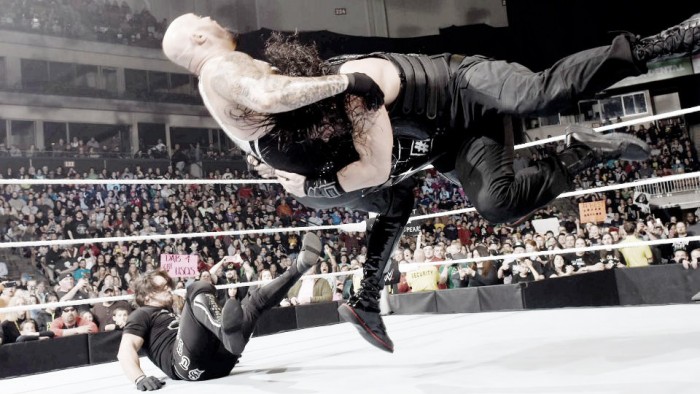 SmackDown had huge Payback ramifications with a champion v champion main event, a showdown between Natalya and Charlotte, a tag team match with one of the tournament final teams and huge brawl as WWE heads toward Payback this Sunday.
The Big Dog wants AJ Styles to admit the Truth
With a huge match for the WWE World Heavyweight Championship against AJ Styles this Sunday at Payback, Roman Reigns took to the ring to try and get Styles to admit the "truth" that he is indeed involved in what is going on with Karl Anderson and Luke Gallows. However it was not what happened as The Miz came down to the ring.
The Intercontinental Champion was still raging about what happened to him during last week. He then took the time to pat himself on the back as he claimed to be the first to publicly claim AJ's collusion with his former Bullet Club mates. He then proceeded to insult Reigns who was in no mood for it and Roman smashed the A-lister in the mouth and dumped him out of the ring.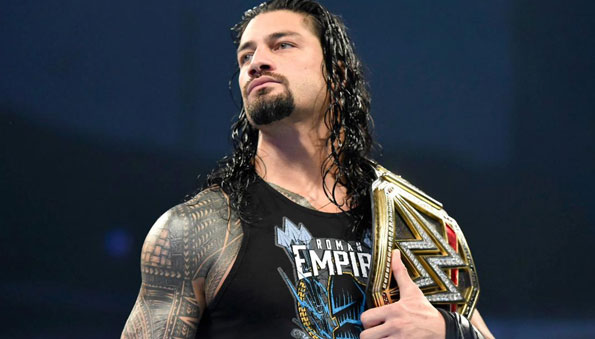 The League of Nations is in Disarray
For a long time it looked as though the League of Nations was a well-oiled machine. Then we come to SmackDown when the "lads" were scheduled to take on Kalisto, Sami Zayn & Cesaro. Before the match however Alberto Del Rio, Rusev & Sheamus could not agree on who was going to start this match.
Then as Rusev tagged in this led to a shoving match between the LON. Alberto Del Rio then walked out on his team mates. Then an accidental forearm from Sheamus led to the Bulgarian Brute leaving as well which left Sheamus on his own to fight this bout but then he too decided to take a walk handing the win to Kalisto, Sami Zayn & Cesaro. Then backstage Sheamus disbanded the League of Nations.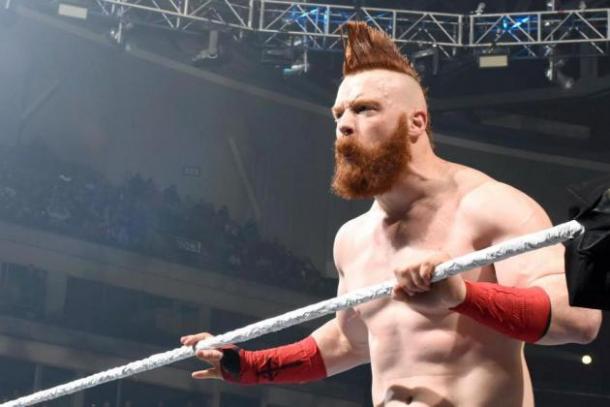 The Lone Wolf dominates once again
Baron Corbin once again put on a dominate display when he took on Damien Sandow. This show of force comes days before his match against Dolph Ziggler at Payback. He finished off Sandow quickly with the End of Days. Is this a sign of things to come this Sunday only time will tell?
Nattie has a war of words with Charlotte
Before he hosted the Ambrose Asylum, Dean Ambrose took some time to deliver a warning to Chris Jericho. This however was only the beginning of the chaos that was about to unfold. His guests were the WWE Women's Champion, Charlotte who had her father by her side and Natalya the #1 Contender. What transpired was a tense and heated war of words ahead of a huge title match at Payback.
Natalya was quick to engage in a war of words with Ric Flair. They had a heated debate about Ric's past with Bret "The Hitman" Hart. To say this made any animosity worse between champion and challenger is an understatement. The question then becomes can The Queen of Hart's beat the Champion on Sunday.
Enzo & Cass show us that they aren't S-A-W-F-T
This bout was utter chaos even before the bell rang as WWE Tag Team Champions, The New Day took over commentary duties for Enzo & Cass v Bo Dallas and Curtis Axel. This match once again proved that Enzo & Cass can back up their smack talk with their actions in the ring. This was a huge momentum boost for the newcomers ahead of the tournament final at Payback against The Vaudevillians.
Simon Gotch & Aiden English came out to scout their opponents on Sunday but one thing. It appeared as though they were surprised. As Always after the match Enzo & Cass reminded them that there is only one word to describe them S-A-W-F-T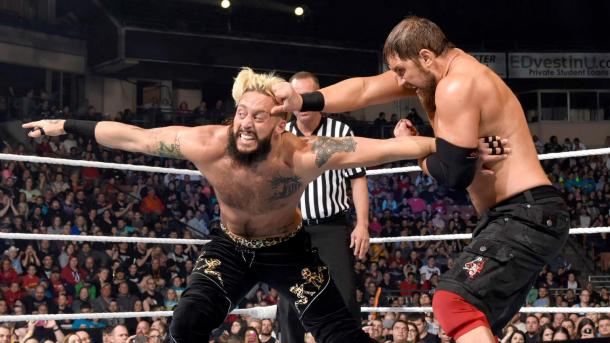 Apollo out of this world against Stardust
In a match that came about as a result of a strange backstage segment earlier in the evening Apollo Crews headed to the ring to take on Stardust. However just before the match Stardust asked a WWE employee to find Apollo Crews and to tell him that "Cody" is gone.
Stardust was happily thinking that if he could defeat Crews it may silence some of the voices in Stardust's head. We will never know as Crews impressively won this with the patented Spinning Sit out Powerbomb.
R-Truth finds a "Pretty" good partner
Just as it looked as though R-Truth and Goldust were going to form the newest tag team in WWE "The Golden Truth" some bad news came Goldust's way. R-Truth found a new partner in the form of Tyler Breeze and this left Goldust heartbroken.
Chaos Reigns Supreme during SmackDown Main Event
Roman Reigns made light work of The Miz when he finished off the former WWE Champion and current Intercontinental Champion with a spear. AJ Styles was sat at ringside to get a close look at the man he faces for the WWE World Heavyweight Championship this Sunday at Payback.
What transpired after the main event was just pure and utter chaos. As Roman Reigns celebrated his victory it broke down into a huge brawl. This was after Luke Gallows and Karl Anderson made their way to the ring. Roman Reigns was overpowered by Styles's buddies. However the One received help from the All as The Usos made the save for their cousin.
The #1 Contender then entered the ring and it looked as though he was trying to be neutral. This did not last long when AJ got smashed in the face by Jimmy Uso. AJ then fought back when he hit an enzuigiri. Then Gallows took one for his friend when he was speared. Then AJ & Roman both attempted their signatures as SmackDown came to a chaotic end. Who will walk out of Payback with the title and what role will Gallows and Anderson play tune into Payback only on the WWE Network this Sunday.