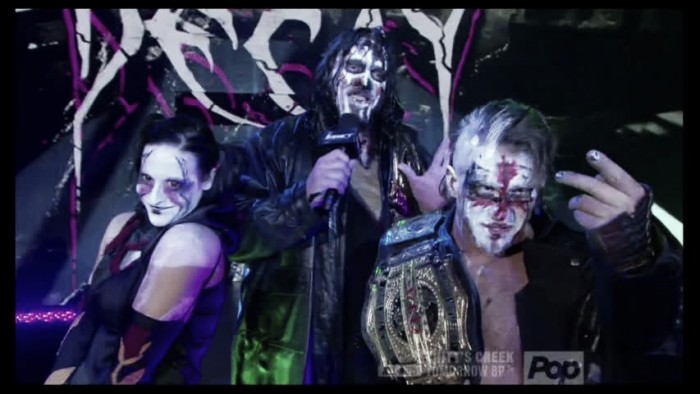 Opening in-ring Segment: Jeff Hardy calls out Decay after their attack on him last week. Decay reveals they were paid for the attack, leading to a TNA Tag Team Title Match between Decay, Hardy, and James Storm.
Murphy's Musing: This was a strong opening promo, featuring some of the best mic work from Abyss in a long time. It was effective in establishing a story and why the upcoming match was about to take place. Of course, the person, who will likely be revealed as the mastermind behind the attack, shouldn't be a surprise, and giving Hardy and Storm a title match out of the gate is a bit random, but this was better than TNA's usual habit of throwing wrestlers into matches with no rationale and no buildup.
Match #1: Decay defeated Jeff Hardy and James Storm to retain the TNA Tag Team Titles, due to "Willow's" outside distraction.
Murphy's Musing: Again, Willow's eventual identity shouldn't be a surprise, but this was a decent match. Having the tag team champions go over in the match, as opposed to positioning them as stepping stones for Hardy, was a nice change of pace from what we've seen from both TNA and the WWE. It will be interesting to see who Decay will end up feuding with down the line, due to the current drought of tag teams in the promotion.
In-Ring Segment: Drew Galloway calls out Bobby Lashley and challenges him to an immediate match. Lashley declines but agrees to a World Title Match on next week's show. After Lashley leaves, Eli Drake comes out and challenges Galloway, leading to an immediate title match between the two.
Murphy's Musing: Again, it's nice to see that TNA is taking the time to put some build behind matches and explaining the stories behind them. Lashley has never really been a strong promo, but his role as the arrogant heel has suited him well thus far. Since he's never really been popular, it's been easy for him to generate heat, albeit "go away" heat. Drake was strong again, as usual, and bringing in his past relationship with Galloway was a nice touch; however, giving him a title shot, similar to Decay giving Hardy and Storm one, was a bit out of place.
Match #2: Drew Galloway defeated Eli Drake to retain the TNA World Title. After the match, Lashley speared Galloway.
Murphy's Musing: An entertaining match between the two. It would have been nice to see Galloway look a bit stronger leading into his match with Lashley next week; however, they have something with Drake, so giving him a strong performance was fine.
In-Ring Segment: EC3 called out Mike Bennett and challenged him to a rematch. Bennett accepted, on the condition that EC3 can defeat all of his "demons of the past," starting tonight in "Six Sides of Steel" match, against an opponent, to be revealed later.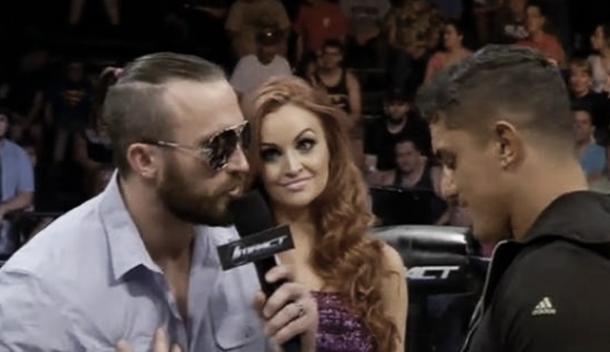 Murphy's Musing: More strong mic work between the two; however, on this week's show, TNA has employed the same strategy (a long promo, followed by a match) for the past three segments. While building stories is important, too many talking segments on top of each other, makes the show drag. On the plus side, having EC3 earn the rematch, instead of giving it away immediately is an interesting hook, which should make for some solid television over the next few weeks.
Match #3: Maria ordered Jade and Gail Kim wrestle for the TNA Knockouts Title. The match ended in a no-contest, when Sienna, who was at ringside, attacked both Knockouts.
Murphy's Musing: This match could have been better, but it served its purpose, which was to get heat on Sienna. It would be nice to see Sienna actually wrestle, but with the lack of depth in the Knockouts division, this method of buildup will have to do for now. And, this will be the third title match on tonight's show, with no rationale to explain why the challenger deserved the title shot. Being a former champion, Kim's opportunity makes sense, but it's still random.
Match #4: Mahabali Shera defeated Al Snow, due to outside interference from Grado.
Murphy's Musing: A fun match and a nice break from the story builds, which have dominated most of the show. Shera is still very green, but working with Snow should definitely help him. As an aside, Snow looks in great physical shape, given his age.
Backstage Segment: Several "Willows" attacked Jeff Hardy.
Murphy's Musing: Again, the reveal will not be a surprise, but an interesting story build, nonetheless.
Main Event: EC3 defeated Rockstar Spud in a "Six Sides of Steel" match
Murphy's Musing: Naming Spud as EC3's first hurdle in the series made sense. A cage match should be reserved for extreme circumstances, but given their history, it made sense, and the announcers took the time to explain their past history in cage matches. EC3 looked strong, which is good as a lead-in to the eventual payoff match with Bennett.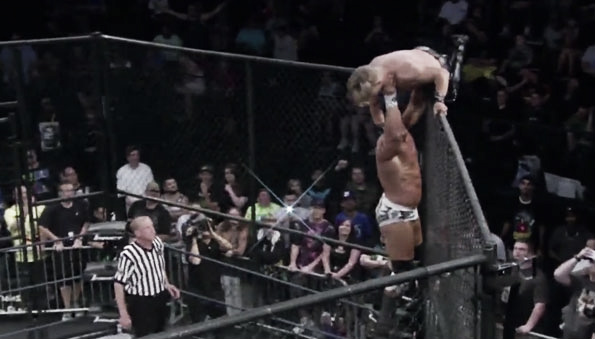 Overall, this was a good show. They took the time to tell stories that explained the matches that took place. Some better segment positioning to avoid redundancy would have been nice and title matches should never be handed out. But, this was better than the standard "throw matches against the wall to see what sticks" that the audience is used to with the promotion.
Until next week....