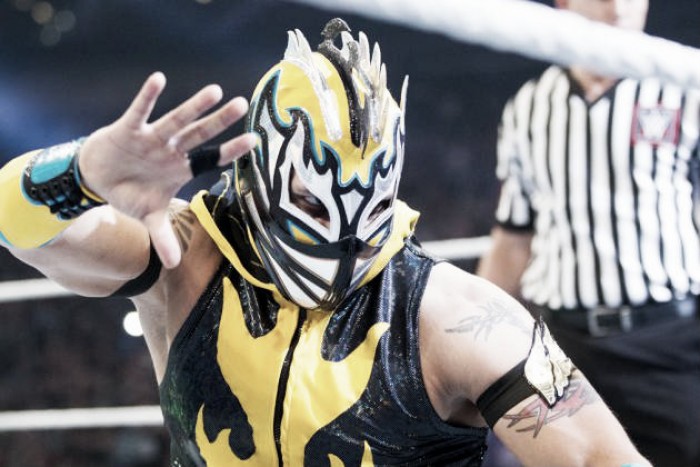 What Actually Happened?
During Monday Night RAW, Kalisto had a match against the Mexican Superman Alberto Del Rio during that match it cut backstage to show the other half of the Lucha Dragons, Sin Cara after the second screen cut back Rusev kicked him in the back of the head.
But Rusev didn't stop there he picked up Sin Cara and beat him off some backstage equipment creates and started beating him down badly. Meanwhile, in the ring, Alberto Del Rio made Kalisto watch the beat down to add insult to injury Alberto Del Rio damaged the mask of Kalisto by ripping off the tail at the back of the mask and put it in his mouth. Then towards the end of the match Rusev beat Sin Cara all the way to ringside as he kicked him hard in the gut laughing trying to get the attention of Kalisto but it wasn't until Rusev smashed Sin Caras head into the post that Kalisto couldn't ignore it anymore.
But before Kalisto could help his tag team partner and friend, Alberto Del Rio capitalized by hitting an amazing looking Backstabber causing him to lose the match.
Kalisto should have broken!
After the match as Kalisto got back to his feet and it didn't take more than a second for Rusev to kick him in the head to knock Kalisto to the ground. Rusev could have stopped there for the sake of just sending a message to Kalisto but he didn't. As Rusev stood over the body of Kalisto he stomped three times hard down on Kalisto's back three times what happened next was a bit much but people got to see how flexible Kalisto really is as Rusev locked in the Accolade bending Kalisto back as far as possible. When Kalisto walks again he may possibly be a few inches taller.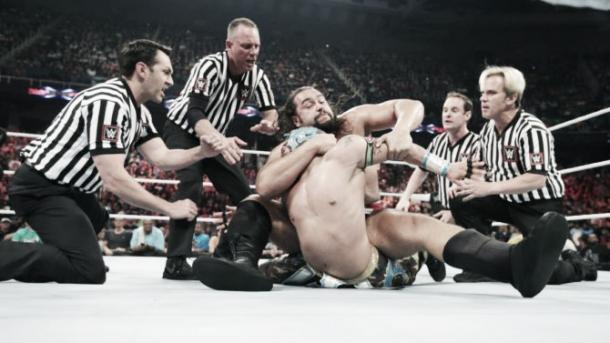 What the WWE reported
WWE had this to say on Kalisto: "Due to injuries sustained at the hands of Rusev on Raw, United States Champion Kalisto is unable to compete on this week's SmackDown, WWE.com has learned. WWE medical staff confirmed that Kalisto suffered a strained intercostal muscle and Erectus spinal muscle, attributed to Rusev's Accolade submission maneuver. Despite his injuries, Kalisto is still planning on defending his U.S. Title against The Super Athlete (Rusev) this Sunday at Extreme Rules."
Why report it for Smackdown
What the WWE reported on has people speculating that it's a work for a nice and easy win for Rusev Sunday. No way would they have Rusev just dominate Kalisto and take the title unless Kalisto is the one to set John Cena after Rusev and that's how the feud takes off again who knows? We'll have to wait and see on that but why they made a big deal out of him missing SmackDown when he wasn't advertised for it on screen matchup card doesn't make sense.
To say he is sitting out just SmackDown smells funny and people don't buy it for a second. Things are in the air whether or not this is a real injury which is believable enough the way he was stretched but again its SmackDown once it airs we will know more pending on if Kalisto attacks Rusev or if Rusev attacks Kalisto either which way we'll know if something is up.