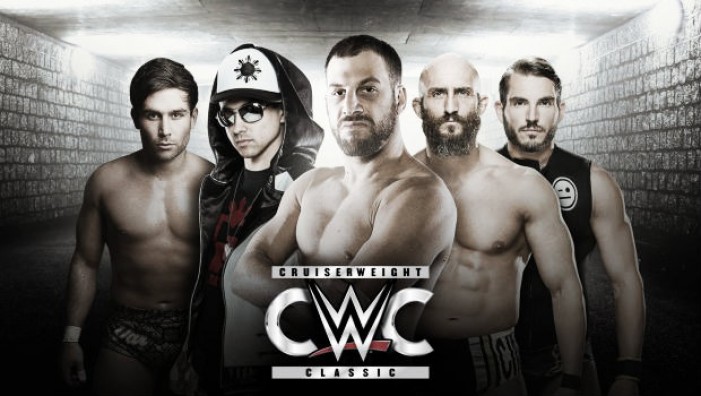 The cruiserweight classic has shaped up to be an awesome looking tournament that anybody who is a wrestling fan outside of the WWE will also be interested in. Bringing in talent from across the world from promotions such as PWG and Evolve the WWE has a stacked line up of names in what is going to create a fantastic competition.This Cruiserweight tournament is only going to drive Network sales through the roof because of the names that are about to compete.
The names of the competitors
Kota Ibushi, Gran Metalik, Zack Sabre Jr, Noam Dar, Cedric Alexander, Da Mack, Fabian Aichner, Zumbi, Tony Nese, Clement Petiot, Harv Sihra, Gurv Sihra, TJ Perkins, Rich Swann, Drew Gulak, Thee Brian Kendrick, Akira Tozawa, Jack Gallagher, Johnny Gargano, Tommaso Ciampa, Ho Ho Lun, Anthony Bennet,Tyson Dux, Lince Dorado, Alejandro Saez, Kenneth Johnson, Raul Mendoza, Sean Maluta, Jason Lee, Damian Slater, Ariya Daivari and last but not least Tajiri.
Standouts
Let's take a look at some of the standout names involved in the competition.
Zack Sabre Jr: This man is one of the best in the world today above anybody else he might be the one to win this thing. He stands out to many as one of the most underrated wrestlers in the world with all the outside signings it is surprising he wasn't one in the past year or so.
Sean Maluta: The nephew of WWE Hall of Famer Afa. Nothing is given in the wrestling world and it may as well be said this man could have knocked on WWE's door and walked in but he hasn't, he has searched the world over for the best competition. This time, the story is different because the competition has come and found him.
TJ Perkins: This man is one of the greatest talents in the world today. You may know him as Suicide/Manik from TNA but the end of that with the revolution did him more bad than good. He stands out among others in what he can do in the ring when he shows up and you never know what he will pull out of his bag of tricks he has such a diverse move set between kicks and high flying flashy moves from the ropes or the top rope he is one person you can be sure to keep your eye on!
Kota Ibushi: This man has no regard for his opponent's body, you know this to be true because he doesn't have any regard for his own body with some of the stuff this man pulls to gain the victory over his opponents. He has strong kicks and flies high to out do his opponent he never thinks twice about go up to the top rope and he never shies away from kicking some ones skull in. He has victories over WWE's AJ Styles and NXT's Shinsuke Nakamura this experience has him in an advantage for sure.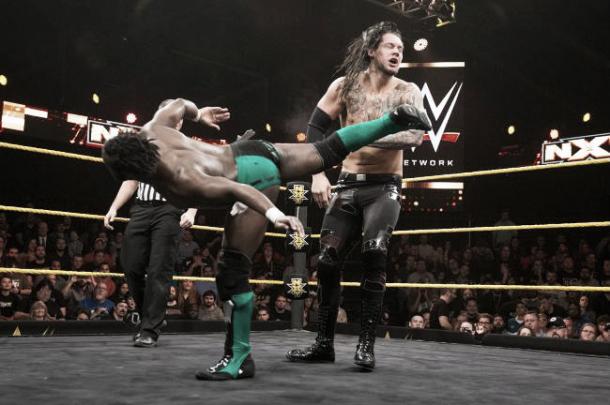 Rich Swann: This man is the greatest person for having a good time. If you have ever seen this man you know you are in for a good time with the match that is about to go on The one thing his opponents must watch out for is not to take his dancing as weakness. He can pretty much do anything once reaching the ring. He has been signed with the WWE since the fall of 2015 and for months now there has been speculation that his former tag team partner Ricochet may be on his way to the WWE in the coming months their name was Inner city machine guns.
Finally a well-awaited return
Tajri coming back to the WWE is a well-awaited return that many people have wanted to see for some time after his great run in the company previously. After years with ECW Tajiri signed with WWE. He debuted in May 2001 and provided fans with comedy relief as William Regal's assistant when the British Superstar was commissioner of WWE. But he also struck fear in the hearts of WWE competitors with his arsenal of weapons in the ring and penchant for spewing mysterious red, green or black mists into the eyes of his opponents.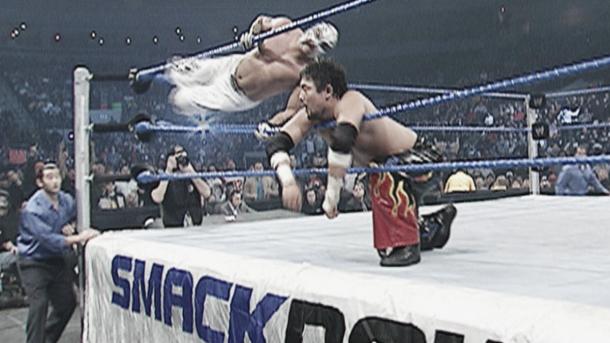 He battled both Billy Kidman and Rey Mysterio over the Cruiserweight Championship, winning the championship on three separate occasions. Tajiri also won the Light Heavyweight Championship and the United States Championship from X-Pac and Chris Kanyon respectively and held the WWE Tag Team Championship and World Tag Team Championships with Eddie Guerrero and Regal. "The Japanese Buzzsaw" left WWE in December 2005 to return home to Japan. He last appeared on WWE programming in a tag team match with Super Crazy against the F.B.I. in ECW's One Night Stand in June 2006. Who knows if we'll see Tajiri reemerge again in WWE but Japanese fans still cringe while watching the sadistic strikes of the ageless Tajiri.