 When Conor McGregor openly talked about WWE, he criticised the product and many of the superstars, but in recent appearances he has been doing his best possible example of a pro wrestler.
While promoting the upcoming 'superfight' with Floyd 'Money' Mayweather, The Notorious One has been his ever enigmatic self, showboating and being as over the top as possible, a typical description of pro wrestling.
Blurring reality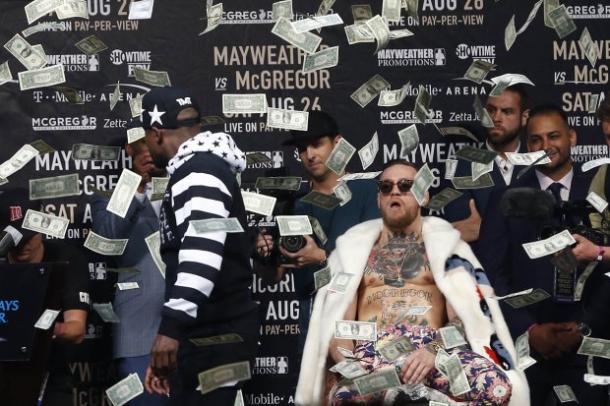 Boxing may be one of the most lucrative sports in the world at the top end, with reports of Mayweather and McGregor walking away with $100m each - but reality has been stretched to its limits in their theatrical performances.
With four press conferences taking place in Los Angeles, Toronto, New York and London, each one featured notable verbal and visual exchanges between the pair, only increasing talk and hysteria.
This hype could easily be mirrored to that of WWE television, with the performers not laying hands on each-other but causing controversy and excitement through their words - promos.
With current UFC lightweight champion and former featherweight champion McGregor entering his prime and his confidence on the microphone shining through he and his undefeated boxing opponent created the belief that this fight represents competition; something that each professional wrestler typically aims to accomplish.
The rumoured bout had been discussed for over a year and with the pair set to meet in Las Vegas in the T-Mobile Arena on Saturday 26th August or early morning 27th of August for United Kingdom fans.
However, the build up to the brawl has been the real show so far with incredible verbal battles sparking mass discussions with both fighters not risking such a huge payday by raising their fists this early on.
While logic dictates that with McGregor's very limited experience inside of the squared circle; Mayweather with his incredible record of 49-0, it should only be heading one way, but the belief that the Irishman has in himself may have radiated across many with an increasing number believing he may actually be the man to dethrone the 40-year-old who came out of retirement to take this fight.
Ready for Raw?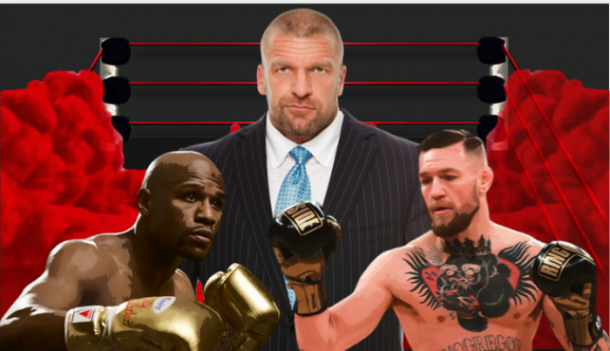 Professional wrestling may have had a partial effect on the current narrative between the pair but according to Executive Vice President of Talent Relations Triple H, the offer for the two fighters to appear on WWE television to promote the fight - is there.
Mayweather has a strong relationship with the WWE after appearing at WrestleMania XXIIII in a guest appearance match where he defeated The Big Show.
The undefeated Boxer also had Triple H as part of his entourage during his ring walk Miguel Cotto meanwhile McGregor has mocked WWE performers in the past.