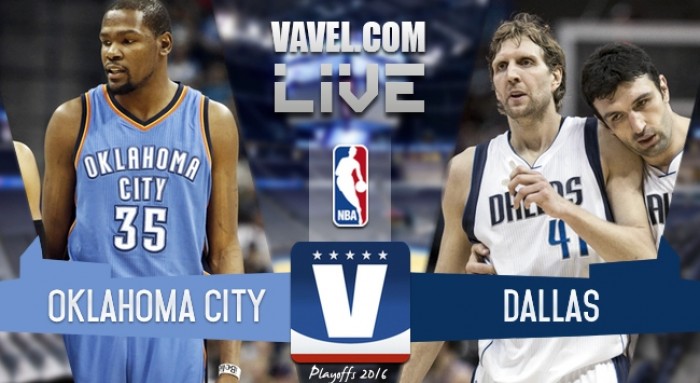 So the Thunder slay Dirk's Mavs. With coverage of Game 1, I've been Zach Drapkin. Thanks for tuning in. Stick around for a recap of this game and more NBA coverage from VAVEL USA!
4th quarter (0.0) END OF GAME. OKC DEFEATS DALLAS 108-70.
4th quarter (33.8) Powell with the and-one dunk. After the foul shot, it's 108-69.
4th quarter (2:16) Timeout, Mavs.
4th quarter (2:20) Randy Foye knocks down a three to make it 108-64. It's truly a dead game as the clock winds down.
4th quarter (5:07) Thunder timeout. A few minutes since last update, it's now 105-63 after some free throws and buckets by Anthony Morrow and Villanueva.
4th quarter (7:36) Pachulia and Morris hit sets of two and three free throws, respectively. 40-point lead for OKC.
4th quarter (8:07) Kanter keeps piling on buckets. He has OKC's last two. 97-59.
4th quarter (8:25) Villanueva has a three for Dallas.
4th quarter (9:30) Thunder timeout. Garbage time now with the score 95-56.
4th quarter (10:49) Justin Anderson scores for Dallas. 93-56.
4th quarter (11:19) Felton starts the fourth-quarter scoring with a three.
3rd quarter (0.0) End of third quarter, Thunder up a casual 42.
3rd quarter (1.9) OKC grabs the offensive board to sync up the game and shot clocks. Singler drains a three with both winding down! 93-51!
3rd quarter (45.0) Powell scores.
3rd quarter (1:12) Dion Waiters drains a three! 90-49!
3rd quarter (1:36) Westbrook heads back to the stripe. The explosive guard hits two more freebies. 87-49.
3rd quarter (1:47) Pachulia gets a bucket. 85-49, Oklahoma City.
3rd quarter (2:05) Enes Kanter scores two off the assist by Russell Westbrook.
3rd quarter (2:23) Three-pointer for Devin Harris on a second chance.
3rd quarter (2:35) Westbrook, at the line, converts a pair from the foul line.
3rd quarter (2:56) Ibaka hits a little hook in the paint. 81-44, Oklahom City still up big.
3rd quarter (3:19) Dwight Powell dunks off a Williams feed.
3rd quarter (4:09) Dallas is forced to take another timeout. 79-42, Thunder up BIG.
3rd quarter (4:16) Ibaka knocks down an 18-foot jumper!
3rd quarter (4:43) KD hits his free throw and Adams misses his.
3rd quarter (4:43) Technical on Rick Carlisle. More free throws for OKC.
3rd quarter (4:43) And-one for Westbrook! 76-42!
3rd quarter (5:04) Alley-oop from halfcourt to Durant from Westbrook!
3rd quarter (5:15) Matthews answers with his own three.
3rd quarter (5:33) Russ hits a triple!
3rd quarter (6:22) Dirk hits his shot. 69-39.
3rd quarter (6:36) Durant flies to the rim and gets fouled. He hits both to make it a 32-point game.
3rd quarter (7:08) Westbrook finds Ibaka for the jumper and Carlisle calls a Dallas timeout. 67-37, Thunder.
3rd quarter (8:20) Felton and Adams trade buckets. 65-57.
3rd quarter (9:05) Westbrook with a great move towards the baseline and he hits the layup! 63-35.
3rd quarter (10:17) Dirk hits a jumper. He has 16.
3rd quarter (11:28) Durant with a nice drive and a soft finish in the lane. 61-33.
J.J. Barea reaggravated an injury and will not return.
Sheer dominance in that first half for the Thunder. We'll be back once play resumes for the third quarter.
2nd quarter (0.0) END OF FIRST HALF. OKC LEADS DALLAS 59-33.
2nd quarter (2.6) Jump ball.
2nd quarter (12.3) Felton hits a layup for Dallas.
2nd quarter (39.7) Roberson now back to the line; he hits the first of two and Russell Westbrook with an incredibly athletic offensive board, flying in from halfcourt!
2nd quarter (40.1) Felton scores two foul shots. 58-31, OKC.
2nd quarter (44.3) Roberson at the line hits one of two. 58-29.
2nd quarter (44.3) Barea frustratedly fouls Roberson, replay review says common foul.
2nd quarter (1:14) Nowitzki hits two free throws to give himself 14 first-half points.
2nd quarter (1:32) J.J. Barea scores a bucket, but Ibaka answers with another Thunder three! 30-point lead before halftime as Oklahoma City now has a 57-27 advantage!
2nd quarter (2:00) Westbrook drives and is hit hard while going up for a dunk. He gets two shots from the stripe and drills both. 54-25.
2nd quarter (2:12) McGee scores two for Dallas. 52-25.
2nd quarter (2:23) Durant splashes a three! 52-23, Thunder!
2nd quarter (2:33) Technical foul on Dirk. Durant hits the resulting free throw for OKC.
2nd quarter (2:43) Dirk, with the Mavs on his back, scores on another drive to the hoop. 48-23.
2nd quarter (3:00) Kanter at the line, he hits the second of two shots. 27-point lead now.
2nd quarter (3:14) JaVale McGee misses two frees for Dallas.
2nd quarter (3:40) Ibaka hits a trifecta in transition and it prompts another timeout by Carlisle! 47-21, Thunder. Historically bad first half from Dallas.
2nd quarter (4:18) Dirk hits a shot inside, but Westbrook answers on the other end. Score now at 44-21.
2nd quarter (4:31) Jump shot by Westbrook draws a foul. He hits both ensuing shots from the charity stripe. 42-19.
2nd quarter (5:03) KD nails a pair of free throws to put the score at 40-19.
2nd quarter (6:34) Villanueva converts both free throws to make it 38-19.
2nd quarter (6:34) Charlie Villanueva will head to the line for Dallas.
Kanter has 7 points and 7 rebounds already. Durant leads all scorers with 12.
2nd quarter (7:05) Durant bangs a three! Lead is now at 21, timeout for the Mavericks!
2nd quarter (8:02) Quick possession for OKC and Kanter makes it 35-17 with a lay-in.
2nd quarter (8:08) Dirk hits two from the line. 33-17.
2nd quarter (8:35) Westbrook hits a jumper to make it 33-15.
2nd quarter (8:50) Official timeout. When play resumes, it will be Dallas ball although referee originally signalled OKC ball, then changed his decision a few seconds following.
2nd quarter (9:15) OKC racking up the offensive rebounds.
2nd quarter (10:17) Durant finds Kanter for the and-one! 31-15, Thunder after the foul shot is good.
2nd quarter (11:03) Zaza Pachulia to the line. He hits 'em both to make it 28-15.
2nd quarter (11:18) Durant hits a second-chance shot after Kanter grabs his miss! 28-13.
2nd quarter (11:45) Dallas scores via old man Dirk to start the second period. 26-13.
Dallas needs to play much better offense and body up Durant and Westbrook. Shooters have all day for the Thunder and yet they got multiple offensive boards on that final series of the first quarter.
1st quarter (0.0) Oklahoma City gets FOUR chances on the final possession, all missed jump shots. Quarter one ends with the score 26-11, Thunder leading.
1st quarter (34.8) Devin Harris gets the foul as he converts for the and-one! The free throw is no good, however, so only two points on that possession. 26-11.
1st quarter (55.0) Kyle Singler nails a three for OKC! 26-9, Thunder all over the Mavs as the first nears its end.
1st quarter (1:58) Kanter and Dirk both hit shots. 23-9.
However, the Thunder have cooled off since their red-hot start.
Durant leads all with 9 points as the first quarters nears its closing. Westbrook and Ibaka each have 5 while nobody on the Mavericks has more than 2. To say the least, it's been a struggle for Rick Carlisle's team up to this point.
1st quarter (2:50) Westbrook with another drive-and-score! 21-7, Oklahoma City. Timeout, Dallas!
1st quarter (3:14) Another unneeded turnover, OKC's fifth. Russ attempted a full-court pass to Kanter.
1st quarter (3:47) Waiters feeds and Ibaka dunks!
1st quarter (4:15) Durant gets the roll and his right-side jumper falls in. 17-7, OKC.
1st quarter (4:35) Wesley Matthews hits a floater to make it 15-7.
1st quarter (5:44) Westbrook steals and ignites the fastbreak! Wow, his behind-the-back pass is too far ahead of Ibaka, out of bounds and a wasted 2-on-1.
1st quarter (6:11) First reserves in the game for Dallas.
1st quarter (6:24) Second shot good for Mejri. 15-5.
1st quarter (6:24) Mejri draws another trip to the line. Misses the first shot and Enes Kanter comes in for Adams.
1st quarter (6:52) Nowitzki fires up a shot over Steven Adams and hits it from the extended right block! 15-4.
Dallas now 1-10 shooting.
1st quarter (7:56) Durant lays it up and in, AND THE FOUL! After the free throw, it's 15-2 in Oklahoma City's favor.
Mavs have started 1-8 from the field.
1st quarter (9:05) Russell Westbrook drains a left-wing three-pointer! 12-2, Thunder up.
1st quarter (9:40) Deron Williams puts the Mavericks on the board with a 19-foot jumper! 9-2, OKC.
1st quarter (9:44) Lots of cuts to the lane for Dallas; Ibaka blocks an attempt in the lane!
Thunder very much asserting their tempo early on, shooting efficiently and getting high-percentage looks. Dallas, on the other hand, looks out of it at the moment, and the two missed free throws by Mejri didn't exactly help. Mavs may be flustered already.
1st quarter (9:56) Mavs once again fail to score and Andre Roberson drives on the other end of the court for two more points. 9-0, timeout Dallas just two minutes in.
1st quarter (10:30) Durant with another bucket off a Mavs turnover. 7-0 start at Chesapeake Energy Arena!
1st quarter (10:53) KD drives and scores! 5-0, Oklahoma City.
1st quarter (11:06) Salah Mejri misses a pair at the line for Dallas.
1st quarter (11:15) And a THREE for Serge Ibaka! Thunder fans in attendance can now sit down as Oklahoma City goes up 3-0.
1st quarter (11:25) Both teams miss opening attempts.
And we have tipoff! OKC wins the tip and they will go first on offense.
Just about an hour until tipoff. We'll be here for all you coverage needs of Dallas-OKC at 9:30 PM EST.
Stay tuned for all your NBA Playoffs first round coverage of Dallas - Oklahoma City here on VAVEL USA. We'll continue to add information and updates as they come out and come game-time, we'll keep you in the know on every score and big play of Game 1.
Saturday night's tip will be the first of a two-game home stand in Oklahoma City before the teams travel to Dallas for Games 3 and 4. If necessary, the teams will switch off the final three games, with Oklahoma City getting Games 5 and 7 at Chesapeake Energy Arena.
With the machines and the experts all tipping the scale immensely to Loud City, Dallas could play the underdog role and surprise the so far worry-free Thunder. They themselves won the NBA Finals in 2011 as a third seed. You can't ever count out Dirk's experience either.
And still, the duo has yet to win a chip heading into what could be their final postseason together if Durant decides to leave the Thunder in free agency this upcoming offseason. There's certainly going to be an extra drive there to not only win a championship, but also to dethrone the Warriors and Spurs, the first of whom recorded the best-ever regular season win-loss tally in NBA history this season.
Oklahoma City is very heavily favored in this specific game and to win the series, as not only did they win all four regular season head-to-heads, but their home dominance almost undoubtedly will prevail against a 42-40 Dallas team that struggles away from the American Airlines Center. With significantly more playmaking and freshness on hand, the Thunder have all the advantages on paper, and Russell and KD have consistently taken care of business in first-round fixtures of years past.
That lineup of guards continues down the roster, with J.J. Barea, Raymond Felton, and Devin Harris all bringing big contributions as reserve players. The trio combines for 28.0 points per contest along with 9.5 assists. David Lee (8.5 PPG, 7.0 RPG) is a solid third option in the paint for Dallas.
On Dallas' side, Dirk Nowitzki is still leading the team – his 18.3 points per game are highest on the Mavs. Alongside him in the frontcourt stand Zaza Pachulia (8.6 PPG, 9.4 RPG) and Chandler Parsons (13.7 PPG, 4.7 RPG). Meanwhile, Deron Williams and Wesley Matthews lead the deep backcourt rotation coached by Rick Carlisle.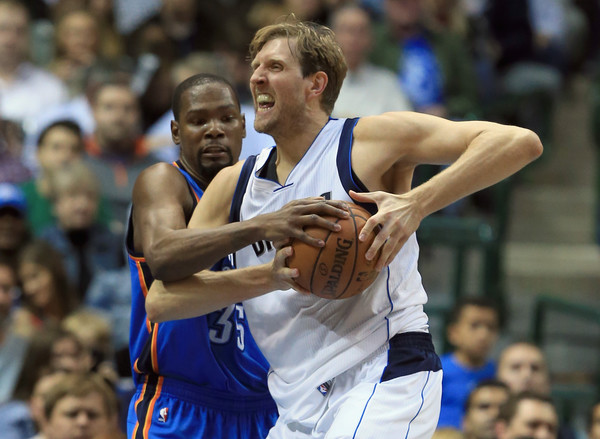 Serge Ibaka (12.6 PPG, 6.8 RPG, 1.9 BPG) is always an X-factor in the paint with his length and explosiveness, and the starting five is rounded off by OKC's two predominantly-defensive options, Steven Adams at center and Andre Roberson at the two-guard alongside Westbrook. Dion Waiters also scores 9.8 points per game as the Thunder's second super-reserve; he comes in for Roberson while Kanter replaces Adams when Oklahoma City looks to exploit offensive advantages.
Enes Kanter has also made his presence felt in the Oklahoma City frontcourt. The 23-year-old Turkish center has a strong case for Sixth Man of the Year after coming off the bench to provide huge inside numbers for the Thunder, averaging 12.7 points and 8.1 rebounds a night for first-year coach Billy Donovan's squad.
Superstars Kevin Durant and Russell Westbrook should be all good to go in their postseason opener, and with the types of numbers they've been able to put up this season, they have much reason to be confident. Durant recovered from an injury-plagued 2014-15 season to finish third in the league in scoring with 28.2 points per game, while Westbrook is putting up averages approaching the triple-double. The 27-year-old point guard scores 23.5 points per game while dishing out 10.4 assists and grabbing 7.8 rebounds per game from the 1; he recorded 18 triple-doubles over the course of the regular season.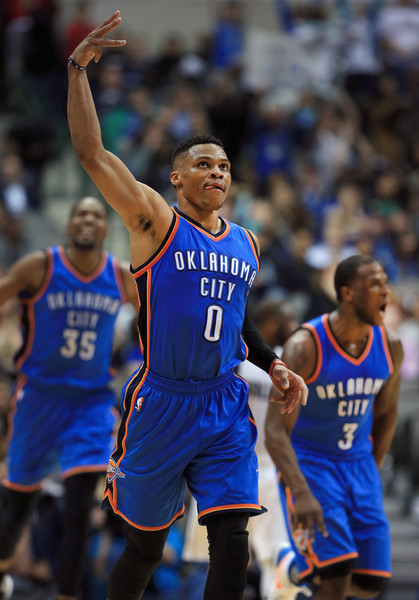 The Thunder had already been cemented as the West's third seed with quite a few games to go, unable to skyrocket past the blazing Golden State Warriors and San Antonio Spurs. The majority of the key figures in Oklahoma City's rotation were rested in the Thunder's regular season finale against the Spurs, a meaningless 102-98 overtime loss.
While the Thunder may hold the third seed and home-court advantage in this series, sixth-placed Dallas is riding better play of late. The Mavs rode a six-game win streak before losing two of their final three games, while OKC went 5-5 over their last 10.
Oklahoma City is fully stocked heading into the postseason this year after missing out on the Playoffs last season due to big injuries to their whole roster. They look Saturday for a resounding start to their 2016 quest for an NBA Championship.
Tipoff is set for 9:30 PM EST at Chesapeake Energy Arena in Oklahoma City, OK. Stick around with VAVEL USA for full coverage of Game 1 and the entirety of this Western Conference NBA Playoffs series.
Hello there, and welcome to VAVEL USA's live coverage of Saturday night's first-round 2016 NBA Playoffs matchup between the Dallas Mavericks and Oklahoma City Thunder! My name is Zach Drapkin, and I'll be providing play-by-play updates and analysis throughout the game.