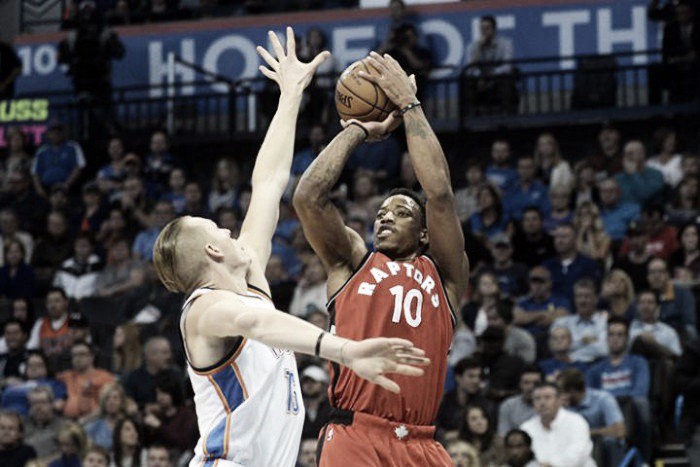 DeMar DeRozan outdid himself once again, pouring in a scorching 37 points, four rebounds, and six assists to lead the Toronto Raptors over the Oklahoma City Thunder by a score of 112-102.
It Looked Ugly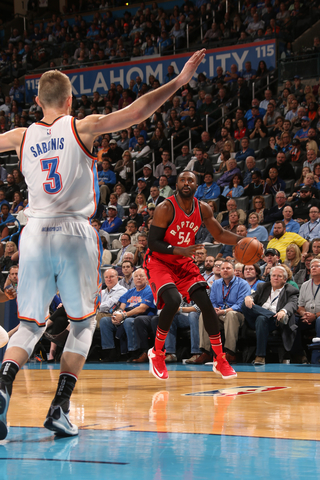 It didn't start off pretty for the Raptors, finding themselves in a 9-0 hole to begin the game with four turnovers in the first three minutes. The Raptors managed to cut the gap to within seven by the end of the first quarter, thanks to DeRozan's 11 points on 5-9 shooting.
A strong second quarter from the Raptors, saw them putting up 42 points, overtaking the lead and heading into the half with a seven-point advantage up 62-55.
The Raptors were able to maintain their lead throughout the third, extending it to 13 heading into the fourth. The Thunder weren't going away that easy, though. With a 9-1 run to begin the fourth, Russell Westbrook and the Thunder put the pressure on the Raptors to respond. One quick timeout that saw DeRozan check back in and that was all she wrote.
On the Thunder side, Westbrook added what looks to be an impressive 36 points, but in reality was just 9-26 shooting with eight god-awful turnovers. Victor Oladipo contributed 19 points while Steven Adams put together a double-double, 14 points and 12 rebounds.
Let It Rain
It was the night that the Toronto finally dialed it down from deep. Shooting 42.3 percent from beyond the arc on the night, Patrick Patterson and DeMarre Carroll managed to knock down a combined five three-pointers on the night.
It was a relief for some fans, to finally witness their team connect from long distance at such a high rate.
Kyle Lowry, who also made it rain from deep connecting on five three-pointers, was a man on a mission. Just one rebound shy of a triple-double, Lowry added 19 points, 13 assists and nine rebounds.
Historic Start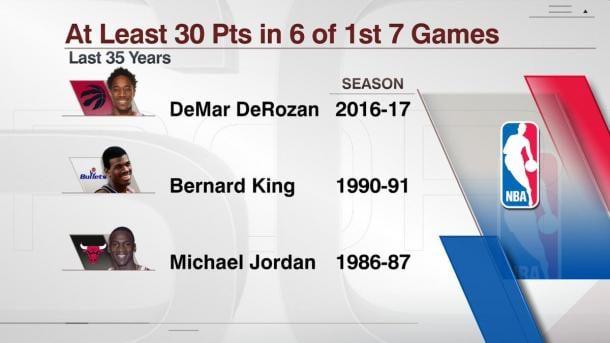 One cannot simply fathom the type of start to the season DeRozan is having at this point. He is the first player to average at least 34 points through a team's first seven games since Michael Jordan in 1989-90. He became the third player in the last 35 years with six 30+ point games in first seven games of a season.
DeRozan is breaking records left and right with his performances. The Raptors can only hope at this point that his inhumane capabilities don't ever wear off.
Things To Look Forward To
The Raptors will be in North Carolina on Friday night to take on the Charlotte Hornets to end off their short two-game road trip. Expect to get an update for Terrence Ross who was out with a sprained right index finger. Also, word regarding Jonas Valanciunas, is still day-to-day with a knee contusion.