 Yet another star is headed west, as former Atlanta Hawks power forward Paul Millsap has signed with the Denver Nuggets for 3-years, $90-million according to Shams Charania of The Vertical.
It became increasingly clear that Millsap would not be returning to Atlanta when general manager Travis Schlenk stated that they would likely not offer as much money as other potential suitors. The Phoenix Suns, Minnesota Timberwolves, and Sacramento Kings were all interested, but balked in the end due to the salary demands. The Nuggets, on the other hand, are ready to take a step toward contending for the playoffs and this move helps in a major way.
New Direction in Atlanta
While Millsap had a fantastic stint for the Hawks over the past four years, new management has new plans for the franchise that do not involve him. Schlenk's primary philosophy since taking over the job has been avoiding "bad" contracts and maintaining flexibility.
The veteran forward is still an elite player who is effective on both ends of the floor, but it is almost a guarantee that his production will begin to slip as he continues to get older. The Hawks were not comfortable paying him $30 million-plus into his mid-30's, and will instead look to rebuild the structure of their roster.
Although unlikely, the Hawks could still try to facilitate a sign-and-trade in order to get some assets in return from the Nuggets. Denver might be more willing to do this in order to create some cap relief, but we will have to wait and see.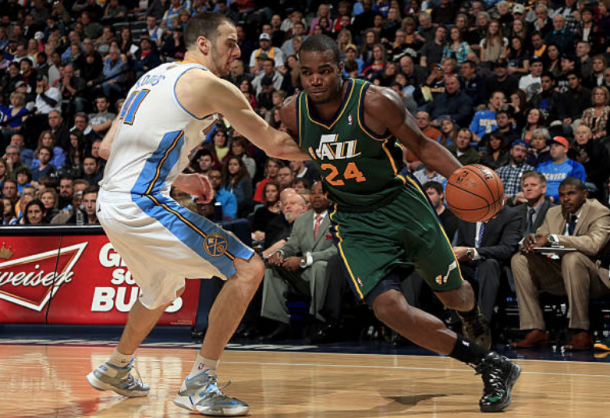 Millsap's Fit in Denver
The former second-round pick out of Louisiana Tech is an ideal fit for an up-and-coming Nuggets team. He will work alongside talented center Nikola Jokic and provide spacing on the offensive end to help him thrive in the paint. Both bigs are great passers of the ball, which will be a matchup nightmare for opposing defenders.
Young guards Gary Harris and Jamal Murray represent the future of the organization, and they have already shown a lot of potential thus far. The only real question mark now involves their free agent forward Danilo Gallinari. They will have to make some moves if they want to bring him back, with Kenneth Faried and Wilson Chandler as potential players they could trade. Either way, Millsap brings a whole new level of consistency and effectiveness to a franchise that has struggled in recent years.
The Western Conference has gotten stronger and stronger this offseason, but the Nuggets are on the fringe of being a competitor. Millsap and Jokic have shown what they bring to the table, so the key lies with the young guards and bench players who round out the roster. If everything comes together, they should solidly be a playoff team.