 Julius Randle has been a hot topic of conversation between the Los Angeles Lakers management ever since Jeanie Buss. The firing of her brother as the President of Basketball Operations led to the hiring of Laker great Magic Johnson to fill out that role. Since Magic Johnson took over, he and new general manager Rob Pelinka have faced an uphill battle, dealing with some horrible contracts signed by previous management and locker room issues. Johnson and Pelinka have slowly, but surely, started to get rid of all the players of the old regime, to start fresh with a new group of core young players.
Lakers had to do some housekeeping
It all started around the trade deadline last season, in which Johnson traded star sixth man Lou Williams to the Houston Rockets for a first-round pick, which turned into Kyle Kuzma. Then moving into the offseason, Johnson traded the No. 2 overall pick in the 2015 draft, D'Angelo Russell to the Brooklyn Nets with center Timofey Mozgov in return for center Brook Lopez, who was on the last year of his contract.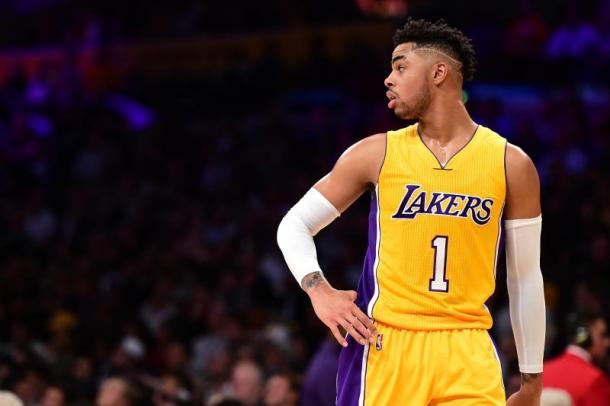 Russell's trade didn't come as much of a surprise to most NBA experts, as Johnson had publicly sent shade toward Russell by questioning his dedication and leadership skills. While many believe the trade was nothing personal, just business for the Lakers because they had to dump Mozgov's contract to free up cap space to go after a big name free agents in the 2018 summer.
Fast forward to the trade deadline of this season, and the Lakers new management is still trying to rid the franchise of the old regime players, by trading Jordan Clarkson, and dunk machine Larry Nance Jr. to the Cleveland Cavaliers in exchange for Channing Frye and Isaiah Thomas, two more players on expiring contracts. With Randle being the last well-known commodity of the old regime, the question among NBA circles is, will the Lakers sign Randle to the 4-year extension?
The future of the Lakers
Los Angeles has a couple options they could look into exploring, with Randle recently bursting out onto the national scene, his value has risen because since Jan. 1st. He's averaging 19 points per game and 10 rebounds per game, and the Lakers are 19-14 over that stretch. Johnson could potentially look into a sign-and-trade so they won't lose him for nothing, but that option seems very unlikely considering they would not get a player of equal value. Also, it would basically just be another salary dump at this point.
The Lakers have a cap that is projected to be around the $70-million range for this upcoming season, but would only be able to get to that number if they cut forward Luol Deng and stretch the remaining two years left on his deal over a four-year span to lower the amount of money owed to him per season.
Johnson and Pelinka also have the option to send Randle a qualifying offer, worth $5.5 million (125 percent increase from his 2017-18 pay) and have the option to match whatever offer another team could throw his way. ESPN reports that Randle's market value could be somewhere around the $12-14 million per year range, equaling a 4-year, $56-million contract.
Randle is looking like a key breakout piece to the young core of this Lakers team, and with players like the Washington Wizards' Otto Porter Jr. and Charlotte Hornets' Nicolas Batum getting huge contracts the past two offseasons since the rapid increase in salary cap with the new CBA, $12-14 million per year doesn't seem like an unreasonable amount. To add, he has produced better than both of those players since entering the league.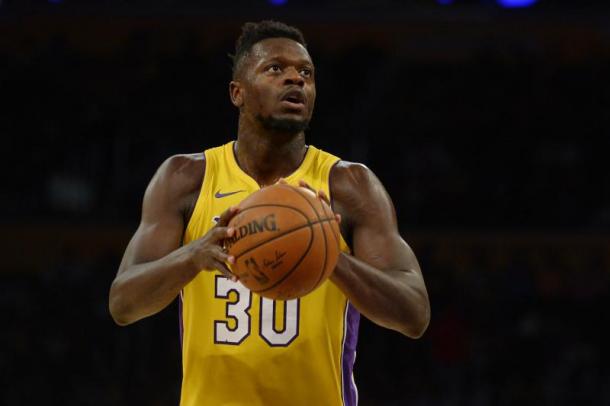 The resurgence of Julius Randle
Randle also transformed himself this past offseason, Johnson, Pelinka, and head coach Luke Walton all told the players from last year that they need to be in peak physical condition for camp this season. If they didn't buy into what the team wanted them to do, then they would look to trade them which was made true with the trade of D'Angelo Russell. However, Randle has been a husky built individual since his high school and college days, using his body to physically beat players underneath, but this season, he is more slim, with rock-solid shoulders and frame, and dropping that extra weight has made his first step quicker and allowed him to get off the floor for rebounds easier as well.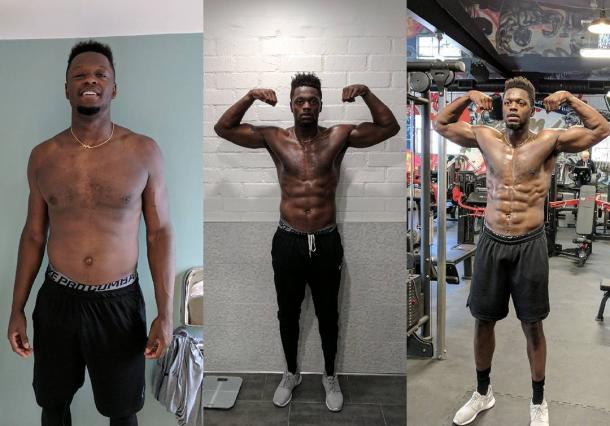 Randle has been surging the past two to three months, and with his skill-set, an argument can be made that he is just as important to this team moving forward as any of the other core young pieces the Lakers have. It was oblivious with the hire of Walton that the Lakers were trying to implement a Golden State Warriors, a pace-and-space style of play, and their recent draft picks have been a testament of that.
Changing the culture
Highly-promising Brandon Ingram was once compared to Kevin Durant because of his tall skinny frame and his shooting ability from the outside. New point guard Lonzo Ball has always played basketball at a high pace, and with him having the ball in his hands so much it is easy for him to dictate the pace of the game. Kuzma has proven to be the steal of the draft, selected at No. 27 in the 2017 draft, "Kuz" has shown his ability to stretch and run the floor will be valuable to this team. Randle can provide the one thing this team needs though, and that is toughness on the inside. Lopez in a seven-footer, but is a finesse player who is third on the team in rebounds behind Randle and Ball. Every team needs that enforcer or "Energizer Bunny" and Randle is that for this team.
Since accepting his role off the bench, Randle has been able to provide stability for the second unit and gives Walton more people to throw into the starting lineup depending on who they are matched up against.
Draymond Green is arguably the most important player on the Warriors, because he is the captain of the defense, and with his high basketball IQ, he can bring the ball up the floor and make plays for the three lights out shooters that he has. He provides leadership, and a spark to Golden State every time they seem to need it. Randle can be that kind of player for the Lakers, there is no questioning his dedication, you can just see the results in his body from last year to this year.
As a former seventh overall draft pick, he embraced coming off the bench to help this team succeed, as has made no complaints about it. Walton has said that he challenges him harder than anyone on this team, because they see his raw talent and want to bring the best out of him every game. Walton and Randle have spent countless behind the scenes hours working on Randle's game, watching and breaking down film where he shows Randle what they expect, and Julius goes to the practice floor and works on that area of his game.
Decisions, decisions, decisions
Johnson has made it very clear that the Lakers are pursuing two big named free agents, and the way Randle and Deng's contracts are so interlocked, the release of Deng with the stretch provision gives them flexibility. However, in order to get the full $70-million in cap space, they would have to get rid of Randle along with Deng.
Lakers' management is faced with a tough decision this offseason, and Randle's contract right now looks to be dependent on who the Lakers can sign this offseason. Johnson and Pelinka along with Walton will have to get together and decide if they want to lose some of those cap dollars in order to keep Randle around, which as of now he is proving he belongs on this team by clearly being their best player since the turn of the new year.
Lakers nation has all been advocating for Randle, as they have noticed the surge in his play and they realize how much he means to this team, but will he and his contract conflict with what the Lakers are trying to do for the future rebuild? We will find out the answer to that question in just a few months.
NBA free agency period begins on July 1 at 12:01 a.m. ET.