Back in 2015, Jahlil Okafor was on top of the world.
Coming off of a strong performance in the McDonald's All-American Game, his intensity and drive transferred over to the college level at Duke. While at Duke, Okafor averaged 17.3 points and 8.5 rebounds per game, helping Duke clinch a the 2015 NCAA Championship for the Blue Devils.
The Consensus first-team All-American and USBWA National Freshman of the Year would be the third overall selection in the 2015 NBA Draft to a Philadelphia 76ers team that drafted Joel Embiid a season prior. After earning a spot on the 2016 NBA All-Rookie First Team, it appeared that the 6'11" big man was going to be a staple in The Process for a rebuilding 76ers' franchise.
This where the story takes a dramatic turn.
It would be Embiid that emerged as the center for future in Philadelphia. Injuries would limit how many games he would play in his first two seasons. A re-aggravation of a prior meniscus injury and right knee soreness took away his junior season with the 76ers and was benched for the season in his senior season. The 76ers elected to build around Embiid and Ben Simmons instead of Okafor, leaving him out of The Process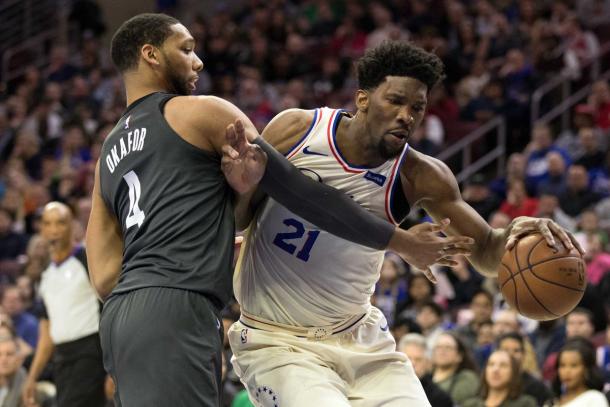 Last December, Okafor was traded to the Brooklyn Nets, giving Okafor the fresh start he so badly desired.
However, it did not work out with the Nets either. He would play in 26 games , averaging 6.4 points, 2.9 rebounds and .6 blocks per game. His career highs in points (31), rebounds (17), and assists (5) came in 2016 while his career best in blocks came in 2017 with four blocks in game.
Teams shouldn't give up on him yet
At just 22-years-old, there should still be hope that Okafor could develop into the player that many thought he could be.
Recently, Okafor worked out for Chicago Bulls, Indiana Pacers, and the Miami Heat. Teams such as the San Antonio Spurs, Toronto Raptors and Washington Wizards could use a post scorer like Okafor. Place him on a team like the Golden State Warriors and the Los Angeles Lakers with skilled players around him, Okafor will likely show improvements.
There is a strong chance Okafor could play overseas, as reports are stating Chinese teams are showing interest in him. This could be a chance for him to find his game in a country where there is less of a spotlight.
If you're Okafor, you would want to remain in the NBA for a couple of reasons. One, prove that a player with his injury history could remain healthy and play 70-76 games in a season. If can show teams that he has made changes to his physique and durability, that his first step to getting back in the NBA good graces.
The second reason would be to show he could hang with the likes of Embiid, Anthony Davis, DeMarcus Cousins, Karl-Anthony Towns, Kristaps Porzingis, Willy Hernangómez as well as freshman centers Deandre Ayton, Mohamed Bamba, Wendell Carter and Mitchell Robinson.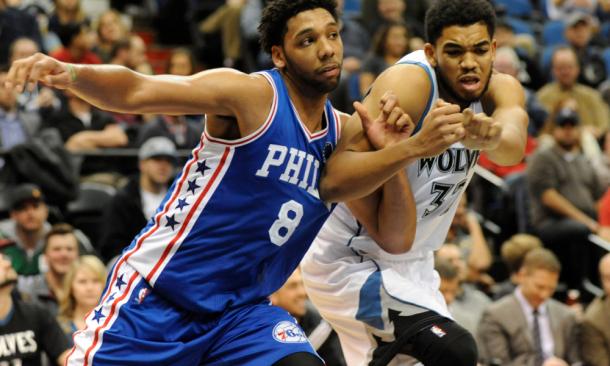 Only time will tell if Okafor stays in the NBA or goes overseas. Ultimately, his fate is in his hands. Either way, the big man will have plenty to prove wherever he goes.
In a article in the The Players' Tribune, Okafor wrote:
"You can say what you want about my first few seasons in the league. And I know I have plenty to work on if I'm going to be that all-around player on both ends. But I also really am a chill guy. … That really is just my nature. And my being chill—that doesn't mean I wasn't going crazy not playing. It was killing me not to play. I love the game."
He goes on to say, "I know, since I've been out all this time, that I still have a lot of work to do. I still have to work my way back into game shape. (Working out, no matter how hard you go, is way, way different from playing an NBA game.) I still have to keep up with my good habits. (When I was in limbo with the Sixers, I switched to a plant-based diet in order to get my body right. I also started doing yoga almost every day — which is no joke when you're 6′ 11″, man.)
But more than anything, I've started to ask myself some tough questions about what it means to grow up. About what it means to be thankful, in a way that counts, for this new beginning — for this chance to be back at my sanctuary. About what it means to be back playing ball."