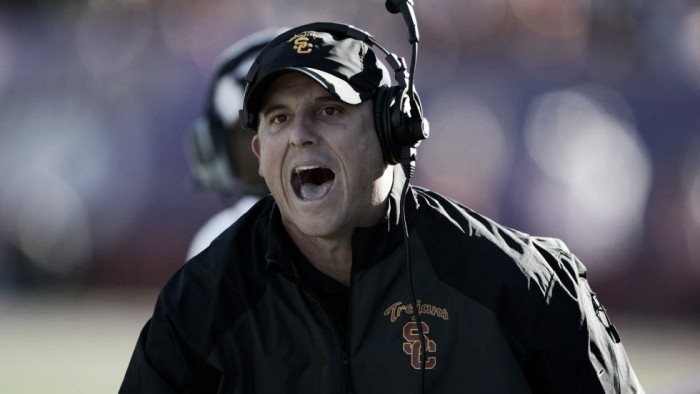 The PAC-12 might not be as strong from top to bottom at the moment, but the top teams in the conference are among the best in the nation. Among these schools is one rich with football history, and that is the University of Southern California.
To start the 2016 college football season, the preseason polls say that the USC Trojans are the 20th best school in the nation, which is tops in the Southern division.
A look back at 2015
Last season was an up-and-down year for the Trojans. In their opening two games of the season, against lowly Arkansas State and Idaho, they allowed just 15 points while scoring 104.
Things changed quickly, however, once they got to PAC-12 play. They lost to Stanford at home by 10 points quickly putting them in the whole, but rebounded the following week. Against Arizona State, they pounded the Sun Devils, winning 42-14 in a blowout on the road. Another home loss followed, unfortunately, losing a low-scoring affair to the Washington Huskies putting their overall record at 3-2.
Their third out of conference game was a historic one as they went on the road to South Bend, Indiana to face off with Notre Dame. There, USC were beaten by 10 points, losing by a score of 41-31.
After that loss to the Fighting Irish, Southern Cal went on a four game winning streak, defeating #3 Utah, Cal, Arizona, and Colorado. Following a loss to #23 Oregon, the Trojans defeated crosstown rivals UCLA to clinch the South division.
USC ended 2016 on a bad note, however. They lost to Stanford, for the second time, in the PAC-12 Championship game, and followed it up with a Bowl Game loss to Wisconsin.
A look forward to 2016
USC starts off the 2016 with the biggest test of them all. They travel to Dallas to play the defending national champions -- the Alabama Crimson Tide. Coach Clay Helton and the team will return to Los Angeles the following week to play Utah State as the final tuneup before conference play begins.
Once again, their first PAC-12 game is against a top-10 Stanford side who will be a formidable opponent like always.
The schedule gets a bit easier when they play a lesser Utah side, then Arizona State, Colorado, Arizona, and Cal. But to end 2016, USC plays against four ranked sides in Oregon, Washington, UCLA, and ends with a huge game against Notre Dame at home.
Key players
Offense: WR JuJu Smith-Schuster
JuJu Smith-Schuster is one of the speediest wide receiver's on the West Coast, and that is a great weapon to have for new starting quarterback Max Browne. Smith is entering his third season in the red and yellow and will be one of the main targets on the offensive side of the ball.
He was not targeted a whole lot in his freshman, making only 54 catches for 724 yards, good for a 13.4 yards per catch average. Throughout the season, however, Smith-Schuster did manage to haul in five touchdowns.
The next season, Smith-Schuster became a more prevalent threat catching 35 more passes than the 2014 season -- 89. His touchdowns also doubled, going from five to 10 and averaged 16.3 yards per catch.
Now as a junior, Smith-Schuster will have the ball thrown to him more times than not. If he is targeted as many times as expected, it would not be a surprise if Smith-Schuster has somewhere between 90-100 catches.
Defense: LB Cameron Smith
It is hard for a freshman to breakthrough any big football program in their opening season with the team. But for Cameron Smith, a California native, things seemed to be rather seamless. Through the first six games of the 2015 season, Smith recorded 53 total tackles, which is an incredible number for a first-year player. In terms of solo tackles, Smith had 25 of those.
But Smith's breakout game came on the 24th of October against the Utah Utes. While the youngster did not record a tackle, he stood out for his three interceptions. Over the course of those three interceptions, Smith gained 122 yards and ran one back for a touchdown.
Unfortunately for Smith, he missed the remainder of the season with a knee injury. JuJu Smith, who was profiled on offense said of the then-Freshman, "Cam Smith is so smart, and that dude is playing. If you're playing, you're playing. He's a freshman and he's balling," (quotes via ESPN).
Smith, if he can stay healthy, is going to be an important figure on the defensive side of the ball.
Season prediction
For the second consecutive year, the USC Trojans will make it to the PAC-12 title game in Santa Clara, California going 9-3. However, who they play is up in the air as the north division is going to be tight all the way through.