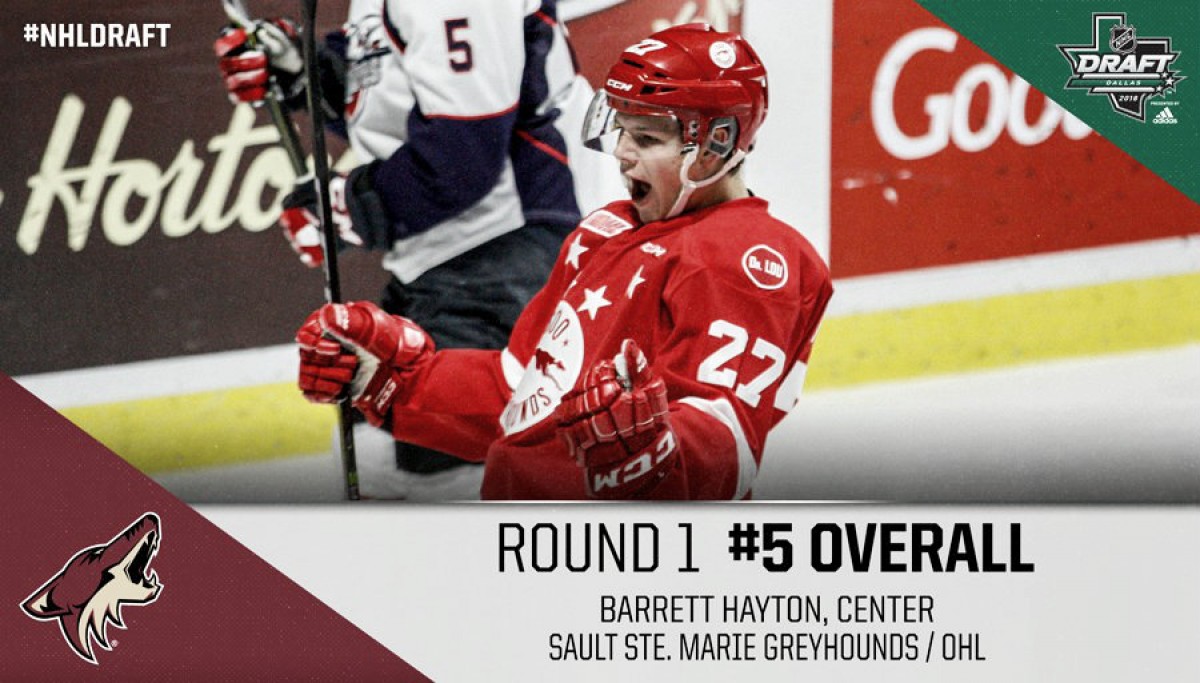 The Arizona Coyotes made a surprise selection in the 2018 NHL Entry Draft by choosing center Barrett Hayton with their fifth overall pick.
Draft drama
The first two selections of the draft were widely publicized with Rasmus Dahlin being the first overall choice by the Buffalo Sabres. That choice will instantly make the Sabres a better team. The second pick belonging to the Carolina Hurricanes was also as scripted with Andrei Svechnikov, the scoring talent heading to Carolina.
The third pick for the Montreal Canadiens had been rumored but it came to fruition when they chose Finnish centerman Jesperi Kotkaniemi.
That started the drama.
The Ottawa Senators were on the board next, and most expected them to take either Brady Tkachuk or high scoring winger Filip Zadina. They went with the big boy Tkachuk.
That left everyone in the room (except those at the Arizona Coyotes' table) expecting the club to take the no-brainer choice of Zadina.
That didn't happen!
President of Hockey Operations/GM John Chayka always has a surprise up his sleeve and this time he pulled out a pigeon... I mean Barrett Hayton.
Barrett Hayton?
He was pegged to go anywhere from 10th to 12th on the board but Chayka doesn't take the road well traveled... he ventures into the off roads with his 4X4 seeing what's out there.
Barrett Hayton player profile
Ok, so I suppose you can't get enough centers, but if Hayton were to make the team this fall (doubtful) they would have six (not a misprint) centers on their roster.
He will more than likely go back to Sault Ste. Marie of the Ontario Hockey League for more seasoning.
He had a good year last season collecting 21 goals, 39 assists in 63 games. He's 6'1", 185lbs and is a good two-way player who must have impressed the Coyotes' scouting and management teams to be bumped up to the fifth spot.
He possesses good hands and an above average scoring ability, but do his stats match up with Zadina's?
Not hardly.
This pick has been described as a head-scratcher, to say the least.
Without prejudging Hayton at all, why would the Coyotes brass not select Zadina? He had 44 goals, 38 assists in 57 games with Halifax of the QMJHL. The team is familiar with that league as they selected Pierre-Olivier Joseph last year with their 23rd pick. He too was ranked as high as 31st.
Chayka's plan
Perhaps we arm-chair GM's need to take a backseat.. so to speak when we analyze a selection, but this one has to be a puzzling choice.
Chayka tried to explain it afterward.
The way Chayka makes draft day moves such as last year when he acquired Antti Raanta and Derek Stepan from the New York Rangers one must wonder what else will he do?
The second day of the draft is about to begin, so we shall all know soon if he has something else in mind.
More trades? Perhaps.
The free agency market is being held hostage by John Tavares (who will decide today if he will talk to at least five teams pursuing him) and Ilya Kovalchuk who is also a popular player seeking a team.
Chayka has some choices in free agency/trades. He could try to kick the tires on several forwards to help his team while he has the cap space.
That is if ownership will allow him.
He has stated that the team intends to stay near the salary cap basement (is that a successful business plan?) so players like Phil Kessel, James Neal, David Perron, James van Riemsdyk may not be in the price range of the team to move forward.
Too bad.
Any of the above mentioned forwards would not only help the struggling Coyotes, they could catapult them to playoff contention next season.
The team finished well at the end of last season and now need some other veteran scoring help. I'm sure Chayka is aware of that and will act accordingly.
It's just a mystery why Zadina wasn't his pick when he had the opportunity to improve his offense NOW. Many feel Zadina (who was selected sixth) will probably make the Detroit Red Wings roster this fall.
Then again, I'm not the man running the show for the Desert Dogs.
Let's just hope this pick doesn't haunt the team like the Dylan Strome pick of 2015.
Remember the Coyotes could have chosen Mitch Marner (selected fourth) and instead went with Strome who has been pretty much of a bust playing in only 28 NHL games with just 10 points.
Marner, on the other hand, had 41 goals, 89 assists in 159 games and led the Toronto Maple Leafs last season with 22 goals, 47 assists.
It's the numbers John... you're a skilled analytics guy.
Zadina was the BEST choice.
I'm out.
Many experts are claiming that the Arizona Coyotes made a poor choice in selecting Barrett Hayton. What's your view? Let us know in the comments section below.