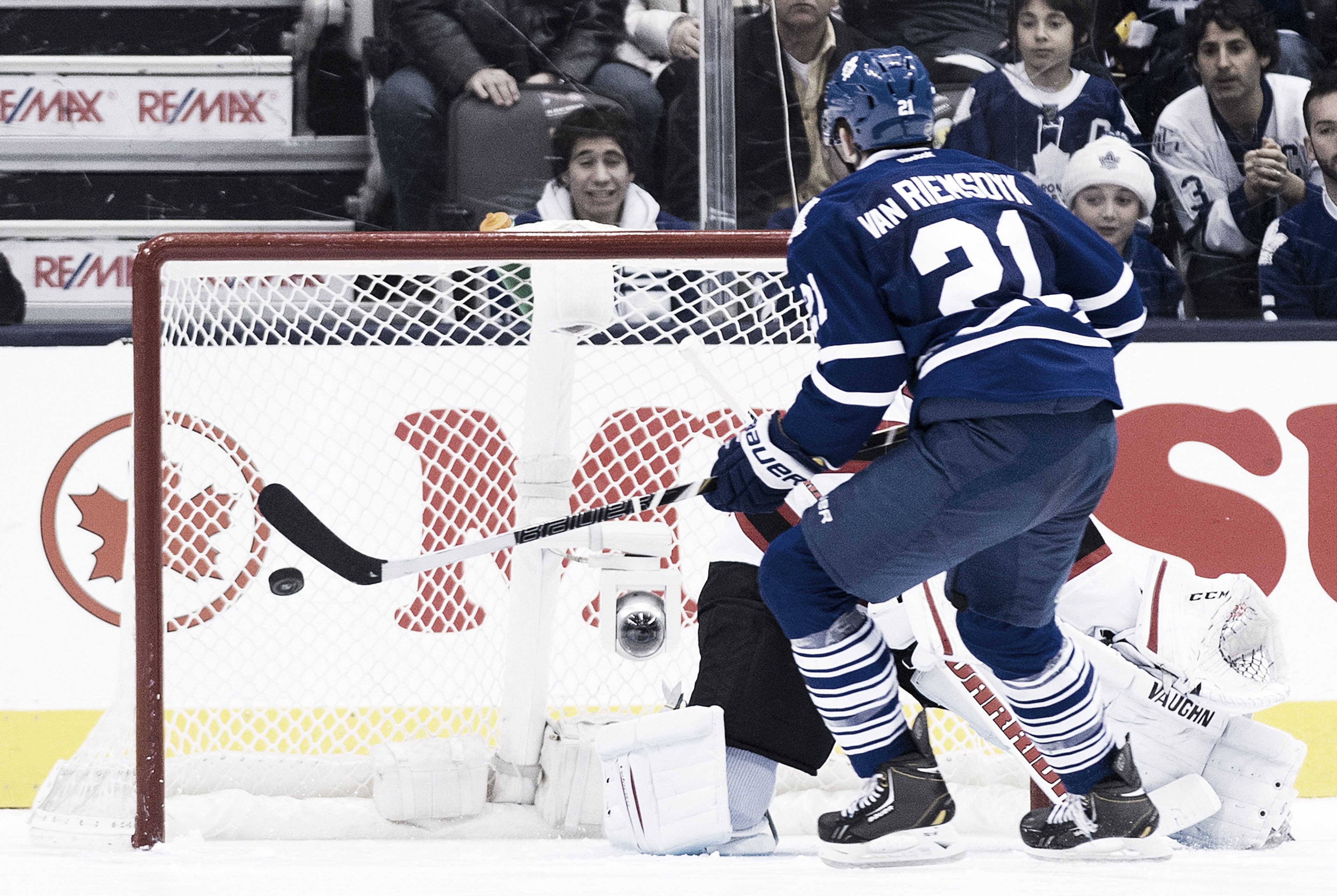 Before the free agent deadline Arizona Coyotes' President of Hockey Operations/GM John Chayka made it known that he needed a winger... and today he got one.
After the team had its sights on James van Riemsdyk, David Perron, and Michael Grabner, they settled for the later after losing out on the two former.
JVR went to the Philadelphia Flyers where he started out his NHL career in 2009/10. He stayed for three seasons before being traded to the Toronto Maple Leafs for Luke Schenn.
Then, Perron did a homecoming also as he signed a four-year $16 million contract with his former team, the St. Louis Blues. Perron played six seasons in the "gateway to the west" city before he was traded to the Edmonton Oilers.
JVR was almost an Arizona Coyote
It was reported by local sports broadcaster John Gambadora (Gambo) that the Coyotes were in discussions with JVR to join the team.
The reported offer was six-years at $5 million. That was not rich enough for JVR, who got $7 million a year for five years from the Flyers.
That turned out to be too rich for Chayka's blood and he folded.
Perron would have been a great fit
The team has also been talking to winger David Perron of the Vegas Golden Knights who made it known that he would not be returning to Sin-city next season.
Perron would have been an excellent fit since he is a right-handed shot and the team really has only a few forwards who shoot from the right side.
That wasn't meant to be either... was Arizona going to strike out on all three NHL free agents they wanted?
Grabner to the rescue
Michael Grabner went from the New York Rangers to the New Jersey Devils in a trade deadline deal earlier this year.
He signed with the Coyotes for three years at $3.35 million a year, and Chayka couldn't be happier. As is becoming the custom players are breaking the news on their social media that they've been traded.
Grabner has speed, and knows how to put the puck in the net. He has tallied 27 goals each of the past two seasons and has 158 goals in 553 NHL games. He has had 51 even-strength goals over the last two seasons which ties him for eighth in the NHL with Winnipeg's Patrik Laine and the New York Islanders' Anders Lee.
When you consider that the Coyotes have added both Grabner and Alex Galchenyuk recently, the team has to be satisfied that they have addressed their need to supplement their weak offense.
Taking into consideration the possible lines the Desert Dogs could put out on the ice this fall is quite interesting.
Perlini—Galchenyuk—Keller
Grabner—Stepan—Panik
Strome—Dvorak—Fischer
Crouse—Kruger—Cousins/Archibald
This will split up the successful line of Stepan, Keller, and Panik and also demote Stepan to the second-line center but that just shows the team is developing depth. And D-E-P-T-H is priceless!
The third line could be a bit worrisome as it contains two 21-year-olds and one 20-year-old. Both Christian Dvorak and Christian Fischer are going into their third and final entry level seasons, while Strome is still struggling to complete one entire season at the NHL level.
This could be the year which makes or breaks Strome. So much so that he may be moved to the wing in an attempt to get him going in the scoring column.
The fourth line will be the defensive, scrapping line and when (not if) Lawson Crouse gets back in the lineup, they will be the shutdown line head coach Rick Tocchet uses to stop the opposition's scoring line.
OEL, Hammer, Cannauton all signed
Chayka has to be sleeping like a baby knowing that he has his defensive duo of Oliver Ekman-Larsson (8-years, $66 M) and Niklas Hjalmarsson (2-years $10M) both signed for a while. OEL for eight years and Hammer for the next three.
They also signed D-man Kevin Cannuaton to a two-year $2.75 million deal.
There could be more deals
With over $16 million of salary cap space remaining, perhaps Chayka is not done yet. He did mention he is working on some more possible deals. Don't forget players like James Neal and Patrick Maroon are still available. Neal may be wanting too much money ($6-$7M), but Maroon has a $2 million cap hit which is fairly reasonable.
Is this a better team?
It does indicate that the Coyotes are putting in the effort to be more competitive especially in the trade and free agency markets. Otherwise, the teams who have been successful will continue that path.
It's time for a team like the Arizona Coyotes to be recognized as an attractive place for players to want to come to the desert and play.
That means they are gaining respect in the NHL as a franchise which is on the rise... and that's a good thing.
Perhaps they have the Vegas Golden Knights to thank. They were a team of rejects that other teams passed on and sent to the expansion draft. They showed that with good coaching, management, and ownership anything is possible... like going to the Stanley Cup Finals in their first season.
How much longer will the Arizona Coyotes need to wait to get to that echelon of excellence?
They're on their way... can't wait for the season to start!
Do you feel the Arizona Coyotes have done enough to move onward in a path to the playoffs... this season, next season? Let us know in the comments section below.