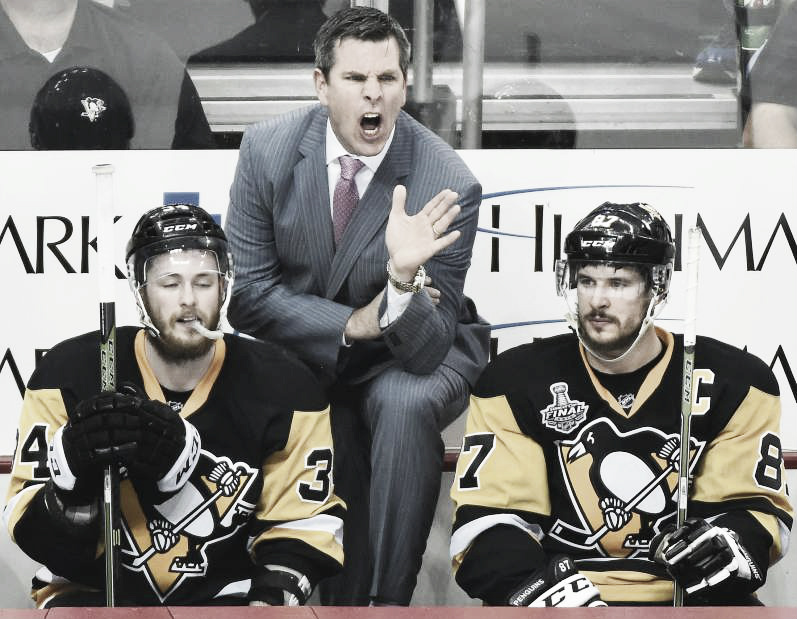 The 2018/19 NHL season is roughly 20 games old, and four teams seeking a new direction or to spark their players have already changed up their coaching ranks.
The latest bench boss casualties came on Nov. 20, when the Edmonton Oilers fired head coach Todd McLellan and replaced him with seasoned veteran Ken Hitchcock.
McLellan's dismissal was the second in 24 hours, as the struggling St. Louis Blues also canned coach Mike Yeo earlier in the day and named Craig Berube his interim successor.
The Chicago Blackhawks cut longtime coach Joel Quenneville loose on Nov. 6 and promoted Jeremy Colliton from the AHL to replace him. That move followed the Los Angeles Kings dumping John Stevens and bringing in Willie Desjardins on an interim basis two days earlier.
After no coaches were relieved of their duties mid-season last year, these shuffles could mean other coaches are on a short leash based on their teams' performances to date. A few others could be axed later this season or after 82 games.
It's often said that coaches are hired to be fired, as any results they deliver will dry up eventually and it's rare to always get the best from players for several years. Quenneville was let go after winning three Stanley Cups in five years and guiding Chicago to two Western Conference Finals.
Even Scotty Bowman, the most successful NHL coach of all time, was fired by the Buffalo Sabres in 1986.
The following coaches could be on the chopping block if their team's fortunes don't improve soon.
Mike Sullivan - Pittsburgh Penguins
The Pittsburgh Penguins, led by head coach Mike Sullivan, have surprised many hockey fans this year – and not in a good way.
Despite being loaded with many talented players like Sidney Crosby, Evgeni Malkin, Phil Kessel and Kris Letang, the Penguins have been among the NHL's most underwhelming teams early on.
With a 7-8-4 record, Pittsburgh is tied with the New Jersey Devils for 28th overall. They're also sharing the Metropolitan Division cellar and the bottom of the Eastern Conference with the Devils.
The Penguins are also 1-7-2 in their last 10 games. Their power play is the league's 10th-best at 24.1 percent, while their 81-percent penalty kill rate is 12th in the league, which isn't bad given how cold they've been.
Pittsburgh has had a few mid-season coaching changes that paid off in droves, however. They were slumping under Mike Johnston in 2015/16 before Sullivan was brought on and led them to two straight Cups.
The Penguins also booted Michel Therrien in 2008/09 and replaced him with Dan Bylsma before winning the Cup.
Maybe that's what they need this time around too. Then again, this could be all for naught with a week or two of hot play.
John Hynes - New Jersey Devils
The Devils brought John Hynes into the fold in 2015 after relieving Scott Stevens and Adam Oates. He missed the Stanley Cup Playoffs in his first two seasons behind the bench, then led New Jersey to their first postseason appearance since 2012 last year.
The Devils fell to the Tampa Bay Lightning in five games.
New Jersey (8-9-2) is 3-6-1 in their last 10 contests. They've gone 4-9-2 in 15 games after winning their first four.
Hynes doesn't appear to be the coach to return the Devils to the promised land, but the team has also been rebuilding for a few years. He may get a longer leash from the Devils' brass if injuries are considered and if he can boost secondary scoring, as most of the team's offense so far has come from Taylor Hall's line.
Like any team whose coach may not be part of the future, Hynes may also get a reprieve if the Devils suddenly get hot and close the seven-point gap between them and an Eastern Conference wild card spot.
Guy Boucher - Ottawa Senators
The Ottawa Senators, led by coach Guy Boucher, are perhaps the NHL's biggest dumpster fire right now.
Their start has surpassed expectations to an extent, but they've mostly fallen back to earth with a 9-9-3 record that's kept them within a few points of a wild card seed.
Even if the Senators are more competitive on the ice than most people anticipated, they're still plagued by off-ice sideshows – including footage of several key players badmouthing team staff in an Uber and the preseason video of owner Eugene Melnyk's likely well-intentioned, but awkward public relations stunt with Mark Borowiecki.
That drama has continued despite general manager Pierre Doiron shipping out franchise defenceman Erik Karlsson and Mike Hoffman over the summer after a dispute on social media last season that reportedly involved Karlsson and Hoffman's spouses.
While many fans have called Melnyk's ownership into question, and rightfully so, it's the coach's job to maximize the players' potential. Boucher led Ottawa to the Eastern Conference Final in his first season at the helm before last season's disappointment, but if he can't get the Senators back into the playoff conversation, he may be out of a job.
Randy Carlyle - Anaheim Ducks
The Anaheim Ducks may have hoped bringing Randy Carlyle back in 2016 would return them to their Stanley Cup-winning form from 2007, when they won it all with Carlyle behind the bench. So far, that hasn't worked out.
Carlyle got the Ducks to the Western Conference Final in his first season back in Anaheim in 2016/17, but they had their sixth first-round exit in franchise history under his guidance last year and have limped out the gate in 2018/19.
Anaheim has gone 8-9-5 in 22 games, which may be signs of injury trouble or a declining core rather than a reflection on Carlyle. He may still be let go if they underachieve again in the playoffs or keep sputtering in the meantime.
They're also three points away from a Western Conference wild card spot, which could improve or worsen with a big hot or cold streak – or a coaching change.
Gerard Gallant - Vegas Golden Knights
The Florida Panthers gained lots of notoriety in 2016/17 when they fired Gerard Gallant after a lousy road trip 22 games into the season. Gallant then joined the Vegas Golden Knights last year and led them to the Stanley Cup Final in their inaugural campaign after the best-ever season from an expansion team.
This year, however, the Golden Knights (9-12-1) have started slow and are near the league basement. They're 4-6 in their last 10 games and have been blown out in two of their last four.
Gallant may get a bit more time to turn it around though, as Vegas is currently five points removed from the second wild card in the west. He's also fresh off a Jack Adams Award for the league's top coach.
For Gallant's sake, he's likely hoping GM George McPhee and the Golden Knights don't panic the way the Panthers did when they sent him packing a couple years ago despite the team being plagued with injuries early on.
Vegas also saw lots of turnover in the offseason that may have affected their depth, so Gallant may not have as much talent to work with as before.
Time will tell if he and the Golden Knights turn the corner this season or if he gets more time to reverse Vegas' early fortunes.
Honourable mentions
Some other long-tenured coaches who could have their leashes shortened soon are as follows.
Rick Tocchet – Arizona Coyotes
Jeff Blashill – Detroit Red Wings
Bob Boughner – Florida Panthers
Jared Bednar – Colorado Avalanche
Peter DeBoer – San Jose Sharks
What do you think? Do these coaches stand a chance of being fired soon? Could other coaches be at a greater risk for that? Let us know in the comments section below!