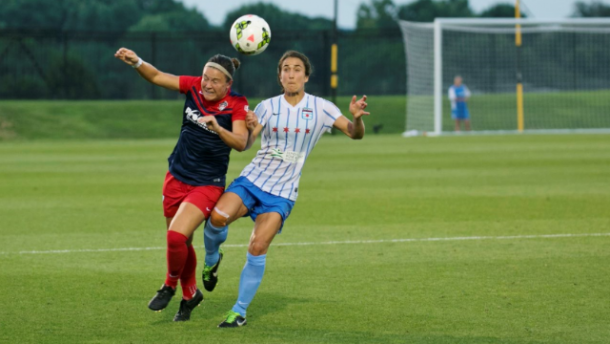 It has been a rough couple of fixtures for the Chicago Red Stars. They have dropped points in all of their last few fixtures and as a result they are now second to the Seattle Reign in the NWSL standings Chicago sits three points back of Seattle and will need the Reign to lose a game for them to try to jump them in the standings for the top spot in the NWSL playoffs.
However, Chicago will be without stars Christen Press, Julie Johnston, and Lori Chalupny. All three are out due to being on the US Women's National Team and will accompany the USWNT on their victory tour following their win in the Women's World Cup this summer.
Without Press, Chicago will look to the likes of Jen Hoy and Sofia Huerta to provide the scoring with Melissa Tancredi another option up front. Hoy and Huerta stepped up when Press was out during the World Cup and will be called upon to recreate some of the magic they produced last month. Huerta has been one of the best rookies in the NWSL and will look to take advantage of a Washington backline that is missing some of their top defenders.
Without Chalupny roaming the midfield, Chicago will turn to the likes of Vanessa DiBernado to help out in the attack. She is one of the assist leaders in the NWSL and will look to be part of Chicago's scoring against Washington. Expect her to be alongside Taryn Hemmings and Danielle Colaprico in the midfield.
Without Julie Johnston in the back, Chicago may struggle defensively but with Karina LeBlanc in goal the Red Stars are still confident in maintaining one of the top defenses in the league.
It will be a struggle for the Washington Spirit as they will also be missing some players in this game as well. They will be without goalie Ashlyn Harris and midfielder/rightback Ali Krieger against Chicago, as both are also away on national team duty. This leaves Washington vulnerable at the back as Harris made some crucial stops in their previous fixture to give Washington a point against Chicago. This will be a key matchup in the game.
However, Washington won't have to worry as they will have NWSL goal scoring leader Crystal Dunn playing on Sunday. She will look to add to her goal scoring tally as she did the last time these two teams played when she scored the equalizer in a 1-1 draw. She will also get attacking help in the form of Diana Matheson and Christine Nain. Matheson has been on a hot streak in terms of scoring and will be the best second option on offense for Washington.
Both teams are right next to each other in the standings. Chicago needs to keep pace with Seattle and Washington needs to put some space between them and FC Kansas City, who are now tied on points with Washington. It is a crucial game as the teams look to be heading into the playoffs.