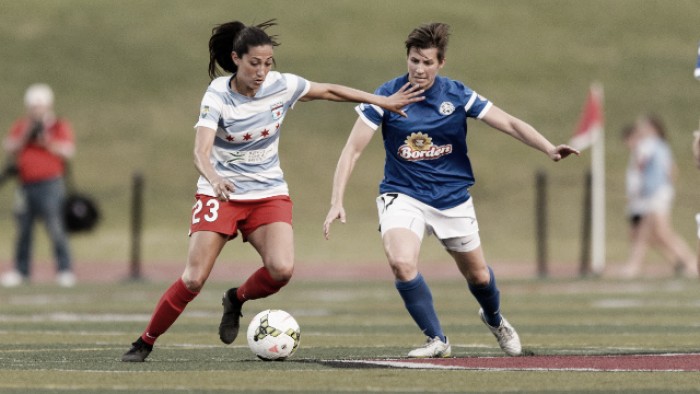 The end of last season left a bitter taste in the mouth of the Chicago Red Stars as a great season, the most successful in the team's history ended on a bad note in the semifinals against FC Kansas City. Chicago was blasted 3-0 in Toyota Park against KC, who went on to beat the Seattle Reign in the NWSL Championship to become repeat champions. It was a horrible way to end the season and it stuck with Chicago the whole summer.
The Red Stars have gotten off to a good start this season as they are riding a three-game winning streak. The games have all been close (all 1-0 games), but Chicago has done just enough to get by. After narrow wins against Orlando and Western New York, the Red Stars got a couple of big breaks on defense to beat the bottom of the standing Boston Breakers. Alyssa Naeher, who has stepped up in a huge way for Chicago, deflected a penalty off the post in the first half and then Danielle Colaprico cleared a would-be goal off the line. Christen Press hit a delicious volley in between those two plays to score the only goal of the game and give Chicago all three points.
Chicago's defense recorded another shutout, their third straight and it has gotten them to second in the NWSL table. They are a point behind the leaders in the Washington Spirit and can go top of the league with another win. After giving up three goals in the opening game, Chicago's defense has really stepped up in a big way. But it would be nice to see if their offense can score more than one goal as they have yet to accomplish that this season. In a league such as the NWSL, you need a consistent offense to win and Chicago needs to find more of that.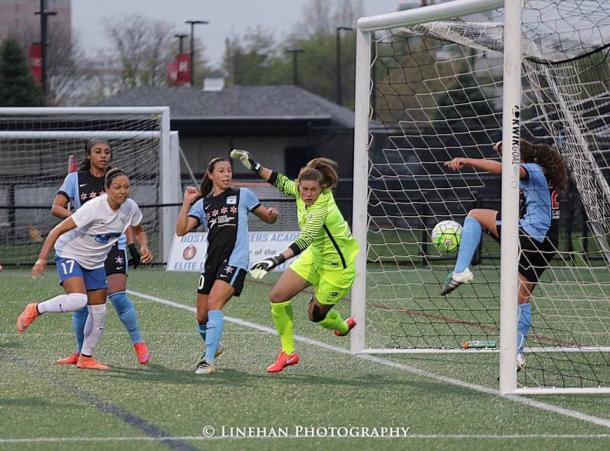 Kansas City became the first repeat champions in history last season but this season, they have gotten off to a struggling start. The reigning champions sit second to last in the NWSL table with just one point this entire season. It has been a bunch of close losses for KC as all of their losses have been by one goal including their most recent fixture against the Houston Dash. It has been a huge drop-off in production from last year to this year for KC and they have to find answers quickly.
The key to this game will be the offense for both as both are struggling at the moment and need to pick it up. Whoever can put the most pressure on the defense will have an easier time winning this game.
Kickoff is at 8:30 PM ET in Kansas City.