 Alex Morgan is one of the most popular - and most marketable - soccer players in the world. You don't really have to know much about soccer at all to know Alex Morgan's face is just about anywhere involving soccer in the United States. The star forward has made her mark in soccer history since showing up in the 2011 Women's World Cup. She scored more than 20 goals and 20 assists in 2012 - the only player besides Mia Hamm to do so, has won championships in both the WPS and NWSL, and is currently the eighth all-time U.S Women's National Team scorer with 67 goals and 110 appearances for the team.
With all that information in mind, there should be no surprise that teams around the world are attracted to the striker. Despite having the ability to choose anywhere in the world to play and most likely be accepted with open arms, the striker has played all her professional soccer on American soil. She, without a doubt, has helped solidify women's soccer in the United States, and continues to do so as she plays for the NWSL's expansion team, the Orlando Pride. The 26-year-old hasn't said it publicly, but it's almost obvious that she doesn't feel the need to go overseas and be paid more than she ever would here, content with where she currently plays.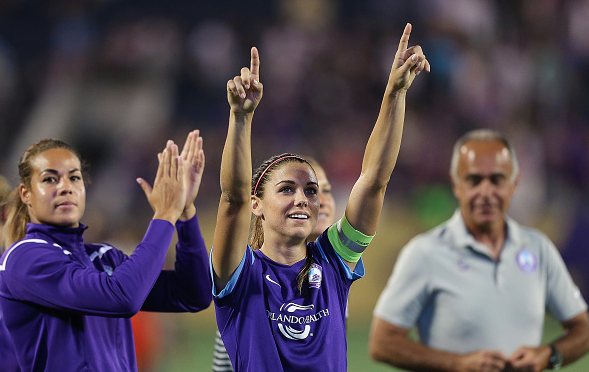 The Alex Morgan appeal
Morgan's importance to the USWNT and satisfaction with staying stateside for her professional club hasn't deterred away Olympique Lyonnais (often referred to as Lyon) owner Jean-Michel Aulas, who has had his eye on her for awhile. Aulas doesn't even bother to hide his eagerness to bring Morgan to France, as he's started to tweet her in attempts to bribe the American to sign with the club. It's a mixture of amusing and desperate that the Lyon owner has tweeted the striker multiple times in hopes to grab her attention and get them talking.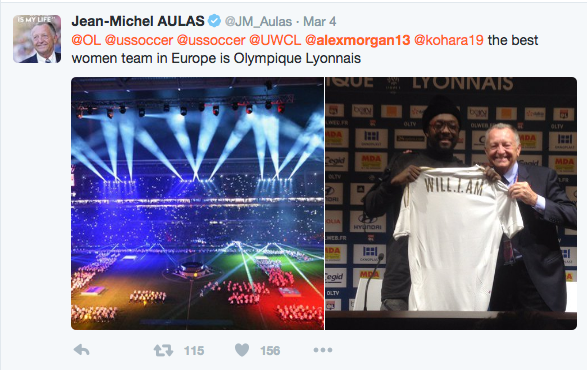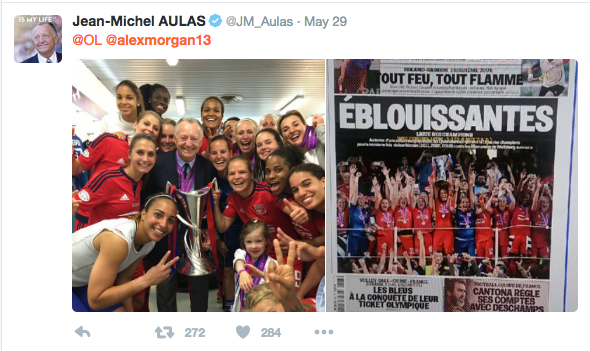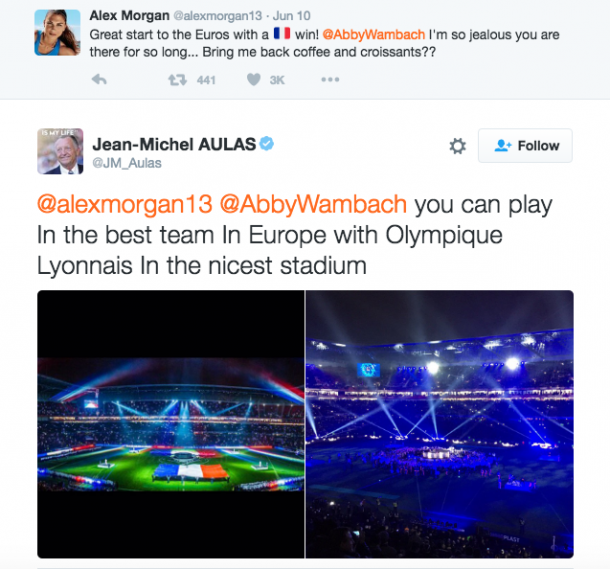 Lyon: where legends go
For those who don't know much about women's soccer outside of NWSL, Lyon's women have an excellent history. The world's best come from all over just to play for one of France's top clubs. Even USWNT member and teammate Megan Rapinoe played with the club for awhile. They currently top France's Divison 1 league, winning the 2015-2016 season championship and also claimed the UEFA Women's Champions League title just weeks later in a match that went all the way to penalty kicks, making that title the club's third Champions League title.
As this year's Champions League came to an end, it was announced that this was the last event three big name players suited up for Lyon. French star Louisa Necib is set to retire after competing in the the Rio Olympics this August. Midfielder Amandine Henry, Necib's teammate not only on Lyon but also the French Women's National Team, is now playing for the NWSL's Portland Thorns. Meanwhile, Swedish legend Lotta Schelin has signed with FC Rosengard in her home country. With so many crucial players gone, Aulas figures the time is now for Alex Morgan to sign with the club.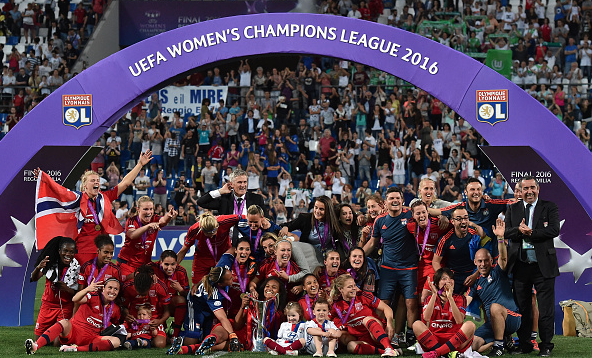 Aulas doesn't back down
To add to the interesting tweets, just the other day a newspaper article was released in France involving Morgan. It says that Lyon may offer the striker's husband, Servando Carrasco, a place on their reserve team. Carrasco currently plays with Orlando's men's team, Orlando City SC, after being traded around MLS clubs for a few years.
Morgan stays quiet
America's big soccer star hasn't had anything to say about Lyon's attempts to bribe her over. She hasn't indulged in Aulas' tweets, nor has she made a statement about playing overseas recently. Whether she's spoken to Aulas or anyone else behind closed doors stays unknown, but for now it seems like Morgan will stay with the Pride. The story still continues as Lyon seems willing to do almost anything to bring her over, and until Morgan gives him an answer, it doesn't look like he'll back down any time soon.