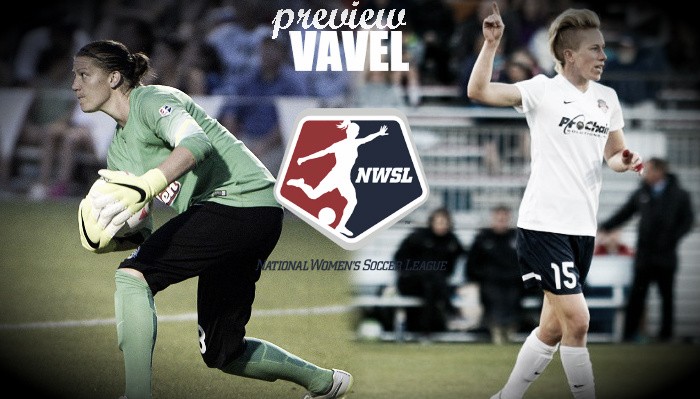 FC Kansas City plays host to the Washington Spirit on Saturday after handing the Portland Thorns their first loss of the season. The Blues are now 3-1-2 on the season and look to continue on their high against the dominating Spirit.
In the high shooting game last weekend, the Blues found the back of the net twice in their game. FCKC showed attacking moments early on from Erika Tymrak and Mandy Laddish, while Shea Groom and Tiffany McCarty were key in finishing and scoring. McCarty was credited with both assists and Groom had both goals of the match in the 23rd and 54th minutes.
Last weekend was also the first weekend without most Olympians for NWSL teams and was a proving ground to see who could capitalize on the absences. The Blues certainly capitalized and showed that they have the defensive and offensive stamina to play teams without national team players at least.
Defensive keys were that even without captain Becky Sauerbrunn, the defense still managed to keep out the Thorns, giving them seven out of their 16 total shots on goal. Goalkeeper Nicole Barnhart was the rock for this team making six saves and only allowing one goal.
Offensively, the team had more shots than they had in previous weeks and scored more goals on the Thorns than any other team this season. Being able to attack will be key against this strong Spirit side.
While the Spirit are left without five Olympians, they still show dominance in their games. Stopping Estefania Banini and Francisca Ordega will be the defensive task for the Blues, who have only let in two first half goals this season. Continuing to take shots will also be vital in getting past this deep team.
Spirit look to keep dominating
The Spirit are without five of their players including starting goalkeeper Stephanie Labbé and forward Crystal Dunn due to Olympic preparations, but still managed a commanding 2-0 victory over the Chicago Red Stars last weekend.
The Spirit have a solid offensive team and depth in the scoring department. Banini and Ordega are looking strong up front and along with Katie Stengel and Tori Huster, the team has the ability to stay in the game.
Defensively, the team has yet to allow a goal in the last two games, even without Ali Krieger in the backline. While they are without their starting goalkeeper, Kelsey Wys has only allowed one goal in her three games this season and played in 11 games for the Spirit last season. They definitely don't lack experience in the goalkeeping department.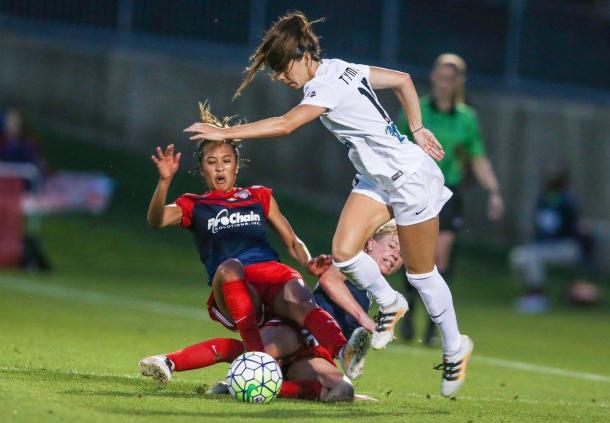 The last time the two teams met two weeks ago, the Spirit won 2-0 late in the match. The game will be a defensive battle and will depend on who will be able to break through first.
The match starts at 7 pm ET at Swope Soccer Village in Kansas City on Saturday. Fans can also watch on the NWSL YouTube channel.