 After Brazil beat China and Sweden defeated South Africa, both teams came into this second group stage game knowing a win would see them through to the quarterfinals. It turned out to be a dominant victory for the hosts as Sweden were reduced to 10 women and Brazil cruised to a 5-1 win for a spot in the last eight.
Beatriz collected the opening goal for Brazil in the 21st minute as she took advantage of miscommunication in Sweden's defense to sneak by a defender and send her shot into the back of the net. It didn't get much better for the Swedes as the hosts doubled their lead three minutes later.
Marta sent in a cross to Cristiane, her spectacular flick past Swedish goalkeeper Hedvig Lindahl was her 14th career goal at the Olympics, the most of all time. Nearing halftime, Brazil grabbed a third goal. Marta added a third from the spot, sending Lindahl the wrong way after Cristiane was brought down by Swedish defender Magdalena Eriksson and Brazil was awarded a penalty. The scoreline was a deserving one and the Swedes knew there was no way back.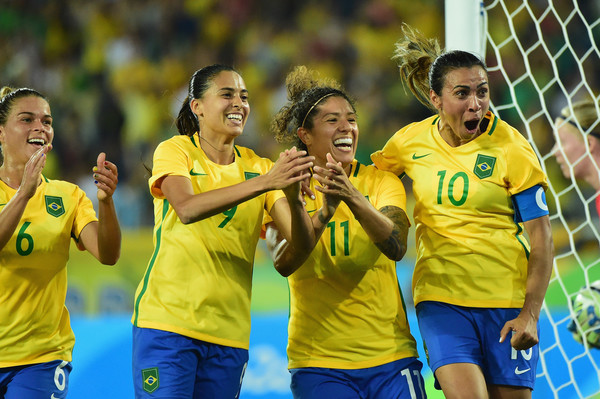 Brazil on cruise control in the second half as Sweden grab a late consolation prize
With the outcome no longer in doubt, Brazil coasted towards the three points, but they would score twice more, the second half a tame one as neither side made much of a move until late on when the legendary Brazilian No. 10 completed her brace 10 minutes from time, flicking the ball around Elin Rubensson and expertly slotting her effort past Lindahl to give Brazil a 4-0 lead. It would become 5-0 five minutes later, Beatriz joined Marta in completing her brace, curling a shot past Lindahl. In the 89th minute Sweden got a consolation goal through Lotta Schlein to make the final score 5-1.
Brazil through, all to play for on the final matchday for Sweden
The hosts are comfortably into the knockout stages, clinching a quarterfinal berth with this resounding win while Sweden are locked in a battle with China to advance. The Chinese defeated South Africa 2-0 to level with the Swedes on three point for second place in the group. The two nations will meet in the final group stage game with that second quarterfinal berth out of the group at stake. Goals difference could be the key and China have the edge there with a +1 to Sweden's -3 after this heavy defeat. China need only a draw to move on while Sweden need a win.