Defender Kendall Fletcher of Seattle Reign announces her withdrawal from the team after three consecutive seasons. This past NWSL season, Fletcher logged 5,724 minutes of time on the field as she started in 65 games and made a total of 66 appearances.
From the W-league to the NWSL
Fletcher started out playing in the W-League with Jersey Sky Blues in 2007 and then the following year joined Pali Blues. In 2009, she participated with the Los Angeles Sol, but was traded to Saint Louis Athletica in Missouri after one game with the Sol. In 2010, Sky Blue FC recruited Fletcher and she played two seasons with the Blues.
In 2012, she joined Vittsjö in the Swedish Damallsvenskan until the 2013 season. Fletcher wanted to come back to the States to play professional soccer as the NWSL was further expanding in the league. So in February of 2014, she signed with the Reign.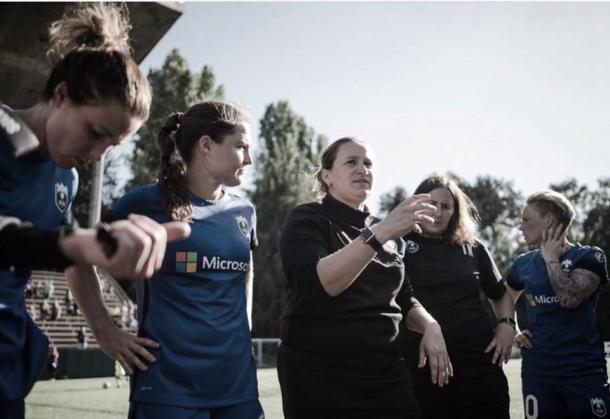 The North Carolina alum describes her experience with the Reign as being:
"I can honestly say the last three years playing for the Reign have been the most enjoyable years of my career. I was not only pushed, challenged and stretched as a player, but I also felt valued and appreciated for who I was on and off the field. If soccer was the only thing in my life I would play for the club until I was 50 if Laura would let me."
Fletcher's impact with the Reign
The experienced defender had a huge role in the Reign reaching the NWSL Shield title in 2014. They even have a record of going 16 matches unbeaten for the season. The following season, she once again took part in holding the NWSL Shield title. As a defender, she scored two goals as well as having the role of two assists. For the 2015 season, she earned the NWSL Second XI honor.
Seattle Reign FC head coach and general manager Laura Harvey had many high compliments of Fletcher, with one of them highlighting her skill:
"Fletch is one of the most competitive, smartest defenders I have ever worked with. Her attitude towards being the best player she can be was unmatched. Her influence on our team was exceptional. She was a major part of our success over the 2014 and 2015 season, and she will be truly missed."
What's next?
The 2016 NWSL MVP and Defensive Player of the Year is on loan during the NWSL off-season with the Australian's Westfield W-League's Western Sydney Wanderers. She will finish out her career with the W-league and next week will be the start of a new journey.
He soon to be former defender will be attending a Bible program through Hillsong International Leadership College in Sydney, Australia. Through this three year program, she will receive an advanced Diploma in Ministry.