The 2017 SheBelieves Cup kicks off with two of Europe's biggest teams going head-to-head. England plays their first game against France and will look to win their first international trophy for quite some time while France will be looking to rid themselves of the 'greatest underachievers' tag. In short, the first match of the tournament should be a good one for the neutrals.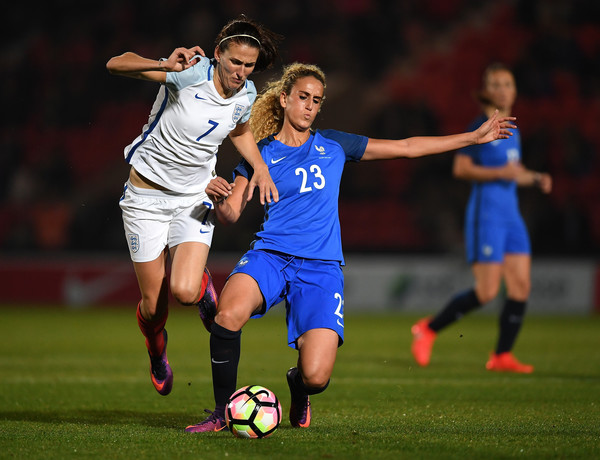 A change in formation could help England prosper
Over the last few games, head coach Mark Sampson has experimented with playing a 3-5-2 formation with his squad. It remains to be seen if he will implement this strategy against France but if he does, it may pose a few questions for the French tomorrow evening. Defensively, England is solid with the likes of Manchester City trio Lucy Bronze, Steph Houghton and Demi Stokes all named in the squad. They will most probably be playing in front of their club teammate, goalkeeper Karen Bardsley so Sampson may seek defensive solidity first against a team with the quality that France possesses.
The last time the two teams met, in October 2016, neither team could find the back of the net and Sampson will be hoping that this time around, the formation will help his strikers score more regularly. England is not short of attacking talent with the likes of Jodie Taylor, Toni Duggan, and Karen Carney all named to the squad but they will be reliant on their midfield to win the battle against what some may see as a superior French midfield. Houston Dash's Rachel Daly could also feature in this new formation as a wing-back due to Sampson's search for goals so NWSL fans may be seeing the forward in a brand new position before the season starts.
France look to break their major tournament 'voodoo'
For all of the talent that France has possessed in previous years, they have not managed to make that talent count and win any major tournaments. This year, head coach Olivier Echouafni will hope that he has found the formula that will turn things around for a nation that is as highly regarded as France. From back to front, this team has players that are able to change games on pure individual talent and at the heart of it all is captain and defender, Wendie Renard who is having another stellar season with her club team, Olympique Lyonnais. In midfield, Camille Abily is the focal point for all that France will look to do and if she carries her club form into this tournament, France has every chance of collective their first ever piece of major silverware.
France's Achilles heel has always been their inability to score goals in crucial moments. Marie-Laure Delie and Eugénie Le Sommer of Paris Saint-Germain and Olympique Lyonnais respectively are also in superb form for their clubs as the title race heats up in the top division but as Echouafni prefers a one-striker system, both players will be vying to not only start but to cement their place as the first choice striker. Neither player is a stranger to big games for their country but again, as with the rest of their team, capitalising in crucial moments of big games has been a huge problem for them and if France want to finally move on from their label of being underachievers, either Delie or Le Sommer have to step up and start scoring big goals.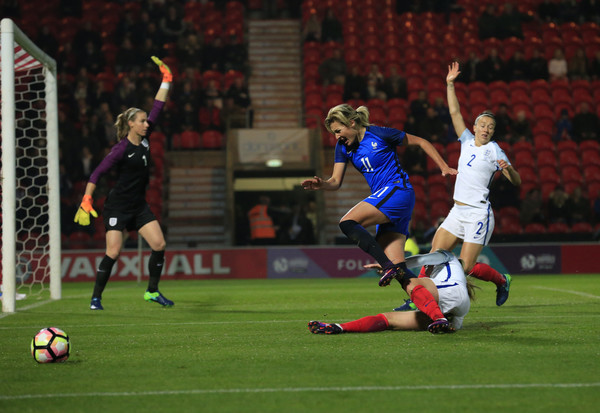 Prediction
This will be a close game with possibly England looking to cede possession to France and hope to catch them on the break with the speed they have up top. France will look to use their midfield to stop those breaks and create enough combinations in and around England's defensive half to give someone like Abily or Le Sommer the opportunity to score the goals needed to win. England's players are currently still in preseason form which may count against them but the adrenaline of playing in the first match could help them sustain their concentration for a full match. In the end, quality should tell and France will come out on top if they play to their best ability.
England 1, France 2