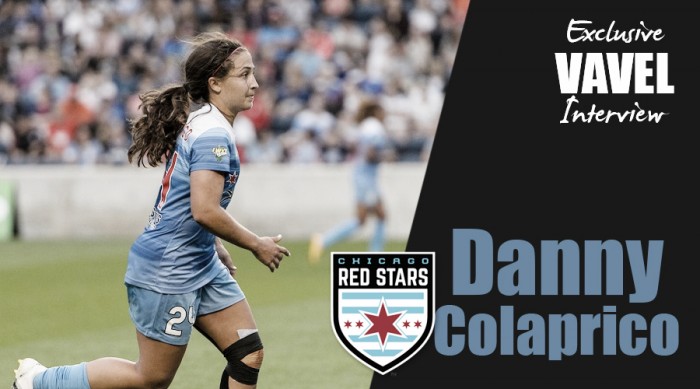 "I think I worked a lot on making an impact in games."
---
Anybody who has watched the Chicago Red Stars over the past two seasons would probably be surprised at that statement. Since setting foot in the Windy City, Danielle Colaprico has left her fingerprints, or footprints, on every aspect of the Red Stars' game. She's a level head on a high-pressing team, coolly shuttling the ball out of pressure, pulling the strings, and, when the moment's right, slotting it through the lines of the opponent's defense. She was the 2015 NWSL Rookie of the Year fresh out of the University of Virginia, where she is the career record holder in assists and has had two straight NWSL Second XI honors.
But recent disappointments, both in Chicago as the Red Stars failed to advance to the championship match for the second straight season, and internationally as her first UWSNT cap has failed to materialize, mean that this season Colaprico is pushing for even more. I spoke to the one they call "Danny" about the team's pre-season, her work in the off-season, and what it means to make an impact.
Offseason
Part of making an impact means making a change, and that's exactly what Colaprico did after the 2016 season came to an end. Rather than stay home, she decided to spend her off-season in the Australian W-League.
"I definitely went back and forth with it a little bit and I didn't know if I wanted to take the time to myself and relax until this season, but it's hard because I love the game and I like being around the team and sitting at home and doing workouts at home is not the same as being with a team and training every day and competing in games and I think that was kind of my motivation. I heard great things about the Australian League and I think it was a perfect fit for me in terms of training with a team and getting competitive games in."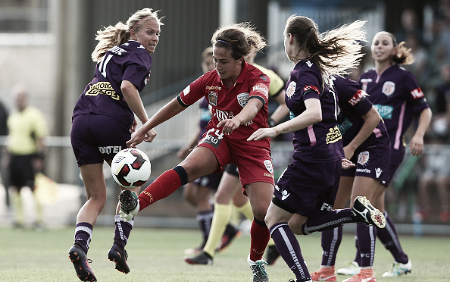 In total, eight Red Stars flew down under for the winter months, the most of any NWSL team and almost enough to put one Red Star apiece on each of the W-League's nine teams. Colaprico signed with Adelaide United FC where she was joined by two of her Chicago teammates, Sofia Huerta and Katie Naughton.
"I think that it worked out that we were each in a line of the formation, so we had Katie in the defense, I was in the midfield and Sofia was at forward, so we worked well together in terms of linking all the lines in Australia and really taking leadership on that team and I think we got to know each other a lot more."
"Obviously I'm very close with Sofia and I got to know Katie more and all three of us worked very well on the field together and we learned stuff about each other so I think that will just carry over into the season."
Colaprico played much the same role for Adelaide as she did for Chicago, but she did find ways to make her mark on the game going forward. In one of the W-League's biggest headlines, she bagged two goals to upset the Perth Glory 2-1. Decisive moments like that are what Colaprico is trying to generate more of in the next NWSL season.
"I think that in the past few years I've been kind of a linker, playing out of the back in terms of linking the defense and the midfielders and the forwards, so I think in the past that's been my role and in the off-season I've worked a lot and I went to play overseas and worked on some things in the offseason."
"I think I worked a lot on making an impact in games. I think that I do make some sort of impact but I think I can contribute a lot more and bring a lot more to the table, so just in terms of making more of an impact and staying consistent with that throughout the season."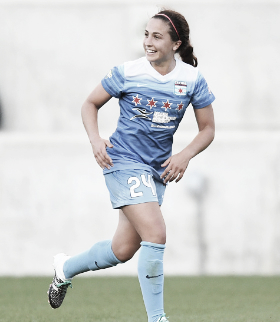 Preseason
2017 will be Colaprico's third season as a professional, all with Chicago. Head coach Rory Dames' side returns a core group of players and has added some young talent in the off-season, and it's showing in pre-season.
"I think preseason's going well. I think this is, for being the third year I'm here, this is the most competitive pre-season we've had yet here in Chicago so I think that's good in terms of putting a team together and I think that we look better each day. Pre-season is a lot about learning and we're gonna find out some things that we're gonna work on but we're also gonna find some things that we excel at, so it'll be good for us in terms of knowing where we're at before the season starts."
Another important piece of the pre-season has been the move to Toyota Park. The Red Stars had trained and played there for part of the 2016 season, but this year they could settle in from Day One.
"I think that's awesome that we've moved there [Toyota Park] full-time. It obviously makes things a lot more professional and I think it will be good for our team. It feels like home being there and I think that's awesome for our team and other than that I think it's been kind of the same, it's just new field, new training facility, and we're just getting used to that."
The Red Stars' advertising department is having a productive preseason of their own. The club revamped the Red Stars logo and created a new slogan and hashtag "#MKOT: My Kind of Town" that they paired with photos of players, including Colaprico, taken throughout the city. The message is clear: this is the Red Stars' town.
"I think that's what we're trying to do here. I think it will help in terms of advertising and getting the team out there and it already has made an impact. It's a cool look we're going for this year cause we really want Chicago to know about us and want it to be our town and want to make an impact in the community."
Though still a long way off, an NWSL championship would be the culmination of this hard work and preparation. The Red Stars have been in two straight semifinals, only to lose both to the eventual champion. Despite the sour taste of defeat, particularly after 2016's heartbreaker, that competitive experience also constitutes a kind of preparation.
"Obviously it's disappointing to come out with a loss in the semifinals and we want to win the whole thing and we're still shooting for that so I think this year it's good for us because we've gotten semifinals under our belts and we have a little more experience and it's basically almost the same team as last year."
"I think it's going to be good for that and players know what it's like to play in semifinals and we're hoping to make it to the championship game this year and hopefully win the whole thing."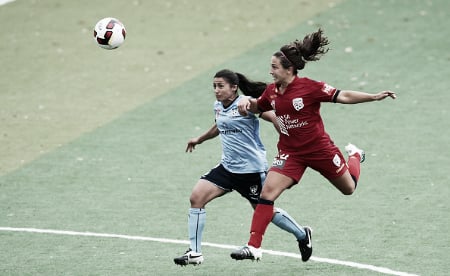 USWNT
Another goal on the horizon is the U.S. Women's National Team. Despite the accolades and praise from NWSL coaches and fans and the WNT being in the midst of a transition to playing the style of soccer that Colaprico excels at, her first cap with the WNT remains elusive. When I raised the question there was a sigh from the other end of the line.
"It's definitely on my radar. One of my goals in my career is to make the national team at some point and it's a grind, it's not easy. You don't just walk in there and make an impact, you've got to keep working and it doesn't come easy so I think this year obviously my focus is just to shoot for that again and hopefully this time I can stick around with them."
Before that comes the NWSL season, and Chicago's opening match in Houston on April 15th. With 24 games and plenty of travel on the docket for 2017, two locations stand out.
"I like playing in Portland, the crowd is amazing there and it's always a very intense environment. You always want to win at Portland. I'd also say playing at home in New Jersey, I love playing there and it's nice to play in front of family and friends and each time we've played there so far we've beaten them so it's always a good feeling winning at home."
With any luck, there stands to be a lot of good feeling in the Second City in 2017.