The Boston Breakers will travel to Missouri to take on FC Kansas City in their opening match of the 2017 NWSL season. The Breakers, who finished in last place in 2016, having won only three matches all season, will be looking to redeem themselves from such a disappointing season. Attendance numbers that rose over the season and the addition of new fresh faces to Boston's roster have given the team a new fire that they will be looking to utilize in their first match. But Kansas City has never been a team that goes down without a fight, and they too have a score to settle after a 2016 season that went less favorably as they would've liked.
Kansas City looking to reclaim former glory
Kansas City, two-time NWSL Champions in 2014 and 2015, fell off considerably in 2016 when considering their former dominance, as they finished in 6th place, missing the playoffs by six points. Although it's been a year, the team still knows what it's like to be champions, and they'll be searching for that feeling all season.
The addition of former USWNT forward Sydney Leroux, who was traded to the team shortly before leaving to have her son, will give the team an intensity on the attack they may have been missing last season. Her chemistry with fellow USWNT member Amy Rodriguez will be something to keep an eye on, as the two have extensive experience in training camps together over the years.
Shea Groom is another forward who was called up to USWNT camps during the offseason. On the defensive end, USWNT captain Becky Sauerbrunn is known to be one of the strongest center backs in the world and will provide her team with the organization and patience she is known for internationally.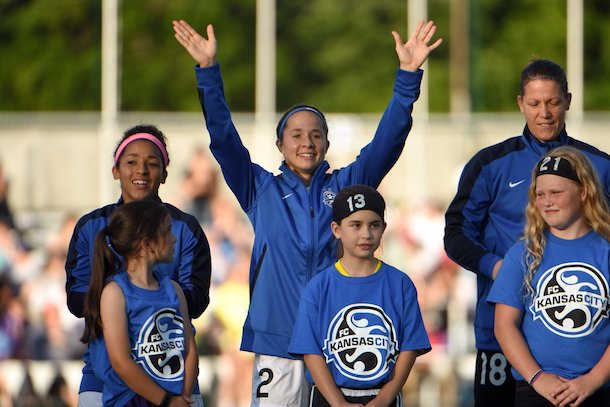 Boston's fresh faces will bring new energy
In arguably Boston's most notable decision during the offseason, the Breakers used their first pick to draft Rose Lavelle from the University of Wisconsin. Lavelle had previously been called up to the senior national team, but had not yet received a CAP or reached the notoriety of other young call-ups like Mallory Pugh. In the time since she was drafted, she has made multiple appearances for the team where she has stood out as a talented wing player with high amounts of skill and creativity, setting her apart from what is typically seen as "American" style of play.
If Boston can utilize that creativity, they will have a higher chance of getting in behind KC's Sauerbrunn led backline. Morgan Andrews, another midfielder and recent graduate of NCAA champion USC, will bring that youthful energy. In addition, Megan Oyster, who was traded from the Washington Spirit, has been a successful defender in the NWSL, starting 15 matches for the Spirit last season, including the NWSL final. The Breakers roster is full of individual skill, but their success is largely contingent on whether or not that talent can be organized and utilized in the right ways.
Game Details
The match will kickoff at 6 pm on Sunday, April 16th at Swope Soccer Village in Kansas City, Missouri. The match stream can be accessed through the go90 app, available for both iPhones and Android devices.