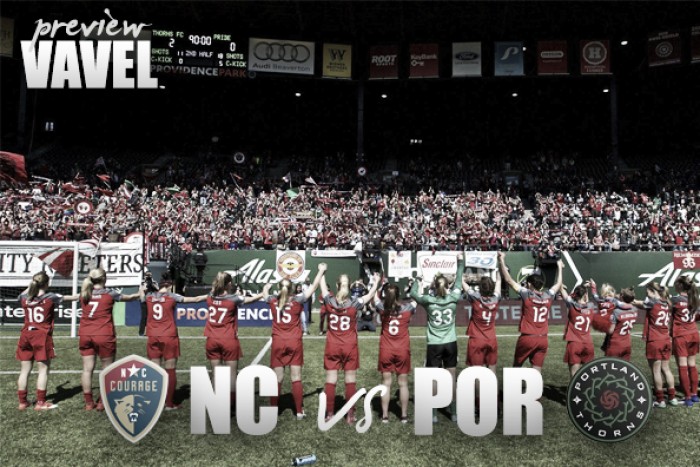 The North Carolina Courage play host to the Portland Thorns at 7:30 pm ET on Saturday. Both teams will be hoping to extend their winning form after taking all three points from their Week One matches. North Carolina were comfortably in the driver's seat in a 1-0 win over the Washington Spirit, while Portland will be looking for their defense to answer some questions after several unforced errors in a 2-0 win over the Orlando Pride. Saturday's match should offer both teams much stiffer competition and a clearer picture of where both teams are at this early juncture.
Home Opener for North Carolina Courage
This weekend marks an important milestone for the Courage as they play their first game in their new home stadium WakeMed Soccer Park. (The Courage were formerly the Western New York Flash, who were bought and relocated to Cary, NC during the offseason). It will also be their first game with head coach Paul Riley on the sideline. Riley missed the Courage's season opener serving the second half of a two-game suspension he picked up in last year's semifinals.
It is also a critical match for proving that the Courage have improved from last year. After questions about their defensive strength and depth, they signed Japanese international Yuri Kawamura and traded for Samantha Witteman, and after questions about their directness they added Debinha and Rosana, two creative attackers from Brazil. All but Rosana played for their new team last Saturday and all impressed in their debut.
That win came against a Washington Spirit side that had been heavily depleted in the off-season and only had it piled on as Joanna Lohman and Cheyna Williams both exited in the first half with injuries. Portland have injury worries of their own, but they will still be a more difficult opponent at every spot on the field. The Courage have all the makings of a playoff team, and matches like these are where they have to prove it.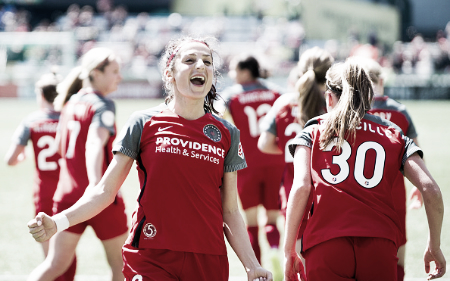 Road Trip for Portland Thorns
The Thorns can exorcise a few of their own demons this Saturday as well. First there is the sour taste of defeat to be washed out, going back to their loss to the Flash in Portland in the 2016 NWSL semifinals. Second there is the lingering niggle over their play in the backline, which first cropped up in their preseason games but has shown no signs of abating in the first games of the regular season. Several times the Thorns nearly handed Orlando a goal, either through a heavy touch by goalkeeper Adrianna Franch or a sloppy pass through the box by Emily Sonnett. Orlando simply lacked the firepower up top to punish those errors, but the offense-laded Courage should have no such trouble. If the Thorns want to take all three points from their first road game, they will have to be cleaner in the back.
Portland will be without three of their regular starters as Tobin Heath, Dagny Brynjarsdottir, and Katherine Reynolds are all unavailable due to injury. Still, there's no team to rival the Thorns for depth, and with strikers Christine Sinclair and Nadia Nadim both off the block against Orlando, the Thorns are likely to pick up momentum as they begin a touch series of match-ups.
While it probably won't rival the intensity of last year's semifinal, this match, like any between these two teams, is sure to have its fair share of firepower. Expect end to end soccer and more than a couple goals.
The match kicks off at 7:30 pm ET and is available for streaming via the go90 app. We will also have updates live from Cary, N.C. here on VAVEL.