 Humidity, injuries, and tired legs told the story of the North Carolina Courage's match against Sky Blue FC. June's Player of the Month, Samantha Kerr, found a late winner for her side, handing North Carolina their first loss in three games.
First Half Opportunities
The warm conditions and tired legs from both teams took a toll before the whistle even blew as Kayla Mills, who had started the last six games for Sky Blue, did not travel with the team after going the full 90 against Orlando on Wednesday. Things went south in the first half as each team lost a player to injury in the opening 45 minutes. Erin Simon was forced to exit the game in the 24th minute, and Kristen Hamilton was subbed out for what appeared to be a hamstring injury several minutes later.
The game had started brightly for North Carolina. The Courage almost earned an early lead when Ashley Hatch slipped Makenzy Doniak in behind Kelley O'Hara. Doniak stripped a diving Kailen Sheridan of the ball but her shot was blocked off the line by Christie Pearce.
North Carolina lacked a little sharpness on defense and Sky Blue narrowly avoided punishing them. Daphne Corboz got two chances to shoot inside the box in the 14th minute when Taylor Smith cleared her first shot straight back to the Sky Blue midfielder's feet. Luckily for the Courage, her second attempt struck the post.
Corboz was involved again in the 18th minute when her pass found Madison Tiernan unmarked at the far corner of North Carolina's box. The former Rutgers' player hit a hard, low shot at Katelyn Rowland, who parried it away for a corner kick. It was Rowland's fifth start of the season as she filled in for Sabrina D'Angelo, who has been nursing an ankle injury.
Although Sky Blue had several good chances in the box and North Carolina threatened on the counter, particularly through Ashley Hatch's shooting ability, the first half ended 0-0.
Second Half Subs make impact
After a slow start to the second half, it looked as though yet another game this week would be decided by a penalty kick. SBFC goalkeeper Kailen Sheridan took down Sam Mewis in the box although it appeared that Mewis would have run out of bounds anyway. The rookie made up for her error on the ensuing play, saving Mewis' underhit penalty easily.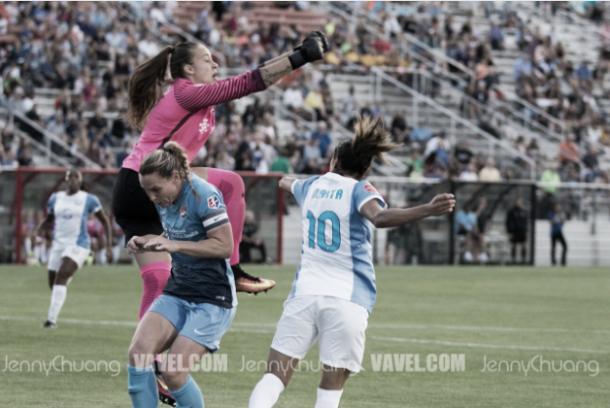 Jessica McDonald subbed in in the 70th minute for her first appearance in three games. It was almost a heroic return to play: she immediately took on a player and made a long run to create a corner. Seconds later, her header missed the net by inches.
McDonald's return is heartening as the Courage roster has become rather threadbare after injuries to multiple starters. After the game, head coach Paul Riley said the team is pursuing players to fill out the roster.
"We've got our eyes on a couple of either internationals or Americans," Paul Riley said. "We've got our eyes on two or three. We should have them hopefully wrapped up in the next week or so. Hopefully they'll come about. If they don't we'll go with what we got."
Leah Galton checked into the game in the 75th minute and made her presence known soon after. In the 84th minute she beat two defenders and served in a cross. Maya Hayes was at the near post and flicked it across goal to a wide open Sam Kerr, who pounded it into the net for the first and only goal of the afternoon.
It was agony for the Courage and relief for Sky Blue, who had persisted through the sweltering conditions and playing three games in three states before getting a win, and one on national television to boot.
"It has been tough, especially in this heat," Sam Kerr said. "I think it's a bit hotter in Australia but we don't have the humidity where I'm from, that's on the east coast, so where I'm from it's hotter but it's dryer. We play at 3:30 too which is, I don't know if it makes sense, but you know, you gotta do what you gotta do for TV deals, so that's life."
Despite the loss, the Courage retain the top spot in the NWSL standings. Next up is a home match against the Seattle Reign on Saturday, July 8th. Kickoff is scheduled for 7 pm, which could make a difference.
"It's tough conditions. The only two games we've lost at home have been the two day games," Riley said. "In all fairness I thought they played really really well on the back of their third game in seven days. You've got to give them credit, they were really good today and they worked their socks off and made it difficult for us and we were just a little bit off, and in this league when you're a little bit off you don't win the game."
Sky Blue FC are back in New Jersey next Saturday playing host to FC Kansas City. That game is also scheduled for 7 pm ET.