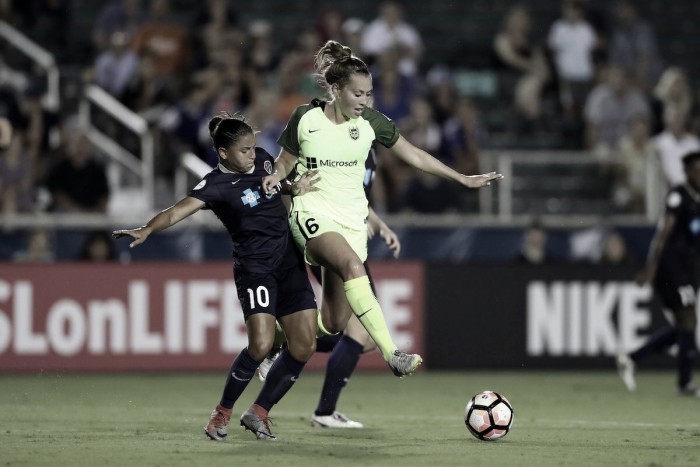 The summer storms took its toll in North Carolina tonight with a two hour delay until the North Carolina Courage could face Seattle Reign at WakeMed Field. The Reign were in third place and just behind the Courage in standings. Seattle came out in hopes of catching up to the leading team.
Rapinoe putting in the work
Forward Megan Rapinoe had many leads for Seattle as she took a solid corner early in the first half that gave Kristen McNabb a play towards the net, but was quickly deflected by the goalpost with goalkeeper Katelyn Rowlannd ready for the save.
The Courage also had several opportunities on goal within the first half and forward Ashley Hatch assisted Samantha Mewis with a pass to finish on the goal, but was cleared by Seattle's backline. North Carolina had 17 shots within the first half and brought the heat for the Reign. After assisting on so many attempts, Hatch was able to score her fourth goal of the season, which put the Courage at a 1-0 advantage.
To come back from this goal, the Reign were diligent in their passing and created opportunities for goals, but were unsuccessful. In the 45th minute, Rapinoe made an approach toward the Courage goalkeeper, who was out of her box and managed to steal the ball from her feet. With the goal being wide open, Rapinoe took a shot 23 yards from the goal and completely missed the goal that could've been the equalizer. Rapinoe marked her 13th season game with Seattle, which has been the most that she as been present for since 2013 due to USWNT call ups for the 2015 World Cup, friendlies, the Olympics, and recovery from a torn ACL.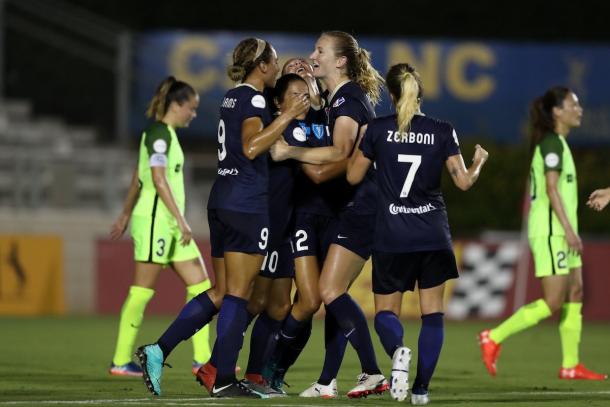 Courage still attacking
After the first half, McCall Zerboni and Hatch sought out goals and followed through with plays, but weren't able to celebrate the ball at the back of the net. Hatch took goals with much anticipation that resulted in going too far above the net.
The Courage were determined to get past the Reign defense to score and Zerboni was eager for a shot. In the 81st minute, Jessica McDonald headed a shot from a corner that Zerboni was able to finish to raise North Carolina 2-0 late in the second half to mark her third goal of the season. With this victory, the Courage continue to keep their top place for 13 consecutive weeks in the NWSL standings.
Next Saturday, the Courage will make its way to Providence Park as they are hosted by the Portland Thorns for the start of their two-games on the road.