The North Carolina Courage dispensed with the Washington Spirit 2-0 with goals from Ashley Hatch and an own goal from Kassey Kallman. The Spirit played without Kristie Mewis, who did not travel with the team pending the finalization of a trade to be announced Monday. The loss puts Washington in tenth and last place in the NWSL. Courage ironwoman McCall Zerboni registered her 100th regular season NWSL appearance in the victory. For the time being, the win moves North Carolina eight points ahead of the second place Portland Thorns, who play at 10 pm tonight.
Courage weather obstacles
The game was the second meeting all-time between the two teams since they met in the Courage's first ever NWSL match, a game in which the "debutantes" recorded a 1-0 win over last year's finalists. This match seemed destined for a similar low scoreline as the on-field temperature, which reached well over 90 degrees, hampered play on both sides of the ball. Hydration breaks were implemented in each half, and Washington Spirit defender Estelle Johnson subbed out at halftime due to heat-related concerns.
After a scoreless first half, the Courage broke the deadlock seconds into the second half. In the 46th minute, Denise O'Sullivan slipped Kristen Hamilton in on the right wing, and the forward crossed the ball to the back-post. Alyssa Kleiner was well-placed to deal with the cross but swung and missed, and the ball fell at the feet of Ashley Hatch, who made no mistake from 12 yards out in giving the Courage the 1-0 lead. It was Hatch's fifth goal of the season, the most for any NWSL rookie.
Unlucky Breaks for Washington
The Courage got a late insurance goal in the 84th minute through another unfortunate defensive play by Washington. Samantha Mewis sent in a corner kick that Washington goalkeeper Stephanie Labbe came to collect but ended up missing entirely. Cali Farquharson was behind her waiting to clear the danger, but her header sent the ball straight back into the fray and off the face of Kassey Kallman, who could do nothing to prevent it ricocheting into her own net.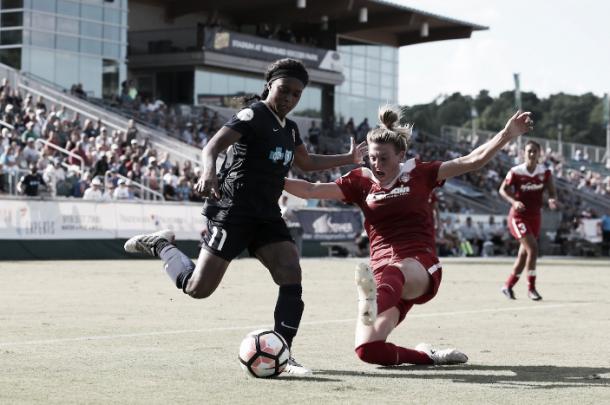 Farquharson was involved in another unlucky play for Washington on the opposite end of the field. In the 93rd minute, Shelina Zadorsky hiked a long service into the Courage penalty area. Cheyna Williams was able to flick the ball beyond goalkeeper Katelyn Rowland and seemingly into the North Carolina goal. Prepared to shepherd it into the net, Farquharson tracked the ball, but somehow the spin sent the ball off the near post and out of bounds.
The Washington Spirit's next opponent is the Chicago Red Stars, whom they play at the Maryland Soccerplex at 7 pm on Saturday, August 26th. The North Carolina Courage will travel the Houston to play the Dash at 8 pm the following Sunday.