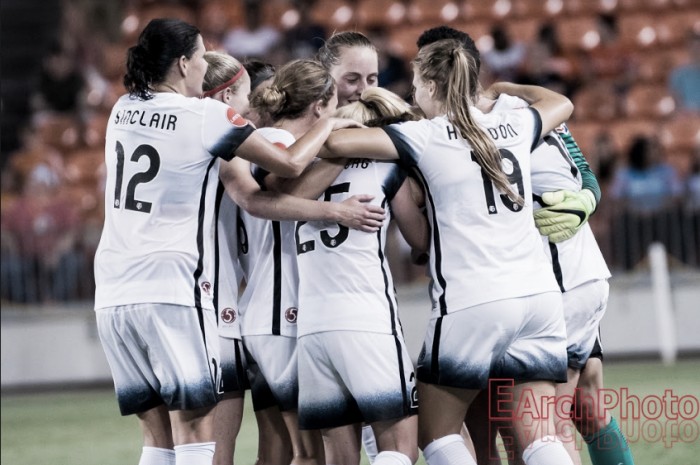 The Portland Thorns are nothing if not efficient. Saturday's trip to Cascadia rival Seattle Reign yielded three milestones for the club: their first win at Memorial Stadium, the first NWSL brace for Haley Raso, and last but not least, the Thorns became the first NWSL team to reach 50 wins. The 2-1 victory also pushed the Thorns within two points of the first-place North Carolina Courage and back in contention for the NWSL Shield.
Raso takes over
For all the plaudits Portland picked up, defensive snafus provided the decisive moment for both teams. The Thorns opened the scoring on a poor defensive play by Reign goalkeeper Haley Kopmeyer and defender Kristen McNabb in the 49th minute. Kopmeyer was restarting play from within the Seattle penalty box and played a short ball out to McNabb. The rookie center-back misplayed the pass back to the goalkeeper and the lurking Raso swooped in to finish on a stranded Kopmeyer.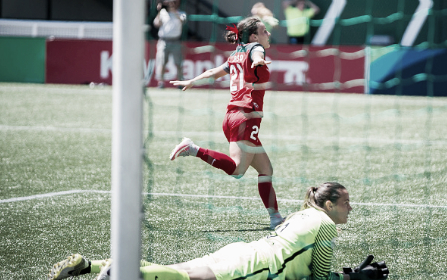 The energetic Australian wasn't done, however, and Raso bagged her second and ultimately game-winning goal in the 86th minute. Christine Sinclair struck a long ball from within Portland's half towards Raso on the far side of the pitch. The ball bounced into an obliging space between Raso and Seattle defender Lauren Barnes. Barnes had a step on Raso, but Raso's speed closed the distance and Barnes went to ground to win the ball. Raso played through her and headed straight for goal. Her initial shot was struck straight at Kopmeyer who stepped off her line to make the block, but the rebound fell perfectly to Raso, who made no mistake on her second effort. It was her fifth goal of the season.
Seattle pull one back
Seattle weren't licked, however, and responded with a goal of their own in the 89th minute. The goal transpired under somewhat dubious circumstances. Adrianna Franch, Meghan Klingenberg, and Rachel Corsie all battled for a ball bouncing in the Portland penalty area, and under some contact Corsie fell to the turf. The referee judged Klingenberg to have fouled Corsie off the ball and a penalty was awarded. Jess Fishlock stepped up for the Reign and buried the penalty, pulling the Reign within a goal and denying Portland the shutout if not the victory.
Portland are back on home turf for their next game. The Thorns host the Washington Spirit, whose loss to the Chicago Red Stars a couple hours after the Thorns' game eliminated the Spirit from play-off contention. The two teams' meeting on September 2nd is the Lifetime Game of the Week and will kick-off at 3:30 pm ET.
Seattle play the following day. They face the Houston Dash in Houston on September 3rd, with kick-off scheduled for 8 pm ET.