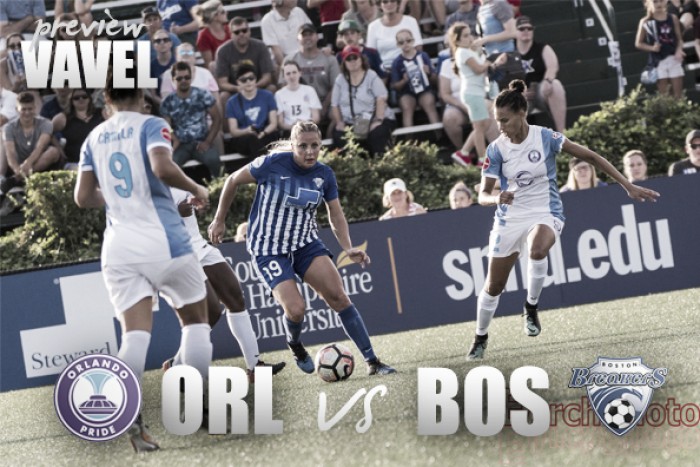 A matchup with two opposite streaks is a part of Week 19 NWSL play. In the third and final matchup between the two clubs, the Orlando Pride (9‑6‑5, 4th place, 32 points) are set to take on the Boston Breakers (3-10-7, 9th place, 16 points) at Orlando City Stadium on Saturday, September 2. Kickoff is scheduled for 7:30 PM ET, and the game can be streamed via go90.
Orlando already defeated the Breakers twice this season (the last time on August 19th in a 2-1 victory in Boston), and they can complete the sweep at home and continue to solidify their standing as one of the top 4 NWSL teams that can play in the postseason.
Where They Stand
Orlando controls their own destiny now to reach the playoffs. They are currently tied with the Chicago Red Stars on points, but they hold the number four spot due to a head-to-head tiebreaker with the Chicago side. Orlando dropped one game to the Red Stars and tied one. As long as the Pride continue to add points, especially three points each remaining game, they are a lock-in for the playoffs.
Boston has been eliminated from playoff contention, failing to reach the postseason for the fifth year in a row. After a season plagued by injuries, early retirements, and waivers, the Breakers now look to finish the 2017 season and prepare for 2018.
The Story of Two Streaks
Orlando is where they are in 4th place because they have gone on a five-game unbeaten streak, including four consecutive games with victories in August: a 3-0 victory against the Washington Spirit; a 5-0 rout against Sky Blue FC; a 2-1 close edge in Boston; and a 2-1 thriller against FC Kansas City. Even more, Alex Morgan is on a five-game scoring streak with her latest 87th-minute game-winner last week in Kansas City. Morgan has scored game-winning goals in three consecutive matches. Also, the Pride have Marta, who continues to build chances for Orlando's offense and manages to find Morgan for scoring opportunities.
Unfortunately for the Breakers, the opposite is happening to their season. After a 1-0 loss to Sky Blue FC last week, the Breakers do not have a chance at the postseason. Additionally, Boston is bringing a winless road streak to Orlando with a 0-6-4 record. If the road troubles were not enough, Boston has not won a game in 12 games.
The good news for Boston is that Rose Lavelle, who suffered a hamstring injury on international duty on June 3rd, has been removed from the Breakers' injury report.
Saturday's Outlook
On paper, Orlando, by far, outmatches Boston and should get a win against a struggling Breakers team. The Pride may just be the team that no one will want to face in October, especially if they continue their winning ways with a solid defense and a Morgan-Marta partnership.