Thank you for joining me tonight on VAVEL USA. This is is Kudzi Musarurwa signing off.
North Carolina Courage 2 - 3 Orlando Pride
Full-time: That's it for this game! Alanna Kennedy is the hero for Orlando with a fantastic free-kick to win the game for Orlando. This means they will be heading off to face Portland Thorns FC next week while the Courage will be facing off against the Chicago Red Stars at home.
North Carolina 2 - 3 Orlando Pride
With all eyes on Marta, Kennedy is the one who takes the free kick and bends it into the top corner to give Orlando a late, late goal. One of the best free kicks you'll see all season!
90'+1 GOAL! Kennedy smacks in a brilliant free kick!
90' YELLOW CARD: Dahlkemper fouls Spencer near the edge of her own box and picks up the yellow.
88' McDonald thinks she's through on goal but she'c called back for being offside.
84' SUBSTITUTION: Toni Pressley is the last Orlando change as she come sin for Ubogagu.
82' Marta swings in a great set piece that Morgan gets a glance on but it goes straight into Rowland's grateful arms.
81' Smith fouls Spencer in a dangerous position for Orlando.
77' SUBSTITUTION: Jessica McDonald comes in for Williams.
76' SUBSTITUTION: Jasmyne Spencer comes in for Edmonds.
75' Mônica needs some help from the medical staff and play has stopped in the mean time.
72' YELLOW CARD: Marta picks up the second card of the night after taking out Mewis in the build up of the previous attack.
72' After some tough challenges flying in, the ball finds Debinha in the box and her shot is deflected out for a corner kick.
71' The momentum of the game has completely switched towards the home side and Orlando are struggling to get anything going in North Carolina's half.
North Carolina Courage 2 - 2 Orlando Pride
67' GOAL! Williams is not phased by Harris' antics and tucks it away with great placement.
66' Williams steps up to take it....and Harris is issued a yellow card for delaying Williams penalty kick.
65' PENALTY! This game has kicked up to another gear as Debinha earns the Courage a penalty. The midfielder bursts through into the area and is brought down by Krieger.
63' SUBSTITUTION: Sam Mewis and Ashley Hatch come in for Zerboni and Nora Helstad.
North Carolina Courage 1 - 2 Orlando Pride
Taylor Smith is one-on-one with Ubogagu and gets by her easily. She then plays the ball to feet to Williams who holds off her marker and smashes it past Harris at the near post.
62' GOAL! Williams pulls one back for the home side!
61' Hamilton bombs forward and is held up by Krieger. The Courage midfielder heads to the byline and chips the ball back towards goal but it's easy for Harris to collect.
59' The ball is put out of play as another Orlando player is down. This time it's Ubogagu. She gets up without needing any medical assistance and seems fine to go on.
56' A quick word on Camila: it's been determined that she suffered a right knee injury but until they run further tests, the extent of the injury is unknown.
56' Now North Carolina create an opening but Dani Weatherholt makes a vital interception in her own box that stops the Courage from finding a chance to shoot.
55' CHANCE! Morgan could have made it three! Orlando wins a throw-in that sends Morgan through and with only Rowland to beat, Morgan pulls her shot wide.
North Carolina Courage 0 - 2 Orlando Pride
Orlando break with Marta in a 3-on-3 situation. The Brazilian then plays a one-two with Morgan which allows her to get into the box and finish low beneath Rowland's body. The goalkeeper got a touch on the ball but it slipped underneath her to put Orlando up by two.
51' GOAL! Marta makes it two!
46' Orlando get us underway here in the second half.
North Carolina Courage 0 - 1 Orlando Pride
Half-time: After starting the game slowly, Orlando scored a goal against the run of play and their goalkeeper, Ashlyn Harris has kept them ahead. The Courage are finding the right spaces but niggly fouls and poor first touches have stalled their momentum each time.
45'+2 Steph Catley gets forward on the left hand side and tries to find Morgan but her cross is too long and Dahlkemper is able to knock the ball away.
45' Edmonds stays with Williams and takes the ball away from her before she can get her shot off.
44' Marta and Morgan work the ball well between themselves before Morgan rips one from outside the box. It goes well wide of the goal though.
40' Oh that was lovely! Marta is surrounded by three players in midfield but she pirouettes a few times and skips away from her markers while still maintaining possession.
39' Abby Dahlkemper puts in a corner that is punched away by Harris. Debinha gets to the rebound first but send her shot way over the crossbar.
35' SUBSTITUTION: Rachel Hill comes in as Camila is stretchered out.
33' Now it's Camila receiving some attention as she seemed to have been fouled by Kristen Hamilton. The Brazilian is clutching her right knee and may not see this game out.
29' CHANCE! Harris comes up big again! Williams finds space out wide and she swings the ball to an unmarked Zerboni in the area. The Courage player hits it on the volley and Harris pulls off a big save to prevent NC Courage from equalizing. Great save!
28' Williams hold sup two players before attempting to curl the ball past Harris but it goes straight to the goalkeeper.
26' NC Courage try to respond and win a free kick in Orlando's half. The ball is sent into the box but against, the Pride seemingly take care of things and put the ball out for a throw-in.
North Carolina Courage 0 - 1 Orlando Pride
After a free kick is won in their own half, the Pride work the ball up the field and Kristen Edmonds is found unmarked by Chioma Ubogagu in the box. Edmonds hits it on the run and slides it past Rowland to give the visitors the lead.
23' GOAL! Orlando Pride take the lead!
20' Camila wins Orlando a free kick in midfield which is played short. The home side defend it well and the ball goes all the way back to Harris.
17' The game has settled down a little as Orlando try to take over the majority of the possession in this game.
12' The Courage look dangerous again as Zerboni and Williams combine. Williams' first touch is too heavy and the Orlando backline is able to recover to clear the ball away.
10' CHANCE! The home side almost take the lead! Williams drills her cross into the box and it falls to Zerboni but her shot is deflected out for a corner kick.
10' Alanna Kennedy tries to chip the ball into the box for Camila to get onto but it goes straight into the hands of Katelyn Rowland.
7' Alex Morgan is down after a coming together with Zerboni. The US international gets up without any assistance and seems fine to carry on.
2' CHANCE! Ashlyn Harris is called upon to make a big save! Lynn Williams was chasing down a ball over the top and Harris did well to keep that shot out.
1' McCall Zerboni almost played Debinha in but Ali Krieger is quick to step across and cut the ball out before the Brazilian could get her shot off.
1' Debinha kicks us off!
Orlando Pride Starting XI (4-3-3): Harris; Edmonds, Mônica, Krieger, Catley; Camila, Kennedy, Weatherholt; Ubogagu, Morgan, Marta.
NC Courage Starting XI (4-3-1-2): Rowland; Smith, Dahlkemper, Erceg, Hinkle; Debinha, Helstad, Hamilton; O'Sullivan; Zerboni, Williams.
We're under an hour away from kick-off and this game could be the first of two consecutive games that these two play as an Orlando loss would mean that they would be back here again for the NWSL Playoffs.
Good evening everyone and welcome to the final regular season game of 2017 for both the North Carolina Courage and the Orlando Pride.
North Carolina Courage 2, Orlando Pride 2.
Prediction: Both teams have qualified for the playoffs and the Courage have already picked up the NWSL Shield as well. All that will be on the line is a final home win for North Carolina or a good result heading into the playoffs for the Orlando Pride. Due to this, I expect both Paul Riley and Tom Sermanni, head coaches of the Courage and the Prides respectively, to utilize their roster and rest some key names in preparation for the playoffs which means that a draw is the more likely result.
Projected Lineup for Orlando Pride: Harris; Kreiger, Pressley, Mônica, Catley; Weatherholt, Kennedy; Fields, Marta, Spencer; Morgan.
Projected Lineup for NC Courage: Rowland; Smith, Dahlkemper, Erceg, Hinkle; Hamilton, Mewis, Zerboni; Doniak, Williams, Hatch.
Match officials assigned for this game are as follows; Farhad Dadkho will be the center official, Jeffrey Skinker and TJ Zablocki will be the assistant referees and Gregory Brigman will be the fourth official.
The match will be played at Sahlen's Stadium in Cary, North Carolina on September 30th, 2017. The game will kick off at 7:30 PM EST and will be broadcast on go90 and nwslsoccer.com.
Although Orlando may have the weaker backline, expect there to be goals in this game if both teams look to end this season off on a high note. Both teams have great attacking players in their ranks and those players can cause any defense problems on their day.
For Orlando to get a result, not only this weekend but in the playoffs as well, they will look to Alex Morgan, Marta and Camila. Morgan and Marta have found a fantastic partnership on the field which has helped propel the Pride up the table and into the playoffs. After returning from her time in Europe and covering from injury, Morgan has picked up nine goals in 12 appearances, while Marta 12 goals in 22 appearances. The two superstars are undoubtedly proficient in front of goal and will need to be again to achieve all the aims that Orlando have for this season. They have been ably assisted by Camila who has proven to be a great acquisition for Orlando this season. The Brazilian international has four goals and five assists so far and her play from midfield has allowed the likes of Marta and Morgan to shine.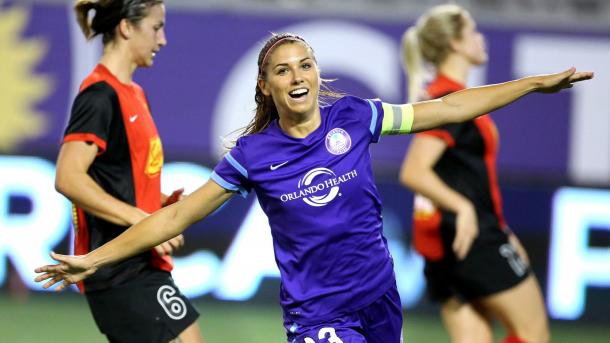 On the other side of the ball this Saturday will be the Orlando Pride. After a seemingly slow and inconsistent start to the season, the Pride found their momentum in July and have not looked back since, pushing themselves into the playoffs for the first time in their history. Tom Sermanni has seemingly found the right players and the right system this season to help his team pick up results and also deal with any injuries along the way as well. The Pride have scored 42 goals and conceded 29 in the 23 games they have played and those statistics show their strength and weakness. Going forward, Orlando are prolific but they have not managed to shore up their backline as well as Sermanni would like and they will be looking to address that before the playoffs begin.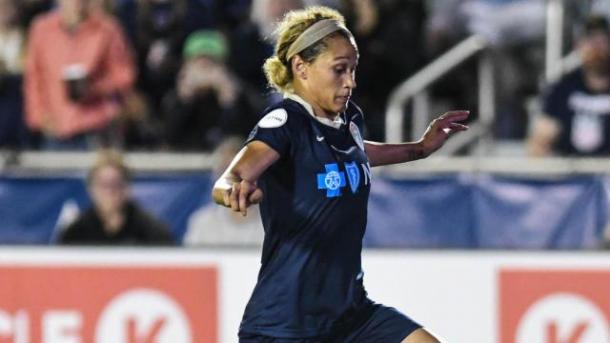 With the firepower of Lynn Williams and the midfield play of Samantha Mewis, the Courage have the right players to go on and become the first team win both the NWSL Shield and the NWSL Championship in the same season. Williams may not have been as prolific as she was in previous seasons, with only seven goals this season, but her threat can not be understated. She makes it easier for the rest of her team to get into the penalty area because her presence draws so much attention and it's allowed the likes of Ashley Hatch to have a great debut season in the NWSL. Behind the strikers is Mewis who has taken a game up another level this season and cemented her place as one of the best midfielders in the league. The US international has six goals and three assists this season but it's her overall play that has been most impressive. Her vision and passing has allowed the team to move forward well from their backline and into their opponents' boxes for most of the season and she has remained a key component to everything that the NC Courage have accomplished this season.
The NC Courage have managed to make the playoffs once again and this time, as the NWSL Shield winners this season. So far this season, they picked up 16 wins in 23 games, scoring 36 goals and conceding just 19 goals. They have almost undoubtedly been the best team in the NWSL and have continued to thrive under Paul Riley's management. The onus now will be on them to break the so-called "Shield curse" which has seen all the previous winners of it reach the final, but ultimately fail at the last hurdle.
With a playoff spot already secured for both teams, the NC Courage and the Orlando Pride will be looking to end the regular season on a good note and also gain momentum for the playoff games. The two teams are set to meet in the semi-final round of the NWSL Playoffs if the Pride don't get anything more than a win, and so, this could be an opportunity to see how either team will fare in a week's time when more is on the line.
Hello everyone and welcome to the final round of games in the National Women's Soccer League regular season. This live update will be on the game between the North Carolina Courage and the Orlando Pride. I'm your host, Kudzi Musarurwa, and I will be keeping you updated with everything from this game.