 The United Soccer Coaches announced today the finalists for the 2017 MAC Hermann Trophy finalists. The three finalists are UCLA sophomore midfielder Jessie Fleming, University of South Carolina senior forward Savannah McCaskill, and Stanford senior midfielder Andi Sullivan. All three of the finalists were named to the 2017 College Cup All-Tournament Team.
The Mac Hermann Trophy is the most coveted award in NCAA Division I Soccer. It was been awarded anually since 1967. This year's winner will be announced on January 5, 2018 at the 2017 MAC Hermann Trophy Banquet at the Missouri Athletic Club in St. Louis, Missouri.
Jessie Fleming, UCLA
UCLA midfielder Jessie Fleming has already had an impressive career despite only being a sophomore. The midfielder hails from London, Ontario and is a regular and often a starter for the Canada Women's National Team. The Olympic bronze medalist performed well for the Bruins this season, starting all 23 of the matches she played in and logging 1,911 minutes for 2017. Fleming scored six goals and collected eight assists this season. Her last goal of the season came in the 2017 NCAA Championship against Stanford, but it was not enough as they fell 3-2 to the Northern California team. A work horse on the field, Fleming still has two years of NCAA play left and will continue to be an integral part of the UCLA's midfield.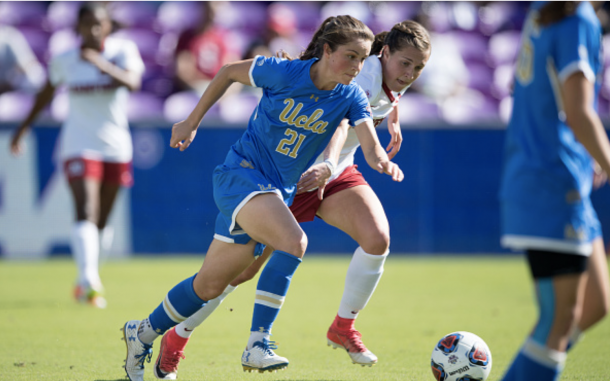 Savannah McCaskill, University of South Carolina
Although she may not be as well known as her other two fellow candidates, Savannah McCaskill has made a name for herself throughout her college career as well as in the US youth national team programs, most recently the U-23s. After four season with the Gamecocks, she leaves her name many times in the record books inlcuding most goals, game-winning goals, game-winning assists, career points - and those don't even include all her single-season records she's set over the past four years. In this season alone, she played and started in all 22 matches of the season. She scored nine goals for the Gamecocks and recorded nine assists, showing her versatility in attack. She led South Carolina to their first-ever NCAA College Cup run, and although they fell in the semi-finals to eventual champions Stanford, McCaskill has plenty to be proud of. McCaskill is also a finalist for US Young Player of the Year.
Andi Sullivan, Stanford
To most casual soccer fans, Andi Sullivan is going to be a name they should plan on hearing a lot of. From going to the youngest player on the 2013 U-20 World Cup Qualifying roster to slowly becoming a regular US Women's National Team call up, the midfielder has a bright future ahead of her. The 2017 season saw Sullivan return from an ACL injury suffered in last year's NCAA Tournament. After rehabbing and recovering, Sullivan started 17 games on the season and made her return known when she scored her first goal back from 30-yards out against Navy. The midfielder went on to score three goals - her last one in the Stanford jersey came in the NCAA Championship, helping her team to a 3-2 victory - and recorded six assists. She was named Pac-12 Midfielder of the Year to end her collegiate career.