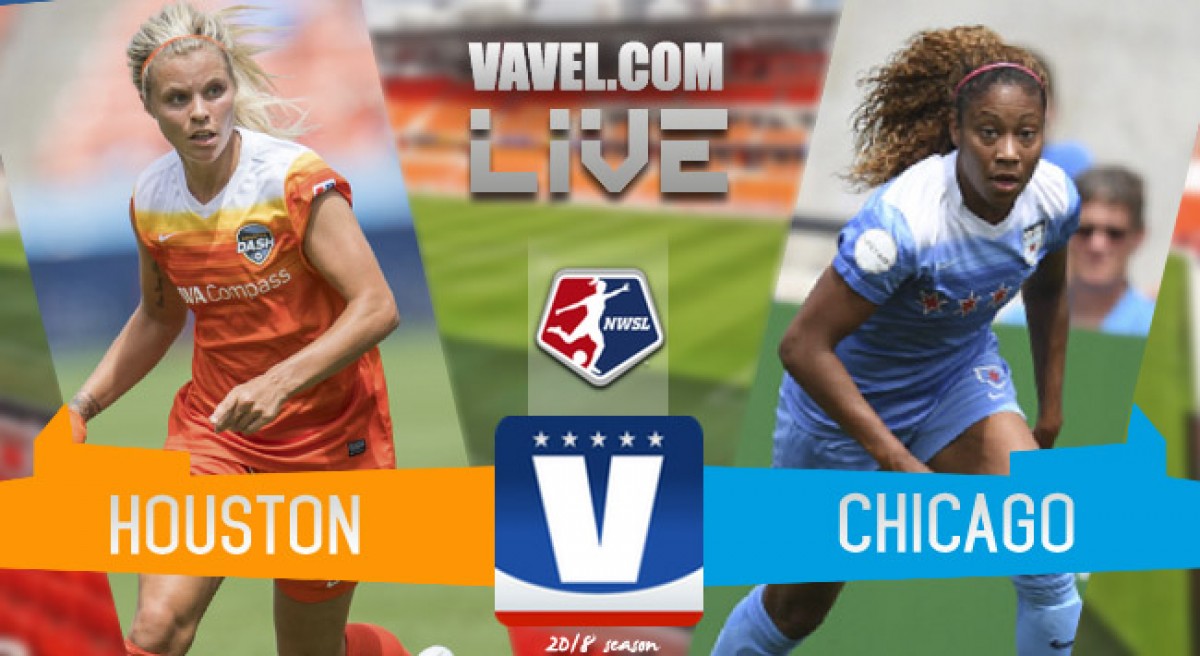 Thank you so much for following along to the Houston Dash vs Chicago Red Stars here on VAVEL USA. This is Bianca Verar signing out!
FULL TIME: Houston Dash 1-1 Chicago Red Stars
90+2' Free kick for the Red Stars
90+2' + Houston Dash 1-1 Chicago Red Stars
90' - GOAL CHICAGO! Off the corner! Taylor Comeau!
90' - Red Stars earn a corner
88' - Chicago with a shot that hits off the cross bar! The rebound is collected by Campbell
85' - Chicago awarded a free kick a few yards outside of the box.
84' - Agnew called for a foul on Comeau. Free kick Chicago.
82' - Ball bounces from head to head for a bit until Campbell finally collects
81' - Brooks earns yellow card for a hard tackle
80' - Shim fouled deep in the Dash's attacking half for a free kick
78'- Foul called as Mewis tackled
77' - Claire Falknor checks in for Motlhalo
74' - Erin Yenney checks in for Vasconcelos for the Red Stars
73' - Service from far out for Chicago, but Campbell collects it easily
71' - Lindsay Agnew checks in for Savannah Jordan
69' - Yellow card for Chicago's Katie Naughton. Free kick for the Dash
68' - Janine Van Wyk is fouled for a Dash free kick just behind the halfway line
66' - Play stops as both Daly and Michele Vasconcelos are both down
64' - Nikki Stanton checks in for Lauren Kaskie
63' - Foul on Gorden gives the Red Stars a free kick in their attacking half
62' - Dash ready for another, but Molthalo's cross for Amber Brooks is collected by Naeher
59' - Sarah Gorden checks in for Summer Green for the Red Stars
57' - Motlhalo getting closer and closer to a goal today! Her shot goes wide!
55' - Dash earn a corner
52' - The Dash made a halftime substitution. Nichelle Prince for goalscorer Kimberly Keever
51' - Motlhalo's shot in front of goal just barely goes wide!
50' - Sofia Huerta called for a foul on Mewis at the halfway line
47' - A bit of action early in the half for Naeher, who is able to save Shim's rebound shot from the top of the box
46' - And the second half has kicked off!
HALF TIME: Houston Dash 1-0 Chicago Red Stars
42' - Mothalo starts dribbling towards goal, but she's called offside
41' - Shim tries her shot from distance, but Naeher handles it easily
39' - Houston Dash 1-0 Chicago Red Stars
38' - GOAL DASH! Rookie Kimberly Keever slides to meet Savannah Jordan's cross.
36' - Kaskie tries a shot from the top of the box but it's wide and over for a goal kick
35' - Red Stars earn free kick in their attacking half
33' - After being looked at by a trainer, Mothalo is up and ready to go. Dash earn free kick at the halfway line
32' - Play is stopped as Linda Mothalo stays on the ground
31' - Shim's shot into the box is handled easily by Naeher
30' - Latsko pushed down as she dribbles towards the box, late call but Dash earn the free kick
28' - Dash earn a free kick in their attacking half
27' - Chicago earns a corner
26' - Dash seem to be getting close to a goal with their buildup, but nothing just yet
21' - Foul on Comeau gives Chicago a free kick just past the halfway line
21' - Jordan with a shot in the box, but it goes JUST wide of the post
20' - Ball played by Haley Hanson to Daly, who gets endline and earns the Dash a corner
18' - Shim serves the ball deep into the box, but Naeher is there to collect
17' - Shim fouled off the ball. Dash receive free kick in their attacking half
14' - Mana Shim's service is cleared
14' - Dash earn another corner
13' - Kristie Mewis' service goes out for a goalkick
12' - Dash earn their first corner
12' - Ball played over the top for Savannah Jordan but goalkeeper Alyssa Naeher gets there first
11' - Rachel Daly is tripped up on the ball by Summer Green. Free kick deep in the Dash's half
8' - Daly's service goes deep, but it's headed out for a goal kick
7' - Sam Johnson called for a foul in Veronica Latsko, free kick for the Dash a few years fro the halfway line
4' - Campbell easily picks out the service
4' - Chicago earns first corner of the match
1' - Kickoff at BBVA Compass Stadium!
Lineups have been announce and national anthem has been sung - kickoff to happen shortly!
Chicago Red Stars Starting XI: Naeher, Naughton, Gilliland, Johnson, Comeau; Colaprico, Kaskie, Huerta; Green, Mautz, Vasconcelos.
Houston Dash Starting XI: Campbell; Mewis, Brooks, Van Wyk, Daly; Shim, Hanson; Keever, Motlhalo, Jordan; Latsko.
Nevertheless, the Chicago bench looks deep and ready to step up to the challenge. They've got their eyes set on the 2018 NWSL Championship and their first step will be to take their first win of the season over Houston.
However, Chicago does have quite the number of players out at the moment. USWNT defender Casey Short is out with a right ankle sprain, and will no longer be participating in the USWNT's April camp due to this injury Fellow USWNT player Julie Ertz is also out with injury, a right knee sprain. Midfielder Vanessa DiBernardo is dealing with a stress fracture pelvis, New Zealand native Rosie White has a right and left navicular fracture, and Japanese international Yuki Nagasato has a left hamstring strain.
Chicago is looking for their first season opening win as they have lost the last two to Houston on both occasions. They look to solidify themselves as a powerhouse this season, still keeping a core number of players from previous seasons on their roster. They've made the playoffs consecutively for the past three seasons, and this year Chicago can and should be pushing to make it all the way to the finals this time around.
On the visitors side, Chicago's shaking things up a bit. Most notable is their addition of Australian sensation Sam Kerr. However, Kerr will not be making her Red Stars debut this weekend as she's away on national team duty for The Matildas.
Houston will have only two players out from their listed injury report: Kyah Simon and Thembi Kgatlana. Both newcomers to the Dash, Simon is on the D45 list with a hamstring injury while Kgalana will be gone for an excused absence. Mainstay Kealia Ohai is not reported because she is still coming back from an ACL tear from last June.
Houston Dash vs Chicago Red Stars Live Updates
As for the rest of the Dash roster, there are only a handful of players who remain this season. There are nine returning players from the 2017 roster, leaving the rest to be new to the organization. Under new head coach Vera Pauw, fans are about to see a new era of the Houston Dash.
Both of these clubs have made a number of changes over the offseason. The most notable one would have to be the three-way trade that resulted in US Women's National Team forward Christen Press being sent from Chicago to Houston. However, Press will not be available for this match; she has opted out of reporting to Houston and will not be suiting up for the Dash.
The Houston Dash host the final match of the 2018 opening weekend. This will be the third consecutive opening weekend match in which they have hosted the Red Stars. Both of the previous opening weekend matchups between the two clubs has resulted in a win for the Houston Dash. It will be interesting if the home team can pull off a win for the third time in a row.
Houston Dash vs Chicago Red Stars Live Stream Commentary
Welcome to VAVEL USA's LIVE coverage of the 2018 National Women's Soccer League opening weekend match between the Houston Dash and the Chicago Red Stars. My name is Bianca Verar and I'll be your host for this game. We will provide you with pre-game analysis, roster updates, and news as it happens here on VAVEL. This game will be broadcasted with the go90 app and NWSL website.