Thank you for following along. This is Felix Hernandez for VAVEL USA, hoping you enjoyed the match. Pride 1 Reign 1. So long everybody!
Full Time: Both teams will take a point in the standings. Players on both sides exhausted after this hard fought match.
90+4': Referee blows the final whistle and the match ends: Orlando Pride 1 - Seattle Reign FC 1.
There will be 3 minutes of stoppage time.
89': Yellow Card - Michelle Betos is given a warning for delay
88': Free kick taken by van Egmond. Finds fellow Australian Kennedy's head but goes high and wide of the goal.
86': Alex Morgan has some words with the referee. She does not agree with her foul conceded on Morgan Andrews.
81': Orlando Substitution: Rachel Hill come in for Toni Pressley.
81': Emily van Egmond tries a shot from the right side of the box but the ball rolls wide.
77': Seattle Substitution: Theresa Niesen comes in for Christen Westphal.
Jasmyne Spencer makes her return to Orlando after being traded to Seattle in the offseason.
74': Orlando Substituition: Dani Weatherholt comes in for Christine Narin
73': Seattle Substitution: Jasmyne Spencer comes in for Beverly Yanez
67': Utsugi puts a right footed shot on net but Harris makes the big save.
Orlando Pride 1 - Seattle Reign 1
61': GOLAZOOOO!!! Orlando Pride - Marta strikes a free kick with the left foot and beats Betos to the top right corner of the net!
Alanna Kennedy and Jess Fishlock have been battling all night.
59': Jodie Taylor takes a shot from outside of the box. Harris makes the save.
56': Seattle Substitution: Morgan Andrews comes in for Jess Fishlock because of injury.
53': Fishlock walks off under her own power. The match resumes.
52': Delay in the match as Jess Fishlock is down because of injury.
49': Pride chance! Kennedy's header misses wide right from cross from Narin.
45': Second half begins!
Orlando Substitution: Emily van Edgmond comes in for Chioma Ubogagu
Halftime: Orlando Pride 0 Seattle Reign 1
45+2' :Referee blows the halftime whistle.
1 minute of stoppage time added before halftime.
43': Jess Fishlock finds the ball in the box but is just over the bar.
38': Betos makes another save on Alex Morgan. Shelina Zadorsky through ball finds Morgan but Betos is better.
Orlando Pride 0 - Seattle Reign 1
33': GOOOAAAAALL!!! SEATTLE REIGN FC - Seattle free kick into the box finds Megan Oyster's header pass to Allie Long left footed shot beats Harris.
32': Foul by Christine Narin on Seattle's Jess Fishlock.
31': Shot on goal by Jodie Taylor. Ashlyn Harris makes the save!
30': Foul by Christen Westphal earns Orlando a free kick. Ball goes into the box partially cleared. Ali Krieger shot outside the box goes over the goal.
24': Marta tries a shot from distance but it is blocked and cleared by Steph Catley.
22': Seattle earns their first corner. Corner kick finds Jess Fishlock at the top of the box but shot is well off target.
20': Ali Krieger tries a through ball but Sydney Leroux is called offside
16': Orlando earns another corner kick but can not find a shot on net.
14': Scrabble in the box after Pride corner kick. Seattle is able to clear.
11': Orlando Pride register the first shots on goal of the match. Alanna Kennedy and Alex Morgan have shots in the box but Michelle Betos makes both saves!
5': First quality chance of the match goes to Seattle. Rumi Utsugi cross finds Jodie Taylor's head and goes wide of goal.
1': Kickoff at Orlando City Stadium!
We are getting close to kickoff. Both teams have all their international players back and will look to make an impact for their teams.
The game will be broadcast on go90.com and the go90 app.
Seattle Reign FC starting XI: Betos, Catley, McNabb, Oyster, Westphal, Utsugi, Long, Fishlock, Yanez, Taylor, Kawasumi
Orlando Pride starting XI: Harris, Pressley, Zadorsky, Monica, Krieger, Narin, Kennedy, Ubogagu, Marta, Leroux, Morgan
We are under a hour away from kickoff and the team lineups are in...
Seattle Reign FC injury report: Out - Jaycie Johnson (right knee sprain) Megan Rapinoe (left hamstring strain)
Orlando Pride injury report: Out - Camila (right knee surgery- D45)
Be sure to come back as new information comes in such as injuries and starting lineups. Join me Saturday for live game updates.
Both teams will be welcoming back international players. Orlando will welcome back Australian Alanna Kennedy and newly signed midfielder Emily van Egmond from the Asian Cup. Brazilians Marta, Monica and Polina also return to the Pride after winning the Copa America Femenina in South America. Seattle welcome Australians Steph Catley and the return of goalkeeper Lydia Williams. Catley and Williams recently finished runner-up at the AFC Asian Cup losing to Japan in the final. They were defeated by Japan internationals and Reign teammates Nahomi Kawasumi and Rumi Utsugi.
In the offseason, Pride and Seattle agreed on a five player trade. Orlando would acquire Carson Pickett, Haley Kopmeyer and Christine Narin in exchange for Jasmyne Spencer and Australian international Steph Catley. Pickett and Narin have found starting roles with the Pride while Kopmeyer is a solid backup to Ashlyn Harris. Narin has picked up two assist in her four games with Orlando. Spencer is still looking for her first goal of the season. Her speed at Seattle's front has caused headaches for Seattle's opponents. Reign fans are eagerly awaiting Catley's debut as she was on international duty with Australia's Westfield Matildas.
Last season Seattle and Orlando came up with two draws in two meetings. There was high drama in their last matchup in the 2017 season. Both teams were fighting to get onto playoff position. Pride forward Alex Morgan scored the go ahead goal in stoppage time. At the time, the goal would clinch a playoff spot for the Pride. Seattle would come back minutes later on a Jess Fishlock equalizer, keeping Seattle's playoff hopes alive and preventing Orlando from clinching a playoff spot. The match would end in a draw. The last team to come up with a win in this matchup was Seattle winning 5-2 in 2016.
The Pride are coming off their first win of the 2018 season against the Houston Dash. Chioma Ubogagu scored the only goal of the match in the 65th minute. Midfielder Christine Nairn served a ball into the box setting up a Ubogagu header past Dash goalkeeper Jane Campbell. With the goal, Ubogagu leads the Pride in goals with two. The Pride had several other chances to score but Campbell and the woodwork kept them out. Goalkeeper Ashlyn Harris collected her first clean sheet of the season. Orlando will look to build on the win to get into playoff position.
Last week the Reign traveled, for a mid-week matchup, to visit the North Carolina Courage. Goalkeeper, Michelle Betos and company kept North Carolina at bay until Jessica McDonald scored in the 70th minute. Seattle had a couple chances of there own but were not able to get anything buy North Carolina's stout defense. Seattle would go down by a 1-0 score. Midfielder, Megan Rapinoe was out of last week's lineup due to injury. Seattle hope to have Rapinoe back who was the NWSL Player of the Month for March and leads the team with two goals. Seattle will try to stay in playoff position this weekend.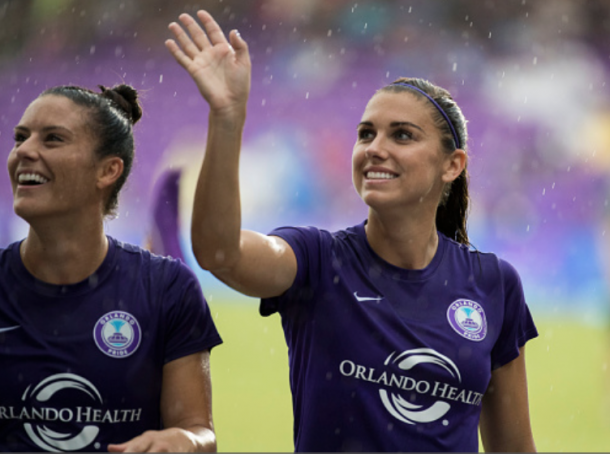 Orlando are currently in the middle of the table in the sixth position with a 1-2-1 record. Seattle are sitting in fourth place in the league standings with a record of 2-1-0.
Seattle Reign FC will travel to take on the Orlando Pride at Orlando City Stadium in Orlando Florida.
Hello and welcome to Vavel USA's Live coverage of the National Women's Soccer League's Week 5 matchup between the Orlando Pride and the Seattle Reign FC . My name is Felix Hernandez and I will be your host. From now until the match starts on Saturday, April 28 at 7:30 PM ET, we will keep you updated on news and notes. Be sure to come back for kick-off for LIVE updates.