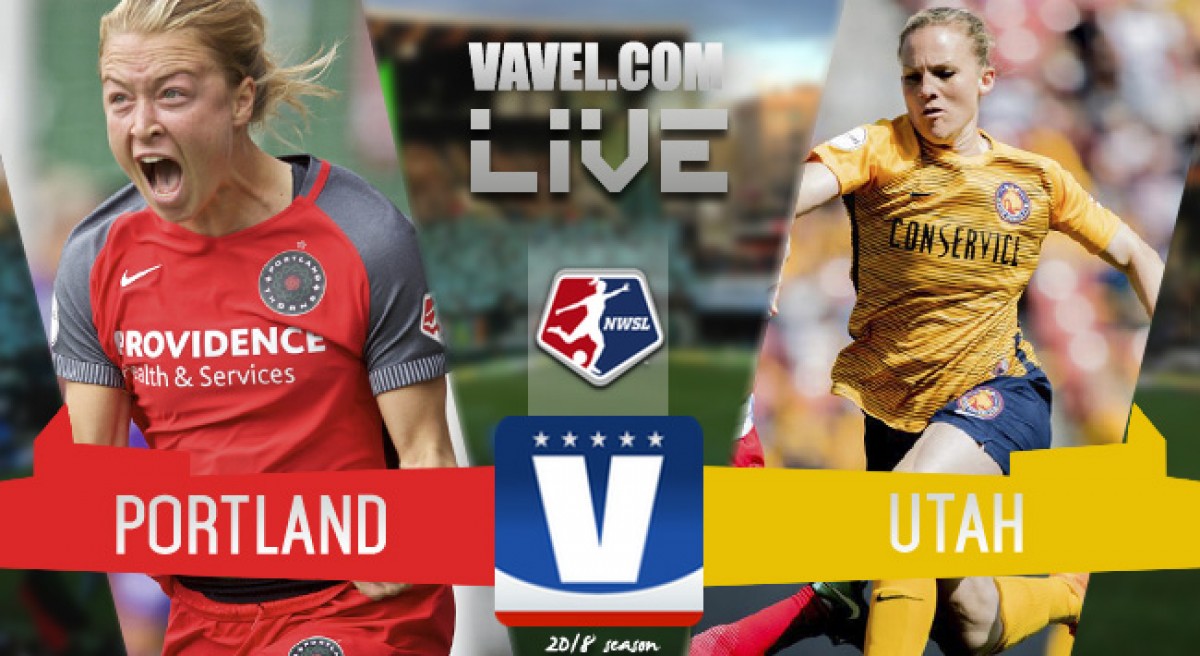 Portland Thorns FC 2 - 0 Utah Royals FC
Full-time: That's it! Portland snap their two-game home loss streak with a solid and tenacious win over the Utah Royals.
90+3' CHANCE! What a rocket by Rodriguez. She hits it first time on the bounce form about 30 yards out and Eckerstrom has to make a strong save to keep it out!
90+2' It just hasn't been Utah's day. Everything they have tried hasn't come off whereas everything Portland has tried has turned out well.
88' CHANCE! What an opportunity for Rodriguez! Jónsdóttir tricks her way by Klingenberg before fizzing a cross in towards her teammate. Rodriguez gets to the ball but volleys it wide of goal.
87' CHANCE! Heath carries the ball well before laying it off for Sinclair who goes for goal from outside the box. Smith tips the ball over for a corner which she ends up gathering easily when it comes in.
83' SUBSTITUTION: Crnogor?evi? is replaced by Ifeoma Onumonu.
82' YELLOW CARD: Jónsdóttir is the next name in the referee's book.
81' Gorry gingerly gets up after she's fouled by Heath.
80' Another offside flag halts Utah's progress.
78' SUBSTITUTION: Katie Bowen comes in for Elby.
77' SUBSTITUTION: Katie Stengel comes in for Matheson.
77' Smith comes out to gather the ball after Horan had nodded it towards goal.
71' CHANCE! Crnogor?evi? almost gets one for herself! A long ball finds Heath wide open in space and she puts in a first time cross towards Crnogor?evi?. Corsie puts enough pressure on the striker to put her off and Smith is able to get to the ball.
69' YELLOW CARD: Corsie is the next to get a booking after a little coming together with Klingenberg.
69' Tempers are fraying a little here as both teams are putting in some pretty strong challenges. The referee may want to have a few words with the captains here.
67' YELLOW CARD: Horan becomes the first player to go into the book. A few tough tackles go flying in from both sides and Horan disagrees with the call for a free kick Utah's way.
63' SUBSTITUTION: Kelli Hubly comes in for Carpenter.
63' SUBSTITUTION: Tymrak is replaced by Elise Thorsnes.
62' Corsie tries to be too cute near her own goal line and ends up conceding a needless corner kick.
60' Portland really have managed to shut down Rodriguez so far during this game and just as I write that, Rodriguez almost gets on to the end of a chip from Gorry. Eckerstrom reads the play well and comes out quickly to get the ball.
58' Sauerbrunn is now also back on the field with tape across her head.
58' SUBSTITUTION: Angela Salem replaces Andressinha as the first change in this game.
56' Crnogor?evi? is back on the field while Sauerbrunn is still receiving treatment after the two players clashed in midfield.
52' Utah really do miss the tenacity and strength that Kelley O'Hara gives them on the left. Tymrak is a great, technical player but far too often she's been bodied off the ball by a Portland defender.
49' Emily Menges makes a great defensive play as she stands up Rodriguez who was looking to speed past her and through on goal.
48' CHANCE! Once again, the transition play of Portland is creating great opportunities for them. Sinclair plays a nice through ball in for Crnogor?evi? but Sauerbrunn is there to put in a vital block.
46' The second half is underway as Utah try to get back into this game.
Portland Thorns FC 2 - 0 Utah Royals FC
Half-time: What an end to the half that would have been had Scott scored. Instead, the hosts go into the break two goals to the good thanks to goals by Christine Sinclair and Lindsey Horan.
45+2' CHANCE! Scott rips one from a long way out that has Eckerstrom scrambling! It goes just wide of the goal!
44' CHANCE! Utah almost pull one back! The visitors mount an attack and it eventually falls to Rodriguez who knocks the ball towards goal. A goal line clearance by Meghan Klingenberg is the only reason why Rodrgiuez did not score there.
Portland Thorns FC 2 - 0 Utah Royals FC
Klingenberg gets forward and lays in a great cross that goes over Smith and right to Horan. The midfielder uses her knee and finished from close range.
39' GOAL! Horan makes it two!
39' Portland look dangerous every time they get forward. This time, it's Elby who uses her body to stop Heath from scoring.
36' CHANCE! Portland almost gets a second! The home side breaks quickly again and Carpenter's cross gets deflected into Sinclair's path. Smith makes a big stop and then Becky Sauerbrunn put her body on the line to stop Heath from scoring on the rebound!
34' Utah look to swing the ball in but Tymrak is called offside so another play goes dead for them.
32' Scott and Matheson work the ball well to each other in a tight spot, which gives Elby some room to stride into the box. Instead of squaring it to an open Rodriguez, the defender takes an ill-advised shot that goes well wide of the goal.
31' Utah are getting in the right positions but their final passes have been off all game. Portland on the other hand, have made their final passes count and thus, find themselves ahead.
28' Andressinha ?gives the ball away in a dangerous spot for Portland but Tymrak can't get enough on her shot to trouble Eckerstrom.
28' Katrina Gorry tries ashort free kick but her pass to Erika Tymrak ?isn't good enough and Portland get another goal kick.
23' Utah get a free kick which stay sin and around the Portland area but the offside flag goes up on Gunnhildur Jónsdóttir which halts the attack.
20' Sinclair gets forward again and she tries to pick out Crnogor?evi? but Corsie knocks it out for a corner kick.
Portland Thorns FC 1 - 0 Utah Royals FC
As I type the lack of goals in this game, Portland move the ball quickly in transition with Christine Sinclair finds Tobin Heath who holds up the ball before finding Sinclair's run. The Thorns captain curls the ball towards goal and although Smith gets a touch, it's not enough to keep the ball out.
18' GOAL! Sinclair puts Portland ahead!
18' Still no goals here but both teams are contesting for every ball out there.
14' Matheson almost squeezes a pass through to Amy Rodriguez as Utah break after a misplaced pass in midfield by Portland but it goes behind the forward and out for a goal kick.
13' Lindsey Horan gets on the end of a free-kick but she gets no power on her header and it's an easy get for Smith once again.
11' Portland push forward with their own attack as Ellie Carpenter ?has two chances to cross the ball in but the first is cleared by Brooke Elby and the second is caught by Abby Smith.
8' It's a little bit of nervy defending by Portland here after a great run by Desiree Scott pushed Utah forward. Fortunately for the home side, no Utah player is able to get a shot off before the defense clears the ball.
6' A little bit of confusion between Meghan Klingenberg and Britt Eckerstrom almost lets Diana Matheson sneak in and grab a goal for Utah but the goalkeeper reads the situation quickly and gets the ball ahead of the Canadian international.
3' Ana-Maria Crnogor?evi? uses her speed to try and counter but her touch is too long and Rachel Corsie is able to step in and strip the ball away from her.
2' Utah try to get at Portland early but the home side deals with the threat.
1' The Thorns start us off!
We're only a few minutes away from kick-off here for what hopefully, will be a great start to this NWSL weekend.
Starting XI for Utah Royals FC (4-2-3-1): Smith; Elby, Corsie, Sauerbrunn, Moros; Scott, Jónsdóttir; Matheson, Gorry, Tymrak; Rodriguez.
Starting XI for Portland Thorns FC (4-2-3-1): Eckerstrom; Purce, Reynolds, Menges, Klingenberg; Andressinha, Horan; Carpenter, Sinclair, Heath; Crnogor?evi?.
Good evening everyone and welcome to the first match in this weekend's National Women's Soccer League matches.
Portland Thorns FC 2 - 1 Utah Royals FC
Prediction: The biggest threat the Thorns will face is that of Amy Rodriguez and if Kelley O'Hara is still out injured by the time this game starts tomorrow, the support that Rodriguez receives will be less than ideal for the Royals. With that in mind, Portland should have enough to get a home win tomorrow night.
The officiating crew for this match will be as follows; Lukasz Szpala will be the center official, Chris Elliott and Kelsey Harms will be the assistant referees and JJ Blodgett will be the fourth official.
The head coach for the Portland Thorns is Mark Parsons and the head coach for the Utah Royals is Laura Harvey.
Projected lineup for Utah: Smith; Elby; Corsie, Sauerbunn, Moros; Scott, Jónsdóttir; Matheson, Gorry, Tymrak; Rodriguez.
Projected lineup for Portland: Eckerstrom; Reynolds, Sonnett, Menges; Purse, Andressinha, Horan, Klingenberg; Sinclair; Crnogor?evi?, Heath.
The match will be played at Providence Park on May 25, 2018. The game will kick off at 10:30PM EST and will be broadcast on go90 and NWSLSoccer.com.
If Portland manage to keep Rodriguez out of the game, Utah may struggle. Offensively, the striker is the most clinical of the players currently on the Royals roster and can produce goals from almost nothing. Those behind her, such as Diana Matheson and Katrina Gorry, are great creative forces but are not as sharp in front of goal. Portland will know that if they keep Rodriguez quiet, they can shut down Utah's attack.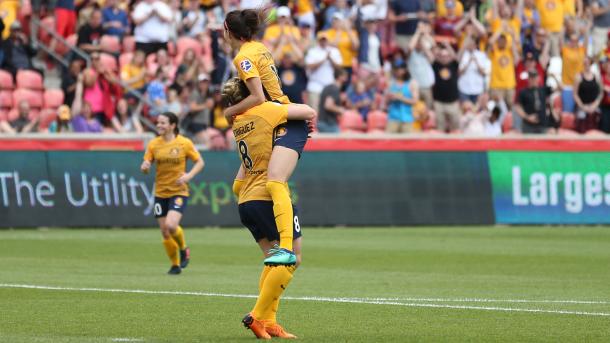 Utah Royals FC come into this game after a solid 1-0 win at home to the Houston Dash. Without the services of Kelley O'Hara, Erika Tymrak stepped in and stepped up to score the only goal of the game that day. Tymrak has faded from her 2014 NWSL form that saw her earn USWNT call ups and she will need to rediscover that form if Utah want to climb further up the table. In the meantime, Amy Rodriguez continues to regain her best club form each week and will be the number one thread for the Royals tomorrow night. Her pace and link up play will be vital for a visiting team at Providence Park.
Over the last few games, Portland have been suspiciously nervy at the back. Britt Eckerstrom remains in goal with Adrianna Franch still unavailable but it's those in front of Eckerstrom that have not played to their best ability over the last few weeks. Menges' return should aid that suddenly leaky Portland backline but they are still a little brittle and could be exploited with the right tactics.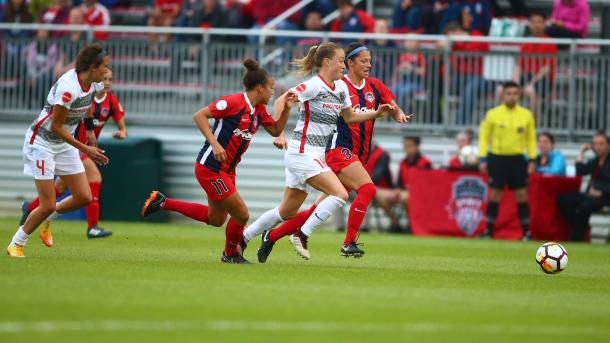 Portland Thorns FC have not had the start they may have envisioned for themselves at the start of this season but they are still within touching distance of league leaders, the North Carolina Courage. Although they won their previous match away in Washington, the Thorns have lost two home games in a row, something that's almost unheard of since the league began. The Thorns will want to remedy that and with the return to full fitness of Emily Menges, Tobin Heath and Andressinha, they should be able to do that.
The first time these two sides met, they finished the game with a one-one draw. It wasn't the prettiest game of soccer to watch but both teams were solid defensively which made it hard for the offenses to find their rhythm and pick out a game-winning goal. Based on how both teams like to play, we can expect a similar game on Friday night in the Pacific North-West.
Hello everyone and welcome to another week in the National Women's Soccer League. This is Kudzi Musarurwa, your host for this match between Portland Thorns FC and Utah Royals FC at Providence Park. Stay with us at VAVEL USA for live updates on another installment of the NWSL.