The Houston Dash and Utah Royals FC will meet on Sunday night after a long break from league play with both teams desperate for three points. Houston (6W-5D-7L) is currently in sixth place with 23 points while Utah (5W-7D-6L) is just below them with 22 points. Only the top four teams in the league make the playoffs, and right now the fourth place team is the Orlando Pride with 29 points. A win on Sunday would make a small dent in that deficit while a loss or draw for either team would almost certainly spell the end of any realistic playoff dreams.
A bumpy ride in the middle of the pack
Houston and Utah have each struggled with inconsistency throughout the season. Taking the year as a whole, Houston has been average to below average in almost every category. They have scored 22 goals while giving up 28, both tallies being slightly worse than the league average. The play of Rachel Daly and the addition of Sofia Huerta have given Dash fans reason to hope as of late, but the team can't seem to overcome their mental mistakes when it comes to facing teams like Portland or North Carolina. They have registered a few outstanding wins, but a slow start to the season put them behind the eight ball, so to speak. A win on Sunday would put them back within reach of the playoffs, and Houston has one of the easiest schedules remaining this season.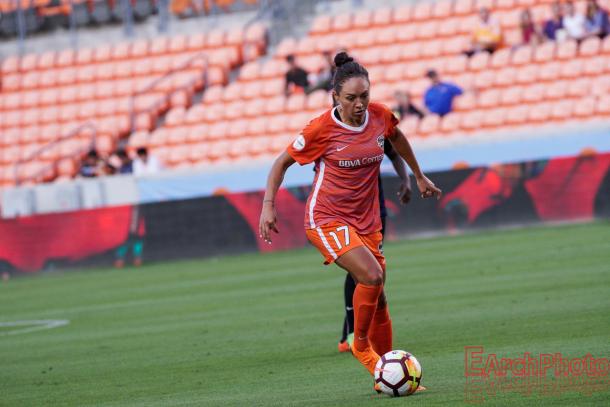 Utah was riding high after beating the Courage and signing Christen Press a few weeks back, but the team has absolutely tanked during the month of July. The offense has been abysmal, scoring just one goal in their last four matches and conceding losses to Orlando, Portland, and Seattle, the three teams that currently sit above them in the standings. Winning any one of those matches would have completely changed the dynamics of this team, but there is something fundamentally wrong with what Utah is doing on the attacking side of the ball. The Royals fail time and again to create quality scoring opportunities despite a deep bench of offensive talent. Head coach Laura Harvey has become increasingly frustrated with the results, and if her team fails to win on Sunday it will be her second consecutive season missing the playoffs.
How to watch
This match will be played at BBVA Compass Stadium in Houston, TX at 8:30 pm ET on Sunday, August 5th. With the cessation of go90, the games will be available on the NWSL website and the NWSL app.