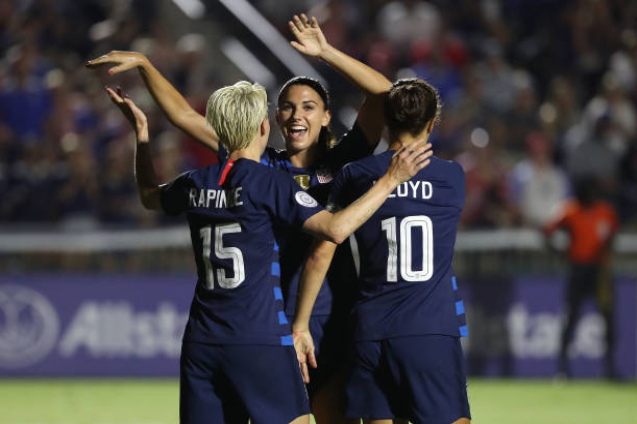 It took just three minutes for the United States Women's National Team to take the lead as the ball pinged around in the box, where Lindsey Horan passed the ball to Megan Rapinoe who scored an easy goal from inside the six-yard box. Mexico goalkeeper Bianca Henninger, who plays for the Houston Dash in the National Women's Soccer League, tried to close down on Horan, but she couldn't get a piece of the ball.
A quick start sets the USWNT on their way
The USA had what felt like endless looks over the next forty minutes, including a low shot from Rose Lavelle that hit the post and bounced out for the goal kick. Horan took multiple shots from inside the box that were blocked by Mexico defenders, and Henninger came up, again and again, to make saves for her country. Her biggest save came in the 37th minute when she was faced up against a charging Rapinoe and was able to deflect the ball just wide of the goal. In the end, despite the pressure, the halftime whistle would blow with a scoreline of 1-0 favoring the United States.
Mexico completely falter in the second half
The second half started much like the first. The USA took full advantage of an early opportunity. The play started with a free kick awarded after a foul on Horan, which Rapinoe sent curling into the box. The ball was headed into the air and hit the crossbar, but it fell in the box where it fell to the feet of Julie Ertz who eventually scored to double the USA lead. This half, though, the USA wouldn't continue to be denied.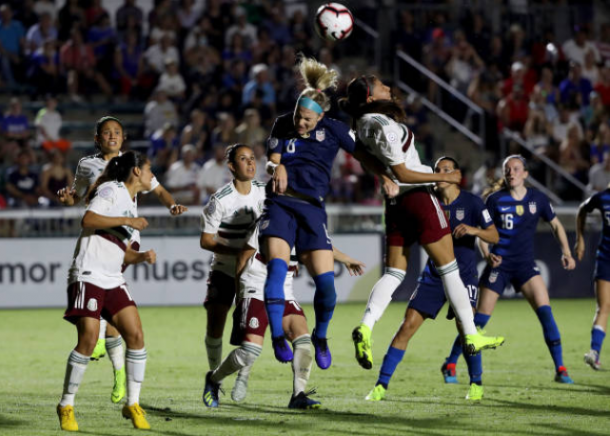 In the 57th minute, Megan Rapinoe took a curling corner kick that found the head of Alex Morgan who successfully redirected the ball past Henninger to make it 3-0. Then, in the 61st minute, Rapinoe left the ball for Crystal Dunn on the left sideline. Dunn turned on the jets, blew past the defense, and sent a perfect cross to the head of Tobin Heath, who finished it high in the goal from about ten yards out.
In the 70th minute, Rapinoe would score her second goal of the match. A corner kick from Heath was nearly put away by substitute Carli Lloyd, but the goalkeeper was able to block it. Rapinoe calmly stepped forward and slid the shot into the open goal. Ten minutes later, in the 80th minute, defender Becky Sauerbrunn got into the attack, driving toward the goal and slipping the ball over to Alex Morgan who finished from extremely close range. The game would end with that 6-0 scoreline.
The United States will face off against Panama on Sunday afternoon where they will hope to earn another three points. Mexico will try to rebound with a win against Trinidad and Tobago. Panama beat Trinidad and Tobago 3-0 in the first match of the tournament.