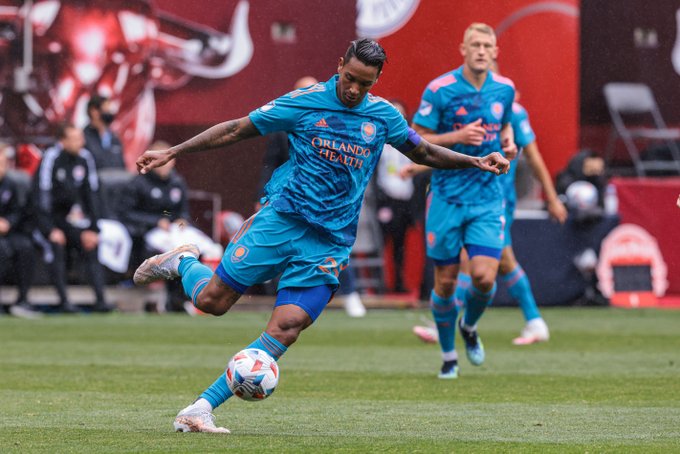 The Red Bull's started this game with high pressure and high intensity. Their midfield choked the Lions ability to move the ball into the attacking half. Creating multiple turnovers and forcing Orlando to try and play the long ball over the top. The first 30 minutes remained all Red Bull's including multiple threatening chances forcing the lion's defense to scramble.
They finally broke the league's second-best defense in the 35th minute, when Cayden Clark's pass went out wide then was crossed back in, and the inexperience of rookie and first-time starter, Michael Halliday, for the Lions didn't track the run into the box of the young Red Bull's midfielder and Clark put home a simple finish to give the Red Bull's the lead.
Orlando's best chance had come in the 24th minute with a headed attempt by Junior Urso from a set-piece that fell just wide right of the keeper's post. Orlando really had no other chances until late in the second half as they continued to chase the game and try to hold back the Red Bull's attack. The Red Bull's amassed 14 shots of which seven were on target forcing the Orlando keeper, Pedro Gallese, into a busy afternoon.
The second half continued with much of the same, an overwhelming Red Bull press that Orlando appeared to struggle within this game from start to finish. The Red Bulls got an insurance goal in the 60th minute from Cristian Cásseres Jr. A free-kick right on the edge of the 18-yard box that appeared to surprise the keeper as it came over the wall and into his top corner. Little did NY know at the time just how important that goal would be.
Orlando will have to take heart knowing they didn't give up. An 84th-minute goal from sub Silvester Van Der Water made this one interesting. Orlando appeared to find a different gear in the last 10 minutes and pushed the Red Bull's into multiple desperate defending situations. Orlando and Van Der Water would be disappointed with a second chance just four minutes later that should have been a simple one-touch finish that he got under, and skied the shot high over the bar. That would have equalized the game and given the Lions hope to keep their undefeated start to the season alive.
Ultimately, Orlando would fall in this one. However, they have much to look forward to as the international break will give them time to rest and recover from injuries. They are also looking forward to getting captain Nani back from a two game suspension, as well as USMNT forward Daryl Dike who has been out on loan in Europe. Orlando remains third in the eastern conference behind the New England Revolution. The Red Bull's moved up to ninth as they continue to search for their form under their new head coach.
MLS action returns in June with Orlando's first game on June 19th vs Toronto - this is scheduled to be an away game for Orlando; however, due to COVID restrictions in Canada, Toronto does not have a home stadium this year, they have been using Exploria Stadium for their home matches. The league as of this point has not yet announced where this game will be held. No matter where this week will test Orlando's depth and fitness as they will have 3 matches in seven days. They will also face the San Jose Earthquakes, who are struggling with just three (3) points from one win in their last five matches, on Tuesday the June 22nd, and then in-state rivals Inter Miami away on Friday 6/25. This could be a crucial three-game stretch for the Lions as taking points from all three games will go a long way towards where they finish in the table this year.