 England have moved into a strong position at Lord's following day three of the first Test against South Africa.
Joe Root's side lead by 216 with nine second innings wickets still in hand ahead of the fourth day on Sunday.
England make early inroads to enjoy best of opening hour
South Africa started the day on 214-5, needing a solid morning session to bring the Test back into the balance after two very good days for England, and that's exactly what they got.
Mark Wood and Ben Stokes opened the bowling, with the new ball not quite due and Temba Bavuma and Kagiso Rabada battled away providing a stubborn resistance to the bowler's efforts. As Bavuma brought up a well-fought 50 and Rabada, the night watchman, played nicely around him, it seemed like England's previous day's efforts were going to be overshadowed.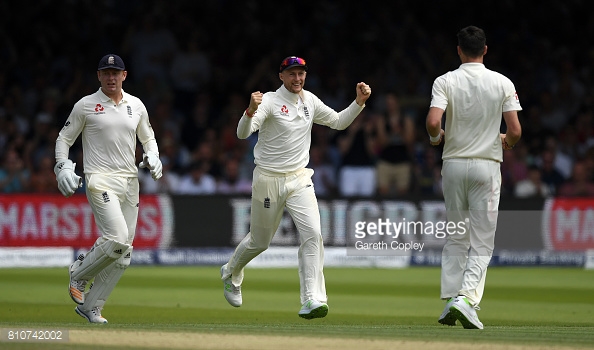 However, Root turned to the spin of Liam Dawson and Moeen Ali, and its results were felt immediately. Rabada falling for 27, off the spin of Dawson to leave South Africa 244-6, but it was a piece of magic by Ali shortly after that left the Proteas in a worrying position.
Bowling into the rough, Ali had been making the ball turn, however, it was a straighter one that unstuck Rabada; he played for the spin, which didn't occur, edging one into Stokes' hands at first slip, via Jonny Bairstow's front pad. 248-7 and South Africa's morning had taken a turn for the worse just before drinks.
De Kock counter-attack pushes South Africa past 300
Post-drinks and the session slipped away from England as the two new batsman, Quinton De Kock and Vernon Philander picked up where Bavuma and Rabada had left off. Batting nicely through till what looked like lunch, it would have been South Africa enjoying their meal more than England had it not been for Stokes' safe hands at short-point.
With the score sitting on 314-7, James Anderson steamed into the confident De Kock, who having just hit the second fastest 50 at Lord's in Test history, tried one shot too many and got caught brilliantly by Stokes who had to dive forward to take it in difficulty front of him. At 314-8, South Africa's lunch had soured.
Spin twins end Protea innings after Philander half-century
Again, after lunch, South Africa frustrated the English bowlers but much like the morning, it was the spinners that stopped the resistance.
With Dawson bowling to Keshav Maharaj, Maharaj came down the wicket to defend against the spin. Having hit the pad, Bairstow and Stokes went up, almost certain that it was out, with Dawson collecting the ball uninterested. Much like Dawson, the umpire un-phased by the loud appeals, waved away the calls.
After a few discussions however, new captain Root decided to use a review, almost on the off-chance it could be out. As it went up to the third-umpire, it quickly came apparent that Maharaj was in trouble and Bairstow's over-zealous shouts were indeed correct. With Maharaj gone for nine, and his team 337-9, it was only a matter of time until England were in to bat.
Much like De Kock earlier in the day, Philander played wonderfully until reaching his 50. Having stuck around for a while, hitting a very important half-century at the stage of the game, Philander ridiculously decided to dance down the wicket to Ali. Having misread the spin, the ball ploughed on to take away his bails and South Africa were 361 all out. Ali having bowled wonderfully got figures of 4-59, whilst England went into their second innings, 96 ahead.
Cook sees England to close with large lead
With England in the ascendancy, Alastair Cook and Keaton Jennings had an easier job than their South African counterparts. Despite this, they both seemed nervous having scored little in the first innings.
Almost to prove this, Jennings to get off the mark, poked into the off-side for a quick single and misjudged the proximity of the South African fielder. The throw missed the wickets, however if it had hit, Jennings would have been out by a good few yards. And this was the tale of the innings early on for England.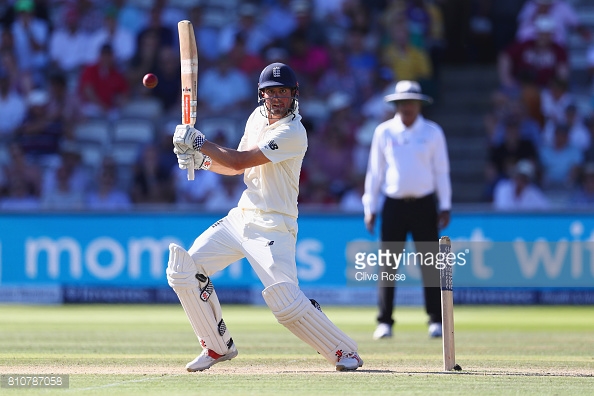 Both Cook and Jennings threw caution to the wind, and Cook was twice reviewed by the South African captain, both to no avail. The first time, Cook was caught going back to Morne Morkel and the ball sped onto his pads, however on review, the ball was pitching outside leg.
The second, again to Cook, he went to his favored cut shot only to miss it and get trapped on his pads. The South Africans with no regard to the previous review only a few overs before, hastily reviewed, only for it to be rejected as the impact was outside off stump.
South Africa's misery was contrasted however by Cook and England's elation, who despite these unsettling first ten overs cruised on through till tea.
Much was the same post-tea, Cook was batting superbly, reflecting the fine form he has shown for Essex early on in the innings, and the selectors will be pleased with Jennings whom they have placed a lot of trust in. Both batsmen were playing it around splendidly, toying with the South African bowlers.
Jennings on 33 however, with England cruising at 80 for no loss, played away from his body to a ball from Morkel that should have been left and edged kindly into wicketkeeper De Kock's hands. A needless shot in an otherwise considered innings, left South Africa jubilated as it was the breakthrough they needed as England were sailing away, with a lead of 177.
Gary Ballance strolled to the crease with England 80-1 and batted assuredly into the evening, with some beautiful strokes to get off the mark. The day ended with England 119-1 with Cook on 59 and Ballance on 22.
England are well on top after Day 3 having opened up a lead of 216. Despite the initial worries early on in the day, England gathered momentum as the day wore on and have batted themselves into a great position at the close of the third day.
With the lead increasing at a rate of knots, and with a lot of wickets in hand, England will hope to be clear of any chance of defeat by tomorrow afternoon, giving them a chance of victory on what should be a difficult pitch to bat on come Monday. England's day, as South Africa's misfortunes continue to build.