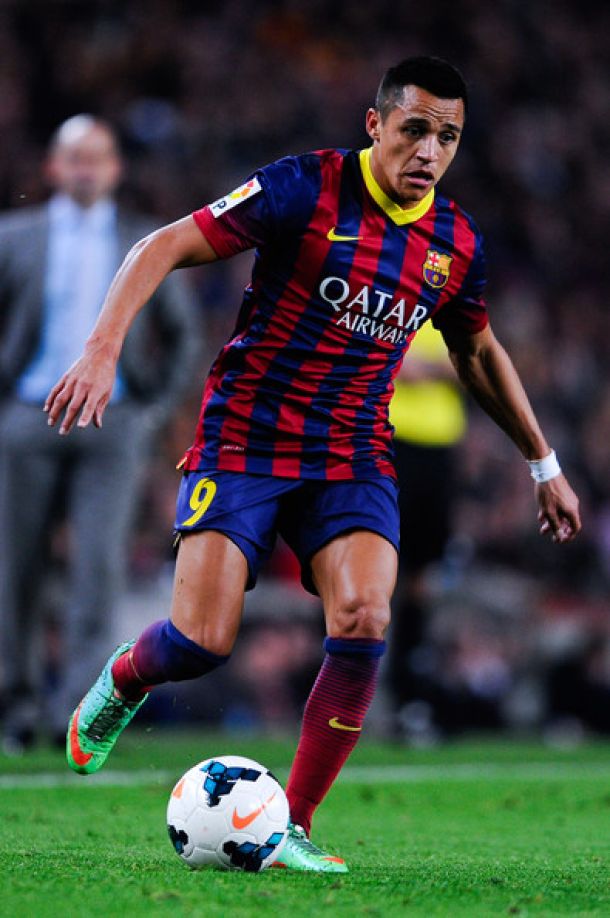 After putting up an excellent show in Brazil, Alexis Sanchez's stock has drastically risen. The Chilean attacker has done more than enough to persuade potential suitors to buy him, if he is to leave the Camp Nou. In the past week, it has become increasing likely that Sanchez will surely be jumping ship, as Barcelona want to cash in on him, in order to address key areas in their squad.
European heavy weights are on the lookout to bloster their attacking strength by signing Alexis, but the club Alexis desires to join is Arsenal. The Gunners hold a strong interest in the Chilean and Arsene Wenger thinks that Alexis would be the ideal forward which the Gunners have been missing for a long time. Reports indicate that Arsenal are likely to meet the valuation set by the Barcelona, which is beleived to be around 35m Euros, and the Chilean will soon be plying his trade in London. Here we look at what exactly Alexis Sanchez would offer Arsenal.
Consistency
Last season was Alexis' best in a Barcelona shirt as he notched up a hugely impressive 21 goals and 15 assists in 54 appearances. Simply judging by the stats, Arsenal have wanted a winger with such statistics, for years. The best part of having Alexis in your team is that he's consistent in scoring or providing, will take his chances and will give his all week in - week out. In his three year stay in Catalonia, Sanchez has notched up 47 goals and 34 assists in a total of 141 appearances, which in all fairness is simply outstanding. As far as fitness is concerned, Alexis has remained fit on a consistent basis as well. We are talking about a top consistent player who's likely to remain fit all season. This isn't something that you get to hear often as far as Arsenal players are concerned.
Versatility
Alexis can operate on either wings, though he's excelled playing on the right over these years. He's effective wherever he's played credit to his great dribbling skills, technique and acceleration. Arsenal haven't had someone who can beat a couple of players and cross or score on a regular basis. Well, Sanchez has been doing that till date. Only difference is that, in Sanchez's case, he can go past a couple of players with ease and eventually release a great final pass or score. Alexis would further benefit by having an imposing centre forward in Olivier Giroud who can hold the ball upfront and who's link up play is second to none.
Arsenal would get a lot more than they need by having Alexis in their team. He's very effective against tight defenses. He can dribble his way through a back four and also times his runs to perfection. A great quality to have when you've got someone like Mesut Ozil behind you. Sanchez would offer Arsenal a different outlet which they've lacked when up against tight defenses.
Sanchez is a proven goal scorer who can play as a second striker too. An Alexis Sanchez - Olivier Giroud partnership would work wonders if Arsenal change to a 4-4-2 formation considering the physical build Sanchez already has. He's calm and composed in front of goal and can find the net from long range too. He's an incredibly un-predictable player who plays off the shoulder of opposition defenders. His excellent physique is one of the main reasons why he'd be best suited to the English game, as he already inherits all the other qualities required to star in the Premier league.
Reliability
Sanchez has grown into a player who can be relied upon. He has time and again performed in big games against the best of teams in the world, has always welcomed challenges and is the one who thrives under pressure. More importantly, Alexis is a decisive player who's there when the team needs him. He has all the makings of that ideal forward Arsenal have been waiting for all these years. Signing Alexis Sanchez would be getting that last piece in the jigsaw, which would see Arsenal mount a successful challenge on all fronts next season. Not many teams are used to having a player quite like Alexis Sanchez in their ranks, and now, Arsenal look likely to have this gem of a player, come next season.