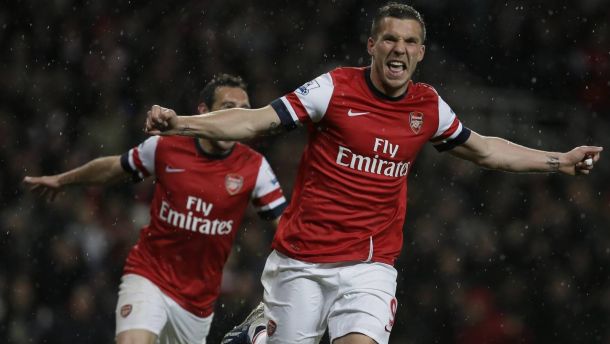 Lukas Podolski has endured a rollercoaster spell at Arsenal. In his debut Premier League season he made thirty-three appearances, scoring eleven. However, in the 2013/14 season, it seemed as though Wenger was extremely reluctant to utilise the German, who made a mere twenty appearances. He started fourteen of those twenty games, but only completed a full ninety minutes twice. At certain points last season, you could see that he was incredibly out of favour. Eventually, Arsene Wenger was asked as to why he rarely plays Podolski. Wenger went on to state how Podolski doesn't track back enough or help out defensively, and that is why he wasn't being played.
It appears to be rather obvious why Podolski doesn't track back very well. He's not a winger. He's a striker. Of course Podolski isn't going to help out defensively when he's been played as a striker for the entirety of his career. That's not in his natural game. His natural game is to be a clinical finisher, and he certainly excels at it.
Throughout the 2013/14 season, Lukas Podolski maintained a better shot accuracy (61%) than Sergio Aguero (60%) and Luis Suarez (53%). Getting shots on target is only half the job, though. A player needs to actually beat the 'keeper for the shots to mean anything. Podolski, once again, ousts last season's top scorers with a conversion rate of 36.4%. This phenomenal figure makes the rates of Sergio Aguero and Luis Suarez look distinctly average. The former finished the campaign with a 23.6% conversion rate, meanwhile the latter ended with 21.4%. This clearly shows that Arsenal's German forward is incredibly clinical. Finally, if Podolski maintained his conversion rate over the same number of shots that Suarez had taken last season he would have bagged himself 51 goals, which shows just how skilled Podolski is in the art of finishing.
Overall, it is clear to see that Podolski is a far superior striker than Olivier Giroud. Although Wenger does relish the Frenchman's ability to hold the ball up and bring the midfield into play. However, it appears as if Podolski could match Giroud's hold up play, with the German winning 56% of his ariel duels last season, compared to Giroud's 51%. All of the stats show that Podolski would be a more reliable and consistent striking option than his French counterpart. Wenger would need to be willing to take a gamble, but it's certainly one that could pay off.