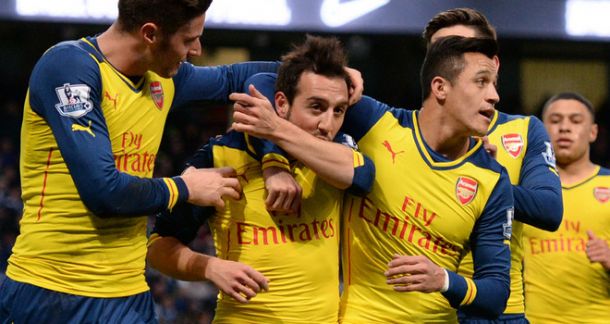 Coming into this game Arsenal were clearly not the statistical favourites as they had failed to beat Manchester City in the league since 2012, despite victories in friendly matches and the Community Shield – the competitiveness of the league had always got the better of them.
It had been a problem for Arsenal for the last six or seven years, being unable to be victorious against the big clubs (Liverpool, Manchester City, Manchester United, Chelsea) whilst taking some thrashings along the way; such as the 6-3 defeat to Manchester City two seasons ago and losing 6-0 to Chelsea and 5-1 at Anfield, all in the same season. The last time Arsenal were successful against these teams was in 2012, beating Liverpool 2-0 and, in 2011, putting five past Chelsea at Stamford Bridge – but they have found it difficult to be consistent up until and after that point.
However Arsenal broke their duck against Manchester City on Sunday night winning 0-2 at the Etihad Stadium with a performance that has surprised fans and critics alike, Especially Gary Neville whose words will be a relief to Arsenal's fans:
"I was wrong, happy to be wrong and you have to sit here and think because we've seen so many examples over the last few years.
"If you'd have offered me the opportunity over the last four or five years in an afterlife to come back as an Arsenal defender I'd have said no.
"Today they were never exposed the defenders, that's probably the best back 4 performance, I mean Mertesacker and Koscielny tonight probably aren't as tired as they've ever been."
Graeme Souness praised the Gunner's midfield for the extra solidarity shown as a team:
"The defence were never five or six yards from their midfield, they went up the park together.
"They were never stretched."
The goals in the game were scored by a fantastic Santi Cazorla who scored a penalty and provided the assist for Giroud's headed goal. The little Spaniard controlled proceedings with his skill, vision and agility in the centre of the field.
Performances like this from individuals as well as the whole team like in this match could send Arsenal on their way to much improvement for the rest of the campaign and may even be rewarded with silverware.