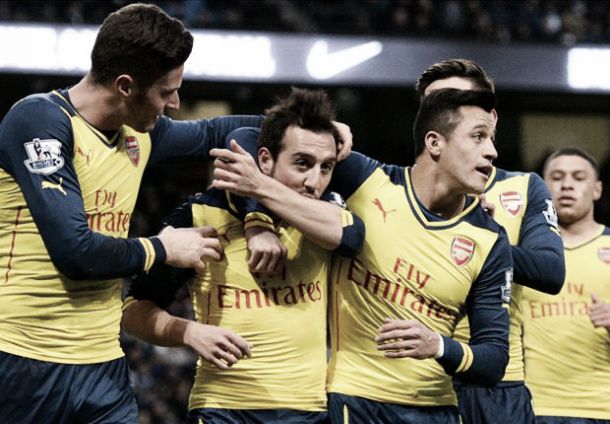 Yesterday, Arsenal beat Manchester City 2-0 at the Etihad, with a penalty from Santi Cazorla and a header for Olivier Giroud. It was an important win for Arsenal and a match that will have a big effect on the title race. So, what has football learnt from Arsenal's first win at City since 2010?
---
Arsenal can win at the big teams -
The Gunners have not had a great record when it comes to winning away from home at the Premier League's big teams in recent years. Last season, Arsenal lost at Manchester City, Liverpool, Chelsea and Manchester United and they have struggled to prove themselves against the better sides in the league. There are many reasons for this, but this win certainly shows that Wenger's men can win away at the big teams. Winning at Manchester City is a very difficult due to the fact that the Etihad has become a bit of a fortress, this makes Arsenal's win yesterday even better.
Wenger is tactically aware -
Wenger adapted his formation and the overall team tactics for this match. The 4-1-4-1 formation is one that the fans have called for a long time, and it worked. Arsenal played defensively and used the speed of their attackers when they needed to go forward and that risk paid off. The players also kept their formation throughout the match and did not get carried away whilst they were in-front. This is arguably not a tactic that The Gunners should be playing week in, week out but when Arsenal need to grind out a result in a difficult game, this formation has been proven to work; especially away from home.
Possession does not always win you a football match -
Arsenal are famous for keeping the ball and play some of the best passing football in Europe. But yesterday, Arsenal didn't have the majority of the ball and had only 35% possession, the lowest amount of possession Arsenal have had since Opta began recording statistics in 2003. It's what Arsenal did with the ball that mattered, and what they did when they didn't was even more important. Arsenal were defensively aware when they didn't have the ball, something they have not been doing consistently enough to win more matches this season.
Cazorla on form, is undroppable -
Sunday marked another magical performance from Arsenal's Spanish wizard Santi Cazorla. Cazorla scored and got an assist, but that wasn't the be all and end all of his game. He covered a huge amount of ground and did a huge amount of work for the team. He also was strong defensively making some good challenges, which is unlike a player of his size and strength, but he showed the desire and determination to win, as Alexis has done so many times over the past few months. As many Arsenal players come back to full fitness, Özil, Walcott, Ramsey, Wilshere to name a few, Arsene Wenger has a huge selection dilemma because Cazorla now has a place in the team based on his form. Who should Wenger play?
Coquelin is a tough midfielder -
A month ago, Coquelin was on loan at Championship side Charlton Athletic, and now he's playing a vital win in Arsenal winning at the Premier League champions. Coquelin was the holding midfielder in Arsenal's 4-1-4-1 team lineup yesterday and he really did the job well. He tackled well and he was always alert, ready to cut out City's next attack. Coquelin has walked straight into the first team, and should be able to do the holding midfield job until Arsenal get someone else, but for now he's good. Coquelin also doesn't look like he'll be dropped and he adds to Wenger's selection dilemma.