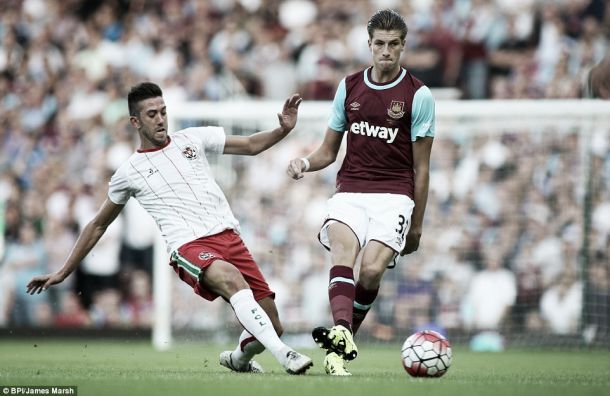 West Ham United will travel to Andorra to face FC Lusitans in their picturesque Estadi Comunal d'Andorra la Vella ground with a healthy 3-0 aggregate from the first leg at Upton Park, in the second leg of their UEFA Europa League tie.
The side will be predominantly made up of the promising youngsters who were on display a week ago.
Nothing to Rour-a about
FC Lusitans' manager Xavi Roura was more active than his players were last week, when he condemned Slaven Bilic's lack of respect by opting to sit in the Directors box, rather than the dugout. Whilst this was suggested as Bilic being respectful to the man - Terry Westley - who had been running thing with the youngsters - it seems Roura may have just got the wrong end of the stick.
Westley has gone to strengthen that, by saying in his press conference; "Slaven was very respectful to the competition by coming to both matches."
Saying that though, Bilic has travelled with the squad to Andorra and will take his place on the bench. Whether or not that's because Lusitans' stadium doesn't possess Director's boxes is another matter altogether.
European Debuts
There will be two European debuts, and one senior debut amongst the XI picked for the game. Elliot Lee, renowned for his goal-scoring nous, has been drafted in for Mauro Zarate who is suffering with a niggling groin injury from the first leg which he was substituted for on the night.
The senior debutant will be Josh Cullen, who came on in the second half of the first leg and hit the crossbar late on with a scintillating effort.
Building up fitness
The team will be looking to put in a much more fluid performance than the one at Upton Park a week ago. It was no surprise that some players didn't look as fluid, given the short turnover between the end of last season and the beginning of this one.
Bilic and Westley will be hoping another week of being back in full-training and having had that first encounter of the season will have sharpened the side up somewhat so that they can show what they're really capable of.
The XI
Westley also announced the starting team for the match. The only two changes are Cullen in for Reece Oxford who made Hammer's history by becoming their youngest ever player and Lee will partner brace-scorer Sakho up front.
XI; Randolph; O'Brien, Tomkins (C), Burke, Page; Almafitano, Poyet, Cullen, Jarvis; Lee, Sakho.
Subs; Spiegel, S.Westley, Knoyle, Oxford, Nasha, Parfitt-Williams, J.Brown.