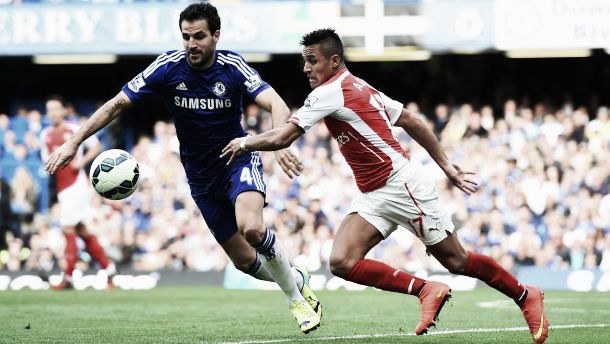 After a disappointing Champions League trip to Dinamo Zagreb on Wednesday night, where Arsenal lost 2-1 to the Croatian champions, the onus will be on the Gunners to bounce back against an opposition whom, on paper, will provide a more complex tactical battle and also possess true star quality.
Who should start up front?
Tactically, Arsene Wenger will have to be very clever if his team is to finally end the Premier League curse when playing Jose Mourinho's Chelsea side. The first major tactical decision that must be decided is the on-going debate concerning the central striker position. Olivier Giroud's performance against Zagreb was sub-standard at best which also resulted in the French striker being sent off for two unnecessary yellow cards.
Theo Walcott came on, scored Arsenal's only goal and provided the attacking threat the Gunners needed; which possibly cemented his place in the starting line up on Saturday. Walcott's presence in the team could provide huge tactical benefits to Arsenal.
In the recent meeting between the two sides in the Community Shield, he started the match and the threat of his pace meant Chelsea sat deeper and invited Arsenal's wide array of creative midfield technicians time on the ball - which they crave.
The midfield battle is key
This means that the likes of Alexis Sanchez, Mesut Ozil, Santi Cazorla and Aaron Ramsey will be able to put pressure on the likes of Nemanja Matic and ex-Arsenal star Cesc Fabregas high up the pitch, suffocating the start of the Chelsea attacks.
Ramsey could be an important piece in the Arsenal puzzle for this game with his high energy style of play and defensive positioning. Against weaker teams Ramsey out wide struggles because he simply does not possess natural width, but against bigger teams he performs this role superbly - take a look at the Liverpool game last season at the Emirates, for example.
Sanchez will, without doubt, have a huge say in the game and could prove to be the most important tactical weapon Wenger has. Branislav Ivanovic has endured a terrible start to the season and Sanchez could have a field day against the struggling Serb. Ozil may find himself suffocated in the middle as Mourinho will likely deploy two holding midfielders, so Sanchez will be the one to drive the team forward and produce the spectacular.
In the heart of midfield it is imperative that Wenger uses both Francis Coquelin and Cazorla, as the duo which have performed superbly together for a sustained period of time now. Coquelin's ability to break up play and tenacity will be essential to allow the rest of the offensive midfielders to exploit Chelsea's under fire rear guard while Cazorla's skill to be the metronome and control the play will disrupt Chelsea's rhythm and their tactical plan will suffer as a consequence.
Can the defence hold off Chelsea's attacking talent?
Defensively, Arsenal will need to be on their guard if they are to thwart Chelsea's attack; Laurent Koscielny and Gabriel Paulista should provide the pace and energy needed to match the likes of Diego Costa and Pedro Rodriguez.
However, the full back positions are where Arsenal could tactically overcome Chelsea, Nacho Monreal with his defensive nous will be key to allow Sanchez to thrive offensively and match Ivanovic's trade mark attacking bursts. On the other side Hector Bellerin will provide an added attacking dimension to accompany Ramsey's more conservative style of play and really test Cesar Azpilicueta.
It will be interesting to see who is named in the starting eleven on Saturday but Arsenal do possess enough fire power tactically so frighten Chelsea and possibly record their first Premier League victory over Mourinho.
Alex Oxlade-Chamberlain who scored the winner in the Community Shield will likely have an impact on the game whether it be from the bench with his natural width stretching the pitch as Chelsea's wide attackers such as Eden Hazard often like to drift inside making the Chelsea system narrower.
Tactics count for a lot in games of this magnitude and Wenger will have to make some bold decisions if he is to get his team to achieve the required result. Chelsea must go for the win and this ploy could fall into the hands of Arsenal with their hugely talented offensive players possibly being gifted more space to perform their artistry. It will be a tactical battle to remember, now let's see how it unfolds.